Some of our readers report that after updating to iOS 12, the Messages App and iMessage aren't working normally. Users find that their texts are not getting sent and delivered at all! Others tell us that the update changes the way Messages sends texts, sending out messages from email addresses rather than phone numbers.
If your iOS 12 iDevices have issues with Messages, don't throw in the towel just yet!
Quick Tips

 
In all our years of iOS updates that cause Message App problems, the following quick tips fix most issues
When you share an Apple ID all your separate threads now become one potentially very large thread, featuring different people. iOS 12 combines all shared Apple ID Messages into a single conversation thread and into a single grouped notification. That means the only notification or message you see is the last one sent–so you probably miss a lot of texts from those you share your Apple ID with!

Instead of sharing a single Apple ID, use separate IDs and sign up everyone into a Family Sharing account
Look for additional tips in the section "Share an Apple ID With Someone Else and Messages Combining Into a Single Thread?"

Turn off your iPhone or iPad. Remove your SIM card, readjust its seating, and reinsert it

You may need to replace the SIM card if it's damaged or if your device doesn't recognize it
Some folks tell us that replacing their SIM, even if undamaged, also works to fix iMessage problems

Restart the Messages app by double tapping the Home button or swiping up the Home Gesture Bar and then swiping up to the app to force quit. Once closed, relaunch the Messages app
Toggle iMessage off, wait 30 seconds, and toggle back on. Go to Settings > Messages > iMessage
Toggle Messages in the Cloud off and on. Go to Settings > Apple ID Profile > iCloud > Messages (under apps using iCloud) 

iOS 12 turns Messages in the Cloud on by default, so if you don't want this feature, keep it off

Apply sufficient finger pressure to the Message send button (the upward pointing arrow icon to the right of your message.)

For message effects, press and hold the send button to select an effect from the menu

Go to Settings > Messages > Send & Receive and make sure your phone number AND Apple ID's email address (or iCloud email) is present and is checked under "you can receive iMessages to and reply from."

If unchecked, tap to check 

Update Contact information. Go to Settings > Messages and toggle ON Show Contact Photos and Filter Unknown Senders
Restart your iOS device by powering off and then powering back on. Reboots work particularly well if iMessage sends texts from your Apple ID email instead of your phone number.

If a restart didn't work, try a forced restart
On an iPhone 6S or below plus all iPads & iPod Touches, press Home and Power at the same time until you see the Apple logo
For iPhone 7 or iPhone 7 Plus: Press and hold both the Side and Volume Down buttons for at least 10 seconds, until you see the Apple logo
On an iPhone X or iPhone 8 or iPhone 8 Plus: Press and quickly release the Volume Up button. Then press and quickly release the Volume Down button. Finally, press and hold the Side button until you see the Apple logo

Turn on Airplane Mode and turn off by going to Settings > Airplane Mode or tap the Control Center Airplane Mode toggle 
Check that SMS and MMS are toggled on. Go to Settings > Messages and turn ON Send as SMS and MMS Messaging 
Check your font size to see if it reset after the update. Go to Settings > Display & Brightness > Text Size. Adjust it to a smaller size
Resetting network settings often helps. Simply Tap Settings > General > Reset > choose Reset Network Settings
Some users stated that turning off WiFi Assist fixes problems. If you want to try this tip, go to Settings > Cellular > and turn off Wi-Fi Assist (scroll all the way down to locate) 
Make sure that the Date and Time setting is chosen "Set Automatically" by going to Settings > General > Date & Time
Change your DNS settings and see if this solves your iMessage problem. To do this, tap Settings > Wi-Fi. Locate your wireless connection then tap the (i) button. Now touch the DNS field and enter 8.8.4.4 and 8.8.8.8 (this is Google's public DNS) 
Related Articles
What's New in Messages for iOS 12? 
Apple continues to improve its texting service in iOS 12. New this year are some nice additional features, including starting group FaceTime calls directly from a group iMessage conversation.
There's also a re-designed App Drawer, now called the App Strip, that takes up even less space when you type your messages. It's an excellent change for folks with smaller iPhones where space is always a premium!
Another neat iOS 12 Message App feature is iMessage Photo Suggestion. Now, when you type a message, you can get photo suggestions based on who you're messaging and even what you're talking about. Pretty nice!
Photo Suggestions only appear when iCloud Photos is enabled.
Other improvements include new animoji (and memoji for devices the support Face ID), iMessage support for camera effects and filter, and of course, new emoji!
iMessage Camera Now Saves Photos Taken in the Message App
If you like to snap a picture while texting to send to your friends and family, iOS 12 now saves all photos to the Camera Roll that you take within the Message App.
Previously, those photos were not automatically saved and simply remaining in your text conversations, for you to manually save to the camera roll. But no more!
Some folks are going to love this change and others not so much.
iOS 12's Message App Strip
The updated App Drawer (called the App Strip or Bar) takes up just a tiny bit of space, just above your keyboard. There's also a new Photos shortcut for quick access to your photo library–if you want to share a photo with family or friends, tapping Photos in the App Strip is the way to go. 
Don't Want To See Message's App Strip? Get Rid of it!
If you'd rather not see the App Strip ever, open any conversation
Make sure the keyboard isn't visible by sliding your finger down from above the Subject and Message entry boxes
Then, tap the grey App Store icon next to the Message entry field
The App Strip disappears and only reappears when you touch the grey App Store icon again 
If You Want to Minimize the App Strip Temporarily
Make sure the keyboard is visible by tapping in the Subject or Message Text Entry Box
Tap the gray App Store icon, and it disappears temporarily–the next time you open that conversation or start another, the app strip reappears
Not Seeing the App Strip?
If you don't see the App Strip in iMessage, tap the gray App Store icon, and it returns!
Is #images Missing or Not Working From The Message App Strip?
First, make sure that your keyboard is set to a supported language and region. Go to Settings > General and tap Language & Region and verify that it lists a supported nation.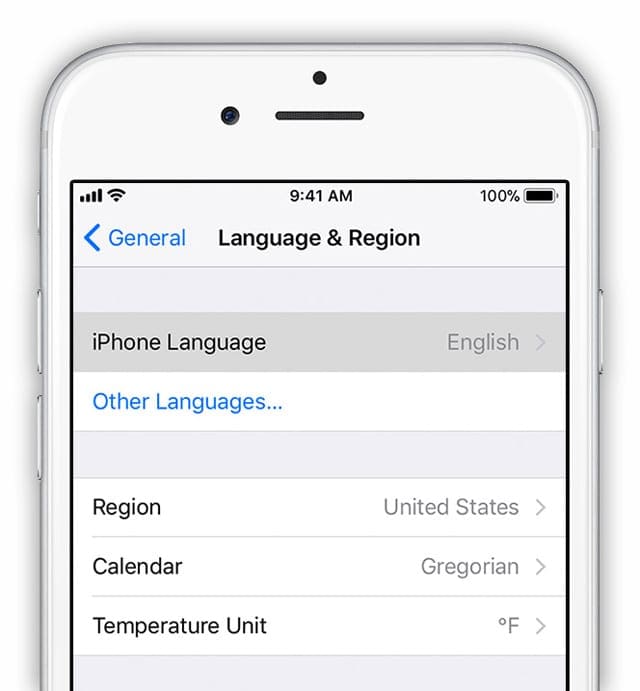 #images is available in the United States, United Kingdom, Canada, Australia, New Zealand, Ireland, France, Germany, Italy, India, Singapore, Philippines, and Japan.
Add or Remove #images from Your Message App Strip Favorites
From the app strip, swipe all the way left until you get to the More Button  
Tap Edit
Tap the Plus Sign (+) to add the #images app to your favorites, then tap Done 
If it's already in your favorites but not working, tap the Minus Sign (-) to delete it from your favorites
Choose Remove from Favorites 
Once removed, toggle it off
Tap Done and then tap Done again 
Return to the App Strip and choose the More button again
Tap Edit
Toggle on #images–it should automatically appear in your Favorites
Tap Done and then tap Done again
See if #images now works!
Sharing Photos in iOS 12 is a Tad Different!
In previous iOS versions (iOS 11 and below), we shared our photos by tapping the camera icon to the left of our typed messages.
But with iOS 12, how we access and share photos changed. Share all your photos using the App Strip's Photos iMessage app.
How To Share Photos in iMessage (iOS 12)
Open a conversation in Messages
Tap on the Photos app icon in the App Strip

No App Strip? Tap the grey App Store icon

Select any photos you want to share

Find Recent Photos or tap All Photos
To see suggested photos, tap the grey bar just below the App Strip

Finish your message
Press send 
Taking and sharing a new picture is still the same
Tap the camera icon, hit the take photo button, and tap Messages blue or green arrow to send your photo on its way!
One change: tapping the volume buttons in Messages no longer takes a photo–you must press the on-screen take photo button.
Not Receiving iMessages? Is iMessage Down? 
It may not be you!
Sometimes, Apple System Services go down. So before you do anything, check out Apple's System Status page to see if the problem is happening on their side of the fence.
Specifically, look for iMessage, FaceTime, and iCloud services. If one or more of these lists as down or with issues, suspend any troubleshooting until Apple takes care of these server problems, then try Messages App and iMessage again.
iMessage Sending Texts from Your Email instead of Phone Number?
Toggle iMessage off, wait 30 seconds, and toggle back on (Settings > Messages > iMessage)

If that doesn't help, add a restart in between

Toggle Messages in the Cloud off and on (Settings > Apple ID Profile > iCloud > Messages)
Open Settings > Messages > Send & Receive. Tap your Apple ID and select Sign Out–see if your phone number displays under Send& Receive. If not, restart your device
Restart your device or force restart and then ask someone with an iPhone or Apple device to send you an iMessage to your phone number (not your Apple ID email address)
Untick your email addresses in Settings > Messages > Send & Recieve, so you only check your phone number, then restart your device

Checkmark your email address back once you confirm your phone number works
If you still don't even see your phone number, try a forced restart

Reset your network's settings. Go to Settings > General > Reset > Reset Network Settings
Delete all of your older message threads and start new ones
Remove the SIM card and reinsert it
Turn iMessage off and turn Airplane mode on. Restart your device and turn iMessage back on

If that doesn't help, go through the steps again and use a forced restart instead of a regular restart

Sign out of out of iCloud for all services, restart, and sign back into your Apple ID
Use Multiple Devices Including Mac?
If problems continue, you may need to reactivate iMessage on all your Apple devices.
Turn off iMessage on all the devices signed in with the same Apple ID first. Then, one by one toggle iMessage back on to reactivate.
From what we gather, it seems that the update to iOS 12 deactivates your phone number. So you may not be able to start conversations nor reply to conversations until you reactivate your phone number with Apple iMessage Servers.
Contact Names Missing? Messages Only Show Phone Numbers?
If you discover that all your messages lack the sender(s) name, it's a pretty frustrating problem. How many of us know anyone's phone number? So it's hard to match numbers with people.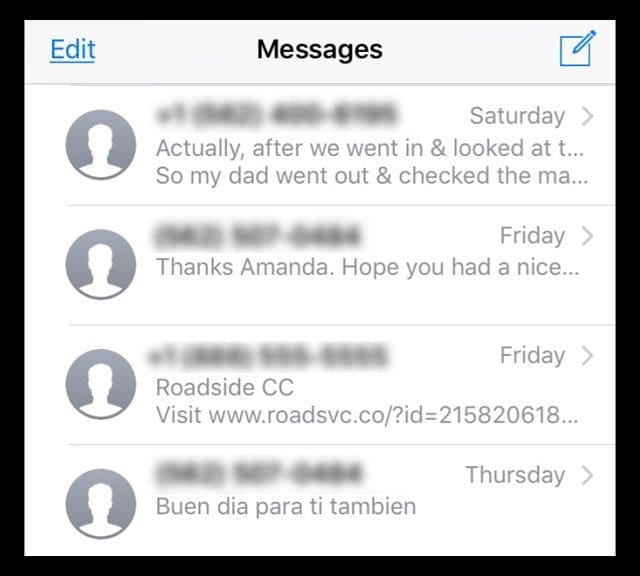 If your device shows these symptoms, help is on the way!
Try these quick tips first
Close the message app by double pressing home or swiping up the home gesture bar and then swiping up, off the top of the screen, the message app preview
Toggle iMessage off, wait 20-30 seconds, and toggle it back on
Reset your network's settings
If those don't do the trick, the problem is pervasive enough that it requires its own unique article. So check out this article for more in-depth steps on how to fix when names don't show up on your messages.
Signing into iMessage Failing?
Some folks tell us that after updating, their devices show a message asking to if they want to use their current Apple ID or sign in to another Apple ID for iMessage. When they choose Sign In (with current Apple ID), it doesn't work!
If you see this error, try the option to use another Apple ID. Then add in your usual Apple ID credentials. 
If you share an Apple ID with someone else or with multiple people (like your spouse/partner and children,) iOS 12 makes things difficult–most commonly, combining all messages into a single thread. 
This issue occurs because Apple thinks all the devices linked to that single Apple ID are a single person's multiple iDevices. Consequently, it merges all messages into one group.
With iOS 12, Apple now organizes all your iDevice (and Mac) contacts by Apple IDs, so if you share an Apple ID with family members, friends, or even co-workers, all those various messages are sent and shared with everyone who uses that same Apple ID.
While earlier versions of iOS used to separate texts and iMessage from different emails or phone numbers associated with a single Apple ID, in iOS 12 your device automatically detects if a phone number or email address is linked to a single Apple ID, and if so, keeps all texts and messages from those emails and numbers in the same conversation thread.
If facing this problem, your best bet is to set up everyone with their own and unique Apple ID and create a family sharing account to share purchased apps and media, share iCloud storage, and swap photos using the shared family album.
With iOS 12, when you share an Apple ID with others, they can see all of the following information:
Everyone's text messages
All photos and videos
Everyone's calendar events, reminders, contacts, and notes
Everyone's personal health data
Virtually every password
All of the websites each person visits
Everyone's phone calls
However, if you want to maintain sharing a single Apple ID, here are some tips suggested by readers
Turn of Messages in iCloud on ALL Devices sharing that Apple ID

Go to Settings > Apple ID > iCloud > Messages and toggle it off

Find a way to unlink multiple iCloud email addresses from your shared Apple ID and iCloud account. Visit the Apple ID Site and change the phone numbers and emails associated with Reachable At
When texting members who share an Apple ID, try using the area code in front of the phone number

Reader Veronica discovered that when started a new text message & typed in the phone number with the area code,  she could see message threads by themselves (instead of merged)

Uncheck the Apple ID's email from the Message App Settings for Send & Receive

Go to Settings > Messages > Send & Receive and uncheck email address, leaving only the phone number for both "You Can Receive iMessages To and Reply From" an "Start New Conversations From."

Create a new Apple ID for iMessage (and FaceTime) only

Sign out of the shared Apple ID from iMessage by tapping Settings > Messages > Send & Receive > Tap Apple ID > Sign Out 
Sign back into iMessage with that new Apple ID
Follow the same steps for FaceTime by going to Settings > FaceTime > Apple ID > Sign Out
Continue using that shared Apple ID for all other services. But make sure to untick Messages in each device's iCloud Settings

Turn off iMessage completely and send all texts as SMS and MMS (green bubbles)

Go to Settings > Messages > iMessage and toggle it off
Check that Send as SMS and MMS Messaging are toggled ON. If not, enable those two settings
Restart your device and try sending a message. It should show up as a green bubble indicating that iMessage is off and your messages are no longer going through Apple's Servers
Do the same for FaceTime. Go to Settings > FaceTime and toggle it off

Create separate Apple IDs for each person and use this Apple ID with iMessage, FaceTime, etc. under Settings > Apple ID > iCloud. But use the shared Apple ID for iTunes & App Stores to share purchases (Settings > Apple ID Profile > iTunes & App Stores)
Looking To Get Rid of That Annoying Delete Conversation Pop-Up Message?
In iOS 11.3 with the release of Messages in the Cloud, Apple added a confirmation process for deleting texts and message conversations. Despite user feedback, this approval message remains in iOS 12. 
It's a three-step process to delete every message (swipe, tap delete, then confirm.)
Currently, there is no way to go back to the simple way of removing messages and texts. Even if you turn off or don't use Messages in the Cloud, you still get an on-screen notice asking "would you like to delete this conversation?"
Consider letting Apple know via its product feedback site if you'd like to see the return of a simple, one-step deletion process.
Want to Use a Different Apple ID for Messages?
Open Settings > Messages > Send & Receive
Tap your Apple ID
Select Sign Out
Optional: Restart
Tap Use your Apple ID for iMessage
Select Use Other Apple ID 
iMessage Waiting for Activation? 
Go to Settings > Messages and turn off iMessage
Disable Facetime
Sign out of your Apple ID

Go to the Settings > iTunes & App Store > Tap Apple ID > Sign Out

Turn on Airplane mode

Wifi turns OFF automatically
Turn on  Wifi

Return to Settings > Messages and turn on iMessage

Enter your Apple ID and password

Go to Settings and turn OFF Airplane mode

If you see a notification that says 'Your carrier may charge for SMS' – Tap OK
 If not, go to Messages, turn OFF iMessage and then turn it ON again.

Give it a few minutes, and your iMessage should activate
Check out this article for more tips on problems with iMessage activation.
iMessage Effects Not Working?
One of the most common complaints we hear is that your iMessage effects are not working. If your message effects aren't working, check that both you (the sender) and the message recipient are using Apple products AND running the same iOS version. 
When devices run unsupported iOS versions or run a different operating system (like Android), the animations get sent as static images or not at all.
Remember, iMessages are blue, and SMS/MMS Texts are green.  
Effects only work on iMessage texts–the blue ones.
Effects Still Not Working?
Check that you are pressing the on-screen buttons sufficiently. Effects only appear when you do a long press on the send button (the upward pointing arrow icon to the right of your message)
Turn off Reduce Motion. Go to General > Accessibility > Reduce Motion > Off 
Emoji Not Working in iMessage?
Of course, iOS 12 brings along with it some new emoji–over 70 new ones! These come with your update to iOS 12.1. We've got some good representation here for humans–from redheads and grayheads to curly hair and finally bald looks too!
And there's a bunch of other new characters including some great emotive smiley faces and additional emoji representing animals, sports and food.
So it's not fun when our emoji stop showing up
Check that you installed the emoji keyboard. Go to Settings > General > Keyboards > Keyboards

If it's listed, press Edit
Tap on the red minus sign and select Delete 
Restart your device
Reinstall emoji by selecting Add a New Keyboard
Update to iOS 12.0 (First Release) and No Emoji?
Sadly for folks who updated to the first public release of iOS 12 starting September 17, 2018, these new emoji appears to be missing in action! It looks like Apple will place them in a future iOS 12 update sometime before the end of 2018.
Historically, Apple releases its new emoji in the .1 or .2 minor updates–so stay tuned!
Sorry folks (especially all your redheads, curlies, and dragon fans!)
Emoji Showing Up as Blank or Black Lines?
If you or your friends aren't seeing the emoji you send (or you receive from them), the chances are that someone is not updated to the latest iOS software (or current macOS software upgrade) on the iDevice or Mac.
Once updated, all emoji should be visible to all parties!
Fix Predictive Emoji Not Showing
At times, iMessage users experience issues with predictive emoji not showing up.  When this occurs, the predictive text bar fails to display a corresponding emoji, so users are forced to find them manually.
Go to Settings> General > Keyboard > Predictive. Toggle this ON and OFF a couple of times, ending up with it ON (green) 
Go to Settings> General > Reset >Reset Keyboard Dictionary.  Enter your passcode if requested and tap Reset Dictionary again

Once Dictionary resets, return to Settings > General > Keyboards. And tap Edit and Delete the Emoji Keyboard. Once deleted, select Add New Keyboard and select the Emoji Keyboard

For those that have multiple keyboards installed, long press the globe icon and select the Emoji keyboard.  Predictive emoji DOES NOT work in the Gboard Keyboard and other third-party keyboards.  Currently, Gboard offers emoji suggestions in the keyboard's top bar, right next to Google's icon
No Time? Check out our video for predictive emoji
iPhone Not Sending Texts to Android (SMS)?
Several readers tell us that their iPhones are not sending text messages to their Android friends and family.
First, check Settings > Messages > and check that both Send as SMS and MMS Messaging are ON. If they're already on, try and toggle them off and then back on again. 
A reader discovered this solution
Turn off both WiFi and Cellular Data via Settings Menu.
Text that person with these off. After repeated attempts, iMessage gives you the message  "not delivered" Turn your WiFi and Cellular Data back ON and tap that little icon next to "not delivered."
Choose to send as a text message and the message gets delivered as a text message
Rinse and repeat for each Android friend
iMessage Conversations Out of Order?
Check that the Date&Time on each of your iDevices and Macs are the exact same. Set manually if the feature Set Automatically isn't mirroring the same time per each device. Setting the exact same time on all Apple ID connected devices helps to correct the timestamps on your messages

On a Mac, deselect "Set date and time automatically," click today's date on the calendar, drag the clock's hands to show the correct time (or enter the time) then click Save
On iDevices, toggle off Set Automatically and tap Time Zone and enter the name of the city one letter at a time with the time zone that you want and press Search. If iOS cannot identify your city, choose a nearby town that's in the same time zone. If that's not an option, press the Date and select your current time using the selection tool 

Turn off automatic time and day by going to Settings > General > Date&Time and toggling off Set Automatically. Then restart your device and turn Set Automatically back on
Force restart ALL your Apple ID connected iDevices
Not Seeing Back Arrow?
Go to Settings > Display & Brightness > Text Size 
Reduce the size of your font using the slider
'Service Denied' text message from 'Unknown.'
Try toggling Cellular Data OFF and then back ON (Settings > Cellular > Cellular Data) 

If that didn't do the trick, report the message to your cellular company. The problem is likely your mobile phone carrier
No Message Notifications or Alerts?
Not receiving any alerts that you have new messages? Please make sure they aren't stacked in iOS 12's new Group Notifications.  
If it's not a grouping issue, check out this article for some tips on how to get your notifications back!
Lost Your Messages OR accidentally Deleted Them?
If you routinely back up via iCloud or iTunes, those messages may be in your backups! Check out this article on how to retrieve those deleted Messages from backups.
Not Getting Messages on your Mac?
On your iDevice, check Settings > Messages > Send & Receive and verify that your Apple ID, phone number, and all your email addresses (including iCloud email address) are checked
If asked, tap Use your Apple ID for iMessage
Open the Messages app on your Mac and go to the top menu Messages > Preferences 

Select Accounts, and verify that your email addresses are all listed
If not, select Add Email
Once everything is verified, and you add any emails, restart the Messages App on each 

device
Can't Delete Message Content?
How-To delete information from within the individual conversation thread
Open the message conversation
Deep press on one item and choose "More…" from the pop-up menu 

This option opens up tick boxes next to every item in your message thread
Check them to delete, uncheck to keep
How-To delete information from multiple conversation threads
Go to Settings > General > iPhone (or iPad, iPod touch) Storage > Messages
Locate the section Documents & Data
Look through the 5 categories: Conversations, Photos, Videos, GIFs and Stickers, and Other

Tap on each to see what's stored in your Messages and swipe to delete
If empty (Zero KB) you are using Messages in the Cloud s all data is kept in iCloud not on your device
Summary
Texting is a part of modern life. It's how we communicate with each other quickly. So when Apple Message App and iMessage go south, we go south too!
I hope these tips help you fix any Messages and iMessage problems you encounter in iOS12. If not, please share any issues or suggestions with us in the comments below, and pay it forward.
For most of her professional life, Amanda Elizabeth (Liz for short) trained all sorts of folks on how to use media as a tool to tell their own unique stories. She knows a thing or two about teaching others and creating how-to guides!
Her clients include Edutopia, Scribe Video Center, Third Path Institute, Bracket, The Philadelphia Museum of Art, and the Big Picture Alliance.
Elizabeth received her Master of Fine Arts degree in media making from Temple University, where she also taught undergrads as an adjunct faculty member in their department of Film and Media Arts.