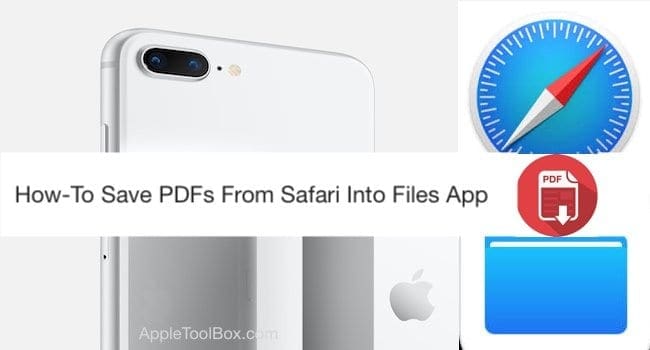 With the release of iOS 11, the new Files App was made available to iFolks. Despite being released for quite some time now, the Files app doesn't end up being used as much. In this article, we will show you how you can save PDF's from Safari directly into your Files App.
Why Use the Files App in iOS 11
Many users prefer to collect relevant information while browsing and prefer to store it a way so that it can be easily accessed later. You can always use a bookmark in Safari however at some point your growing number of bookmarks becomes a pain to manage.
Here are a few reasons why you could use Files App to Save and organize Safari Information.
There are also times when you may want to annotate a page or use 'Find' and other helpful commands to easily parse through information. If the content is in the form of a PDF, it makes it way easier. PDF's have great integration features within the Apple ecosystem. You can save any webpage from Safari as a PDF.
The next issue that the Files app addresses in this context is the ability to provide a platform that reduces on-device storage use. Since the Files app on iOS has built in hooks to cloud services like iCloud and Dropbox, your files can be neatly organized and tucked away in cloud storage.
This frees up storage space on your iPhone or iPad and can be very helpful for iFolks who continuously struggle with limited storage on their devices.
Lastly, if and when you are sending large number of documents or PDF's via your iPhone or iPad's email, you can easily take advantage of the built in ZIP feature to compress your files before sending them out.
RELATED:
How To Save PDF From Safari into Files App  
In the first set of directions, we will open a website file which is a PDF. In this example, I searched for 'Christmas Recipes PDF' using the search box in my Safari App.
As you can see from the search results, there were a number of recipes that I could locate which were already in the PDF format. At this point, you can browse the relevant articles and decide on choosing the one that you want to keep. They key is to use 'PDF' while using Google search.
Tapping on the article will open it in your Safari Browser just like any other normal web page. Once you have the article opened, Click on the Share button at the bottom of the browser window.
Next, scroll right on the actions available and locate 'Save to Files'.When you tap on 'Save to Files', it automatically takes you to the files app.
Here you can designate the folder in which you want to store the PDF document. Once you have chosen the folder, simply click the 'Add' button on the top right hand corner of the App.
In this example, I have decided to store it in one of my iCloud Drive folders in order to save space and have it available in all my Apple devices. You can also choose the option to store it on your iPhone or iPad by choosing 'On my iPhone' instead of iCloud drive.
That's it!!
The PDF document can now be accessed via your Files app. To locate the document that you saved, open Files App on your home screen. Go to the folder and it should be there for you to use. You can also use the Search box at the top of the files app to look for the file if you are not sure where you saved it.
The other time saver is the 'Recents' button at the bottom of the Files app screen. Tap it to show all your recent files including ones that recently saved into Files.
How To Download a Regular Safari Webpage to PDF
No worries. You can convert any webpage in Safari into a PDF. In order to do so, click on the Share button at the bottom of the browser and scroll right on the available actions.
Choose 'Create New PDF'. It automatically converts the web page into a PDF when you tap on it and then you can use share button again to move it over to your Files App without any issues.
At this time, iOS names your newly created pdf with the label Safari + a Date and Time Stamp. Save it for now to your Files App and then rename it when in the Files App. To rename, open Files and locate your newly saved pdf. Press and hold and select Rename. Update the Safari+Date/Time to your chosen name and press Done to save the new name. 
Please be mindful if you are using the iCloud drive to store your PDF's. Usually when you save it, you can see the PDF document immediately in your iCloud drive. There are however times depending upon the speed of your Wi-Fi or the size of the PDF document when it can take some time to show up on your folders.
Why Can't I find the iCloud Drive on my Files App?
When you are trying to save the PDF into an iCloud folder on your Files app, the option will only work if you have enabled iCloud drive in your settings.
If for some reason you are having issues, tap on Settings > Your Apple ID Profile at the top > iCloud > scroll down and make sure that 'iCloud Drive' is enabled here. Once enabled you should have no problems in using it with your Files App.
In Summary,
We hope that you found the tips helpful! It just takes a little effort getting used to if you have not used the Files app but in our opinion it is a great way to organize and save files and documents.
Go ahead and give it a try…
Please share the article if you found the tips useful!