After upgrading their Macs and MacBooks to macOS Sierra, some of our readers discovered their App Store blank with macOS Sierra. This problem also happens in other OS X versions such as El Capitan. This issue is a relatively easy problem to fix since it happens due to old cache files that are not properly handled during the macOS or OS X upgrade.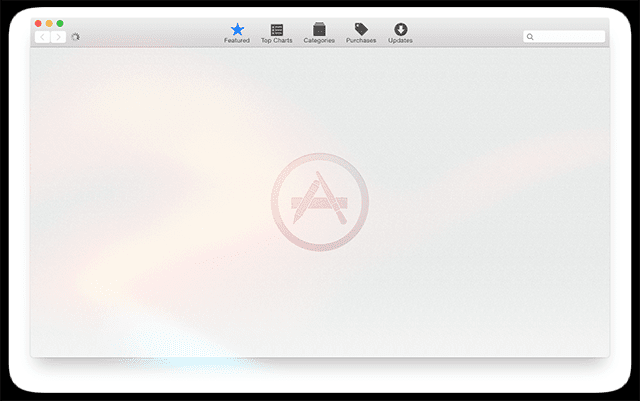 Related Articles
Fast Track
Quit App Store and reopen holding the Shift Key on left side of keyboard
Shut Down and then power up (DO NOT USE RESTART–perform a full shut down)
Change your Date & Time Preferences to something other than your current time zone and region
Update using a combo macOS update download rather than an app store update
Sign out & back into Mac App Store. And verify your selected country is correct
Remove App Store cache folders from your User's Library's Cache
Reset your cache of accepted certificates
First Steps for App Store Blank with macOS Sierra
Before moving on to more time-consuming tips, give this a try: log out AND shut down. Then wait a few minutes and restart. See if the Mac App Store now works.
Quit the Mac App Store and relaunch while holding the Shift key on the left-hand side of your keyboard. Once opened, try to update your apps again.
Some users report that changing their Date&Time in System Preferences to something OTHER than their current location and time zone temporarily fixes access to the Mac App Store
Check macOS
Also, check if there's an update to your macOS. First, identify what version your Mac currently runs.
From the Upper-Left Apple menu, choose About This Mac. The Version number appears just below the title MacOS (or Mac OS X)
To see the build number, click on the version number. It appears in parenthesis next to the version number
If your Mac isn't running the latest version of macOS, try clicking the Software Update button and see if this opens the App Store. If not and your Mac needs an update, open a browser of your choice and search Apple's Support Site for the latest Apple combo update for macOS. These combo updates are downloaded directly from Apple without the need for the Mac App Store.
Combo Update?
A macOS (or Mac OS X) combo update contains all of the changes since the original release of that major version. Consequently, a combo update can be used to update from anything within the same major version.
Some people prefer always to update their macOS or OS X using combo update downloads. One of their biggest reasons is that if anything has gone wrong with a previous OS update, running the combo generally clears up these problems. In comparison, updates done sequentially might leave these types of existing problems on your Mac
Sign Out of App Store & Check Country
Try signing out of the App Store then signing back in. From the App Store menu bar, click on Store > Sign out. Quit the App Store app then relaunch and sign in.
Also, check that the Mac App Store is connecting to your current country
Open iTunes and choose Account > View My Account
To the right of Country/Region, click "Change Country or Region."
From the "Select a country or region" menu, select your new country or region
On the Welcome to the iTunes Store page, click Continue
Review and Agree to the terms and conditions
Enter your payment method & your billing address
Updating this information changes your country for all of your Apple services for all of your Apple products, including iTunes Store, App Store, iBooks Store, or Mac App Store.
As mentioned, some users report that changing their Date&Time in System Preferences to something OTHER than their current location and time zone temporarily fixes access to the Mac App Store–so give that a try too if fixing your Mac App Store Region didn't solve the problem.
Next Steps for App Store Blank with macOS Sierra
Step – 1 Start with the Library Cache
Most problems following upgrades are related to the cache files on your Mac. Open a session in Finder and type in '~/Library/Caches/' and press Go.
This shows you all the folders in your Cache.
The folders that you are interested in to fix these problems are all related to the app store.
Look for the following five specific folders:
com.apple.appstore
storeaccount
storeassets
storedownload
storeinapp
The main file is the first one.
Step – 2 Get Rid of These Folders
Move these folders to your trash. Now you can safely clear temporary items from /private/var/folders. When you reboot your Mac, it triggers built in cache clearing functions and will delete the temporary items in /private/var and /var/folders will delete themselves as required.
So all you have to do is Restart your Mac. That should bring back up your app store screen with all the details.
If for some reason you are still having problems with a blank store on your macOS Sierra, reboot your Mac in Safe mode ( Rebooting while holding down the shift key).
RELATED: How To Fix Blank App Store on iPhone or iPad
This safe restart performs additional activities to get rid of temporary files and caches. When your Mac has finished booting into Safe mode, go ahead and reboot as normal and it should take care of the problem. As a practice, when troubleshooting macOS related problems, start with the cache files for the related area. This seems to fix most of the problems.
Remove Invalid or Incorrect Certificates
Reset your cache of accepted certificates
Open the Finder > Go > Go to Folder
In the Go to the Folder search bar, type /var/db/crls/
Trash the files crlcache.db and ocspcache.db
Enter an administrator password if prompted
Restart the system and check if App Store works

I think my problem had something to do with my Mac's network settings. So I opened network settings, selected the network adapter, clicked Advanced, went to the Proxies tab, and unchecked Automatic Proxy Configuration. That fixed everything.
Use Terminal to Update! Terminal installs your updates manually and once you are finished, restart and check the mac app store again.  So open Terminal (Applications>Utilities>Terminal) and enter: softwareupdate -i -a 
Check that you are signed in to iTunes. I thought I already had been signed in, however, when attempting to 'view my account' I was prompted to sign in.After signing in, close iTunes and 'force quit' the App Store. Then reopen the App Store while holding the shift key. While the reset hadn't worked on its own previously, it worked after signing in to iTunes
Reset NVRAM & then remove com.apple.appstore.plist AND com.apple.storeagent.plist and then restart
I changed my time zone to another location, restarted and then went back to System Preferences > Date & Time and selected Set time zone automatically using current location. This did the trick for me–Mac App Store returned!
An Apple Discussion User found the following fix: The list of the last 30 days of App Store updates is in ~/Library/Application Support/App Store/updatejournal.plist. After backing the file up somewhere, open it in Xcode, or any app you have that can edit XML files hierarchically. Under Root>>autoInstalledUpdates there is a list of items starting with Item 0. Delete Item 0. (The item that was just below it will become the new Item 0.) Save. Open App Store and check for Updates. If updates show, you fixed it. If not, go back and delete the next Item 0. Repeat until App Store Updates shows something. (In my case, when I removed the Item containing the last update to Numbers.app, App Store started acting right again.)
During troubleshooting, Safari couldn't connect to any web servers. This suggested that the problem had something to do with my Mac's network settings. I opened the network settings, selected my network adapter, clicked Advanced, went to the Proxies tab, and unchecked Automatic Proxy Configuration. That worked for me.
Obsessed with tech since the early arrival of A/UX on Apple, Sudz (SK) is responsible for the original editorial direction of AppleToolBox. He is based out of Los Angeles, CA.
Sudz specializes in covering all things macOS, having reviewed dozens of OS X and macOS developments over the years.
In a former life, Sudz worked helping Fortune 100 companies with their technology and business transformation aspirations.