The release of Apple TV+ has finally arrived and while it's great that there is direct integration with iOS and macOS devices, there's something even better. Apple decided to expand its walled garden to include other streaming devices including Roku and Amazon's Fire TV.
Related Reading
However, whenever there is a new release on a new platform, there are bound to be bugs and that seems to be the case with Roku owners. Many users have found that the Apple TV app for Roku is not working as advertised or expected.
Is the Apple TV app compatible with my Roku?
The first question that every Roku owner should ask themselves is whether the Apple TV app will work with the Roku device you are using. After Apple announced TV+ support for Roku devices, the company made a convenient list regarding which devices will be compatible.
Here's a breakdown: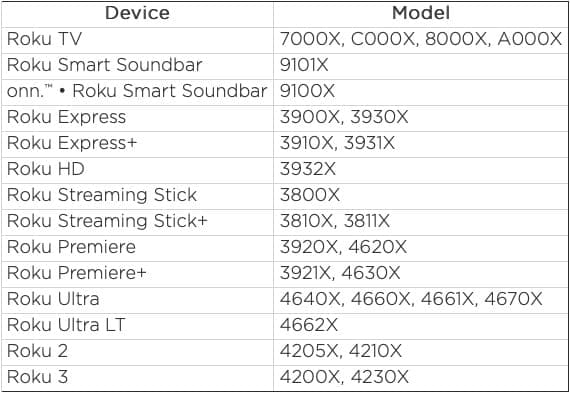 If you have a Roku device that falls on this list, then you are moving in the right direction.
Why is Apple TV app not working on my Roku
One of the most common issues for the Apple TV app for Roku not working is after you have signed into your account. Reports of corrupted movie files have been spanning the web and Apple's Community Forums after signing up for TV+ with your Roku.
Others report similar issues such as getting a message that certain videos are unavailable or the device cannot view them for no apparent reason. And then finally, users have reported not even being able to log into their Apple TV+ account, despite knowing that the password is correct.
How to fix the Apple TV app on Roku
Thankfully for Roku owners, you don't have to run out and cancel your TV+ subscription or spend more money on something like an Apple TV. Instead, there are a few different methods you can test out in order to get the TV app working on your Roku streaming device.
Try uninstalling, restarting, and clearing cache on Roku
The most obvious response to an app not working on just about anything is to uninstall it, and then re-install it. But even before that, you can attempt to knock out the cobwebs by restarting your Roku first. Here's how you can restart your Roku:
Press the Home Button five (5) times on your remote
Press the Up Arrow once
Hit the Rewind Button twice
Press the Fast Forward button twice
This will automatically restart your Roku after a few moments, and then you can attempt to open the Apple TV app again. When restarting the Roku, this method automatically clears the cache on your Roku, essentially getting two birds with one stone.
If that doesn't work, you'll want to uninstall the Apple TV app and then reinstall it onto your Roku device.
Press the Home Button on your remote
Move to the right until you highlight the Apple TV app
Press the Star Button on your remote to open the Options Menu
Select Remove Channel and confirm
Once completed, you will want to restart the Roku again using the steps above. After you reboot the Roku, head into the Channel Store and re-download the Apple TV app and sign in.
Are you using two Apple ID's?
iOS devices, and more importantly, iTunes, has been around for quite some time. It's no secret that people have a tendency of creating multiple Apple ID profiles when they can't remember the password or just simply forgot.
In some instances, folks use both Apple ID accounts with one designation for iTunes and the other for iCloud. When you come across that issue, you need to ensure that the correct email/Apple ID has been entered into the TV+ app on your Roku.
Here's how you can sign out of the incorrect Apple ID:
Press the Home Button on your remote
Move to the right until you highlight the Apple TV app
Open the Apple TV app
Scroll to the right until you reach Settings and press OK on your remote
Press the down arrow to highlight Accounts and press OK on your remote
Select Sign Out
Confirm that you want to Sign Out
From there, open the Apple TV app on your Roku and follow the instructions to sign in to the correct account.
Did you install the Apple TV app on an SD Card?
Some Roku devices are equipped with SD Card slots which allow you to not only store movies and other content, but also apps. However, it seems that Apple has made it so that its TV app cannot be installed directly onto an SD Card. Instead, you will need to remove the app from the card and install it onto the Roku directly.
Here's what you'll need to do if you've installed the app on an SD Card through your Roku:
Uninstall the Apple TV app from your Roku
Unplug the Roku and remove the SD Card
Plug in your Roku and power it on
Re-install the Apple TV app
Sign in to your Apple TV+ account
From here, you can either proceed down the method of signing in with your Mobile Device (when prompted) or just with your username and password. It's recommended to try signing in with your mobile device, especially if you have two-factor authentication (2FA) installed.
It's unknown whether Apple will fix this "bug" and make it possible to install the TV app on an SD card. For the time being, we wouldn't recommend re-downloading the app to the SD Card and just leave it installed on the Roku itself.
Apple TV+ subscription not working or showing up on your Roku?
Apple TV + is Apple's original content streaming service. On your Roku, Apple TV+ is available through Roku's Apple TV app/channel. 
If the Apple TV app is working on your Roku but you are not able to connect to your Apple TV+ subscription, let's look at a few tips to help.
Update your Roku(s) to their latest software versions in Settings > System > System Update

After updating, power off your connected television, wait 1-2 minutes, and power it back on
Then, check if your Apple TV+ subscription shows up

Sign out of the Apple TV app, restart your TV,  and then sign back in
Uninstall the Apple TV app, power your TV off then back on, and then reinstall the Apple TV app from Roku's App Store—and sign in with your Apple ID.
Helpful tips when using Apple TV app with your Roku
This is a brand-new venture for Apple as it branches out into the uncontrollable world of working with other streaming devices. That doesn't mean that Apple didn't take the time to throw some extra tricks up its sleeve to bring some "Apple Magic" to Roku.
Sign in using your mobile device
It is super annoying having to try and remember your username and password for every service, app, or anything else that you use. Apple knows this and has included a feature to use your mobile device in order to sign in, provided that you have downloaded the Roku app on your iPhone or iPad.
When signing in to the Apple TV app on Roku, you are prompted to sign in using the Roku remote (Sign In On This TV) or using your Mobile device. as we mentioned above, you must have the Roku app installed on your iPhone or iPad in order for this to work. But it makes signing in so much easier.
View your Library
Chances are that you have built-up quite the extensive Library of content through iTunes and now the TV application. With the Apple TV app, you are still given access to all of your content and can view everything through the Roku app.
There are sections for your Recent Purchases, along with TV Shows, Movies, and anything shared through Family Sharing. But the TV app also breaks up your content into different genre's so you can find the right movie based on the mood of the day or night.
Use your iPhone as the Roku remote
Keeping track of remotes can be super annoying as these remotes easily get lost, misplaced, or just straight-up disappear. When you download the Roku app, you remove the need for keeping the Roku remote near you at all times.
After downloading the app, you can use your iPhone as the Roku remote to navigate and find the content you want to watch. You can even switch between Roku Channels and choose content downloaded directly to the Roku to consume if you have a compatible Roku device.
Conclusion
Apple has really pulled out all the stops when it comes to getting the new Apple TV app and TV+ into the hands of more users. Roku is one of the more popular options for streaming devices, as it's also built right into various televisions.
Let us know if you've started using the new Apple TV app on your Roku and how your experiences have been. In the meantime, let us know about your favorite Apple TV+ shows that have been released since the launch of the streaming service.
Andrew is a freelance writer based on the East Coast of the US.
He has written for a variety of sites over the years, including iMore, Android Central, Phandroid, and a few others. Now, he spends his days working for an HVAC company, while moonlighting as a freelance writer at night.