If you are cable-cutter and rely on streaming services, then you are reaping the rewards of new services. These include the likes of Disney+ and Apple TV+, while Amazon and Netflix continue to bolster their own content.
Related Reading
Disney+ is the latest streaming service to hit the market, and that means easier access to Disney classics. Not only do you get Disney classics but also other content like Star Wars and movies from the Marvel universe. But what makes this even better is that Disney+ is available on iOS and Apple TV devices.
Disney+ isn't yet available in all countries or regions-but stay tuned! It's likely coming soon.
How to download Disney Plus
As one would suspect, the process for downloading Disney Plus is extremely simple and straightforward. Before getting started, you will want to set up your account with Disney so you can get streaming ASAP.
Head over to the Disney+ sign up page using your iPhone, iPad, or a computer (and web browser)
Select either Start Free Trial or Buy Now
Enter your email and create a secure password
Start the free trial
Next, you will need to go to the Apple TV and download the app itself.
Open the App Store on your Apple TV
Search for Disney+
Download
Once downloaded, enter your previously created login information
Then, you will be able to enjoy a 7-day free trial of the service so that you can get a feel for whether it's something you will take advantage of. After the 7-day trial is complete, you are charged $6.99 per month for the services.
Those with Verizon (US) are lucky enough to get the first year of this streaming service for free, provided that you are an Unlimited plan. After the one-year freebie has expired, the $6.99 fee will be added to your account.
What Apple TV's are compatible with Disney+
It should come as no surprise, but Disney+ is not available with all models of the Apple TV. Instead, here's a quick list of what TV's are compatible:
HD 32GB – A1625
4K 32GB – A1842
4K 64GB – A1842
This means that if you have any Apple TV older than the A1625, then you will not be able to download Disney+. Luckily, there is still a way to enjoy your favorite Disney content on the big screen in your home.
What if you have an older Apple TV?
If you have an Apple TV older than the A1625, then you will not be able to download the Disney+ app. The most basic answer for this is due to the fact that there is no App Store available on these older devices.
In the event that you own one of these older Apple TV's, you can take advantage of AirPlay. This requires the app to be installed on your iPhone and here is how you can AirPlay to your ATV:
Make sure your iPhone/iPad is on the same network as your ATV

Open Settings
Tap Wi-Fi
Make note of the network
Check against the Apple TV

Open the Disney+ app on your iPhone
Find a movie/show you wish to watch
Tap the AirPlay icon in the top right-hand corner
Select your Apple TV
Provided that everything is working properly, the content will begin playing on your Apple TV from your iPhone.
There are some rumblings that Disney may be pushing a "channel" to the older generation Apple TVs. This would give you access to Disney+ without using AirPlay, but those are just rumors for now.
Can I install Disney Plus on a device with an older iOS version?
If you do have to rely on AirPlay with an older Apple TV, another possible hurdle is your iPhone or iPad. The Disney+ app is compatible with all iOS devices capable of running iOS 11 or higher.
However, the app will not be available with any devices running iOS 10 and below. This could be problematic if you have an old iOS device that is being used for a toddler to watch content.
Currently, Disney does not have any plans to make the streaming app compatible with devices running iOS 10 or older.
What Other Devices Are Compatible With Disney Plus?
Disney is really trying to get its new streaming service into the hands (and eyes) of everyone possible. The company even worked out a last-minute deal with Amazon to bring it to Fire TV and Fire Tablets.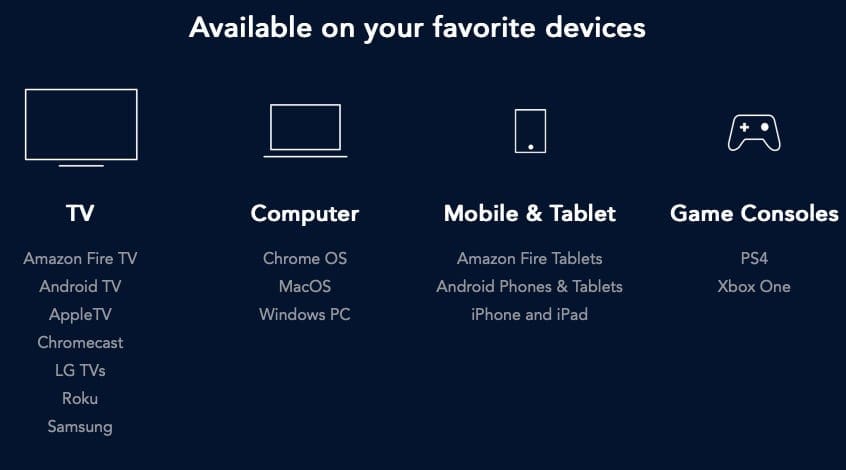 Here's a list of what devices are compatible:
Amazon Fire TV
Android TV
Apple TV
Chromecast
LG TV's
Roku
Samsung
Chrome OS
macOS
Windows
Amazon Fire Tablets
Android Phones & Tablets
iPhone and iPad
PS4
Xbox One
We are still holding out some hope that it will be coming to the Nintendo Switch, but we'll have to just wait and see.
How many devices in my household can use Disney Plus at any one time?
As is the case with just about every streaming service, there are limits to how many devices can be used at the same time. The same is to be said for Disney+, as there are few limitations.
Disney+ subscribers can stream content across four devices at the same time with no extra cost. Plus, if you set up family sharing, you can share the subscription with up to six family members.
This means you can have everyone watching their favorite content across the board without hiccups or arguing. Or you can share your subscription to help keep overall costs down for other members of your family.
Can I download Disney Plus content to my device for offline viewing?
The next big question is whether you are able to download and watch content from Disney+ offline. Maybe you are heading out of town and don't have a boatload of data to use via your carrier. Or maybe you just want to put some shows and movies on your iPad for the little ones.
Thankfully, you can download your shows and movies for offline viewing, and it's pretty easy:
Open the Disney+ app on your iPhone/iPad
Navigate to the shows/movies you want to download
Tap on the shows/movies
Next to the Play Icon, there is a download button
Tap the download button and it will enter the Download Queue
You can view the progress of the download by tapping the Queue button at the bottom next to your profile picture. There is a status bar showing how much has been downloaded so you will know when it's ready to view offline.
If you attempt to download content on your mobile network, you will be shown a prompt. While it is possible, you will need to enable it within the settings of the Disney+ app.
Open the Disney+ app
Tap the profile picture in the bottom right-hand corner
Tap on App Settings
Toggle Download Over Wi-Fi Only to the off position
Now you can download your content over Cellular data with ease. But just be aware that this will cause your data to run out quickly.
Andrew Myrick is a freelance writer based on the East Coast of the US. He enjoys everything to do with technology, including tablets, smartphones, and everything in between. Perhaps his favorite past-time is having a never-ending supply of different keyboards and gaming handhelds that end up collecting more dust than the consoles that are being emulated.