Most of us have more than one TV in our house. If you want to connect your Apple TV streaming box to every screen, you need to either find a way to connect it to multiple TVs at once or buy additional Apple TVs to use with each one.
This is a common problem to come across if, say, you want to be able to watch Apple TV in the living room and the bedroom or if you run a business and want to use a single Apple TV to play content on multiple TV screens.
Unfortunately, there's no perfect solution for how to connect an Apple TV to multiple TV screens. But we'll get into each of your options below.
Related:
Apple Designed the Apple TV to Work With a Single TV
When designing how the Apple TV streaming box works, Apple only intended for you to connect it to a single TV screen.
Some users have likened it to a digital DVD player in this way. To play content on a different TV, you need to move the Apple TV and physically connect it to that TV instead.
Luckily, the Apple TV is small and easy to disconnect and move around. If you only want to watch a single TV at a time, the easiest solution might be to move your Apple TV from room to room between them.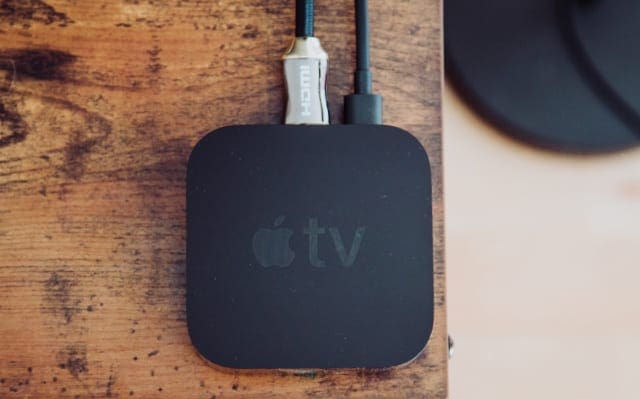 However, this won't help if you want to play Apple TV content on multiple screens at once.
Use an HDMI Splitter to Connect One Apple TV to Multiple TVs
It's common for businesses to have two or more TV screens they want to use at the same time. For example, a bar or a shop could have multiple TVs on display that need to play the exact same Apple TV content simultaneously.
To do this, you need to use an HDMI splitter.
An HDMI splitter takes the signal from your Apple TV streaming box and splits it into multiple identical HDMI outputs that you can send to different TVs.
Don't get it confused with an HDMI switch, which takes multiple HDMI inputs and sends them to a single TV. An HDMI switch is useful if you need to connect multiple HDMI devices to the same TV, such as an Apple TV, a games console, and a Blu-Ray player.
When buying an HDMI splitter, make sure it has the right number of outputs to match the number of TVs you want to send the signal to.
But there are several other considerations you also need to make before getting an HDMI splitter.
The Downsides to Using an HDMI Splitter
When you use an HDMI splitter to connect an Apple TV to multiple TV screens, every TV shows the same content at the same time. It's not possible to watch two different things at once, for that, you need to buy a second Apple TV.
But even if you're happy to play the same content on each TV, using an HDMI splitter with an Apple TV can still lead to other problems.
First of all, you need to make sure you won't come into any HDCP issues.
Expect Some HDCP Compatibility Problems
HDCP (High-Bandwidth Digital Content Protection) is the protocol used by iTunes and other copyrighted media providers to avoid people duplicating content illegally. You need to make sure everything you connect to your Apple TV is compatible with the HDCP protocol it uses.
You'll never encounter an HDCP problem when connecting your Apple TV directly to a TV. But you might come across HDCP problems when you introduce a new device in between, such as a home theater system or even a simple HDMI splitter.
Lots of HDMI splitters cause problems with HDCP. When this happens, you can't watch any Apple TV content through the splitter, rendering it practically useless.
Try to find an HDMI splitter that offers high-level HDCP compatibility or HDCP bypass. And make sure it offers a return period so you can test it out without taking a risk.
Even if you do find a good HDMI splitter, the HDCP protocol changes every year so you still might encounter problems in the future.
You Need to Amplify a Split HDMI Signal
When looking for an HDMI splitter, you also need to make sure you find a powered solution.
After splitting the HDMI signal into multiple outputs (one for each TV screen) the signal is much weaker, making it more likely to drop out before reaching the TV.
A powered HDMI splitter bypasses this problem by amplifying the signal again after splitting it.
Long HDMI Cables Are Ineffective
You might be hoping to use an HDMI splitter to connect your Apple TV to multiple TV screens throughout your house. To do this, you'll need to run long HDMI cables from the splitter to each of your TVs.
However, HDMI cables typically max out at around 10 meters, after which the signal becomes too weak and starts to drop out before reaching the TV. Due to the nature of digital signals, when the signal gets weak it stops working altogether, rather than going fuzzy like old analog TV signals used to do.
It's unlikely that 10 meters is long enough to thread the HDMI cables to all the different rooms you want it to reach. You might be able to fix this by chaining your signal through more amplifiers, but it starts to get incredibly expensive when you do so.
Don't Forget About the Remote
In addition to all the other problems we've mentioned, even if you do manage to connect your Apple TV to multiple TVs in different rooms, the Apple TV Siri Remote probably won't have enough range to be useful in any other room.
If your Apple TV is downstairs in the living room and you want to watch it upstairs in your bedroom, it's unlikely the Siri Remote can reach that far. So you'd need to get up and go downstairs to control the Apple TV anyway.
That said, there are a couple of solutions to this.
First of all, you can use an iPhone as an Apple TV remote, which should work over long distances by connecting to your Wi-Fi network.
Secondly, you can invest in high-powered IR extenders, like those from Powermid, which boost the signal from your remote to the Apple TV.
Consider Buying Multiple Apple TVs for Multiple TVs
The simplest way to play Apple TV content on multiple TVs is to buy an Apple TV streaming box for each TV. You can't sync playback across each of the TVs using this method. But you can choose to play multiple things at the same time.
You can also use Apple TV's One Home Screen feature to sync your apps and Home screen layout across each TV automatically.
It may not seem so initially, but buying multiple Apple TVs can actually be the cheapest solution as well.
Just add up the costs of getting a high-quality HDMI splitter and amplifier and piping long HDMI cables through the walls of your house to find out for yourself. Before long, $200 on a new Apple TV 4K seems pretty reasonable.
If you do buy more, here's how to set up a new Apple TV.