What is the Apple TV?
Apple TV is a small set-top-box that lets you watch HD movies, television shows, and lots of other video content from many different services like YouTube, Netflix, Hulu, and a bunch more iOS-style apps and games–currently over 1600 video apps to choose from. Apple TV includes apps like live sports, news coverage, music, religious programming, weather reports, even NASA! And of course, there are plenty of shows for kids, music events, and even podcasts for every member of the family–young to old. The options are overwhelming. All these Apple TV apps give you control over what, when, and where you want to watch. Apple TV is designed for everyone in the family to easily navigate and enjoy content at the press of a button (or asking Siri.)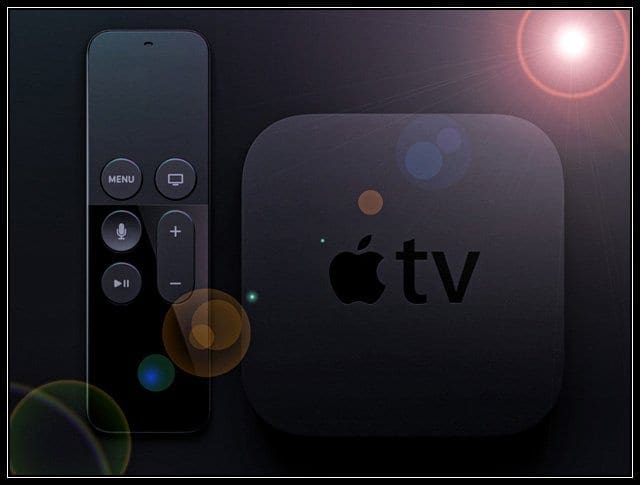 A Brief History of Apple TV
Apple TV started out as something of a "hobby" project for Apple, with early versions only giving basic access to iTunes content. Consumers and experts criticized those devices for missing some of the features found on competing and sometimes cheaper devices like the Roku 2.
Thankfully, in late 2015 Apple finally announced the new Apple TV (4th generation) in two storage size capacities (32 GB and 64 GB.) These models feature a totally revamped user interface, a slightly tweaked outer case (being taller than the outgoing model, although mostly unchanged in appearance.) And best of all, the new Apple TV has a much better remote with Siri voice input (via a dedicated remote control button), plus adoption of the "A8" CPU that found in the iPhone 6 and 6 Plus.
Now Showing "Siri" on Your Apple TV
Apple TV connects to newer model televisions via HDMI only (cable not included) and includes a "Siri Remote" that uses Bluetooth 4.0 and also has an accelerometer and gyroscope, dual microphones for Siri, a Lightning connector for charging, and a smooth touch surface.
When you know what you want to watch, just ask Siri and she takes you right there. But Siri is way more intelligent than just that! Ask Siri when you're not exactly sure what you want to watch. Say "I feel like watching a '70s movie" and Siri searches for you, outlining options without you needing to click through a zillion + menus.
Apple TV is Versatile
Besides the ability to download and stream media, Apple TV also supports AirPlay, a convenient way to mirror your iPad, Mac, or iPhone screen, or "cast" your own home movies or favorite games onto your larger television screen.
Single Sign On–It's About Time
For those consumers with an Apple TV agreed with TV cable or satellite service, no more typing in usernames and passwords for every app you use. With single sign-on, just enter your cable or satellite subscription credentials once, then get access to all the apps in your pay TV package that support single sign-on. Sorry World, this feature is available in the United States only, for now.
TV App: t

he place for everything you want to watch
Apple also introduced the TV app in late 2016, replacing the Videos app on iOS. The TV app aims for a unified viewing experience, for all the movies and shows you watch, from all the different apps and different devices you routinely use. It doesn't matter where you're watching — on your TV, iPhone, or iPad — the TV app follows your viewing experiences and history.
Apple TV Troubleshooting