As we accumulate new OS and iOS devices in our homes, we tend to create islands of content on multiple devices. In this article, we will look at understanding Home Sharing and Family Sharing features offered by Apple. Since different family members often have different TV-watching preferences, we will also examine how to set up the Home Sharing feature with your new Apple TV, so that it can stream different content. Lastly, we will focus on some of the common troubleshooting tips associated with Apple's Home Sharing feature.
Related Reading
Home Sharing is a feature that has been around since 2009. And no, it's not an Airbnb for your home! Home Sharing can let music and video be shared while on the same home network. It is especially helpful when you are trying to share an apple device such as Apple TV among multiple people in the family. Home Sharing feature lets you transfer or stream music, video, apps and other iTunes Store content between computers on the same network. You can also play iTunes music and video on iPads, iPhones and iPod Touch devices running iOS 4.3 or later, as well as on a Apple TV.
What's the Difference Between This Feature and Apple's Family Sharing Feature?
Family sharing was introduced last year by Apple as a part of its iOS 8 release. The feature allows the administrator to set up a "family share" by adding members to the group and providing a credit card number to pay for iTunes and App Store purchases made by those members.
Children under 13 can now have parentally approved Apple ID accounts, and the Ask to Buy function lets a parent control a child's App Store shopping by allowing the adult to approve or decline attempted purchases.
Members of the same iOS 8-enabled family can also share their online calendars and contribute pictures taken with their iPhones, iPods and iPads to a group album. A location-sharing feature — which displays the whereabouts of family members and their iOS devices on a map — may be of particular interest to parents.
In order to Set-up family sharing on an iPhone or iPad, follow these steps:
Open the Settings app on your iPhone or iPad.
Tap [Your Name] at the top of the screen.
Scroll down and tap Family Sharing.
Tap Set Up Your Family.
Follow the on-screen steps to finish setting up Family Sharing.
Here's how you can set up Family Sharing on the Mac:
Open the System Settings app on your Mac.
Below your name, click Family.
Click the Set Up Family button in the bottom right corner.
Follow the on-screen steps to finish setting up Family Sharing.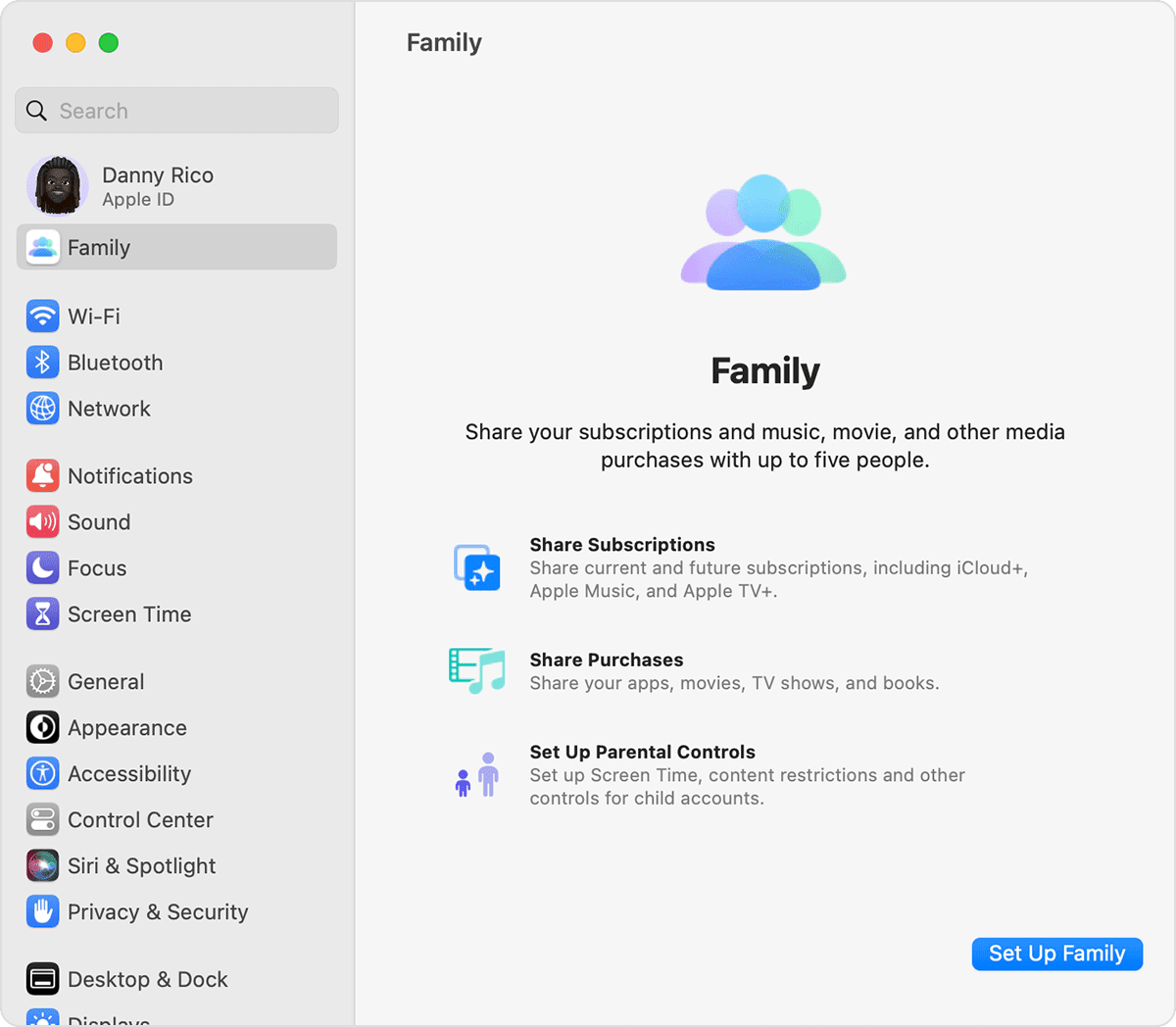 When you first go through the steps of setting up Family Sharing, you should be prompted to send invitations. However, in the event that you don't see the option, here's how you can invite people to join your family:
Open the Settings app on your iPhone or iPad.
Tap Family.
Tap the Add Member button in the top right corner.
Enter the Apple ID or contact information for the person you want to add.
Once the invitation has been sent, the person will be able to view and accept the invitation from the notification that appears. Now, you'll be able to proceed with the steps needed to set up Home Sharing.
How Do I Set Up Home Sharing?
You can set up Home Sharing to be used for your computers (Allows 5 computers to be connected on the same network), devices such as your Macs, iPads, iPhones and Apple TV. In order to enable Home Sharing for your iPhone or iPad, follow these steps:
Open the System Settings app on your Mac.
Click General in the sidebar on the left.
Scroll down and select Sharing on the right side of the window.
Locate Media Sharing from the list of options.
Click the Info button on the right side.
Click the toggle next to the following options:

Home Sharing

When you enable Home Sharing, you'll need to enter the Apple ID and password for the account you plan to use, then click the Turn On Home Sharing button.

Devices update play counts
Share photos with Apple TV
Share media with guests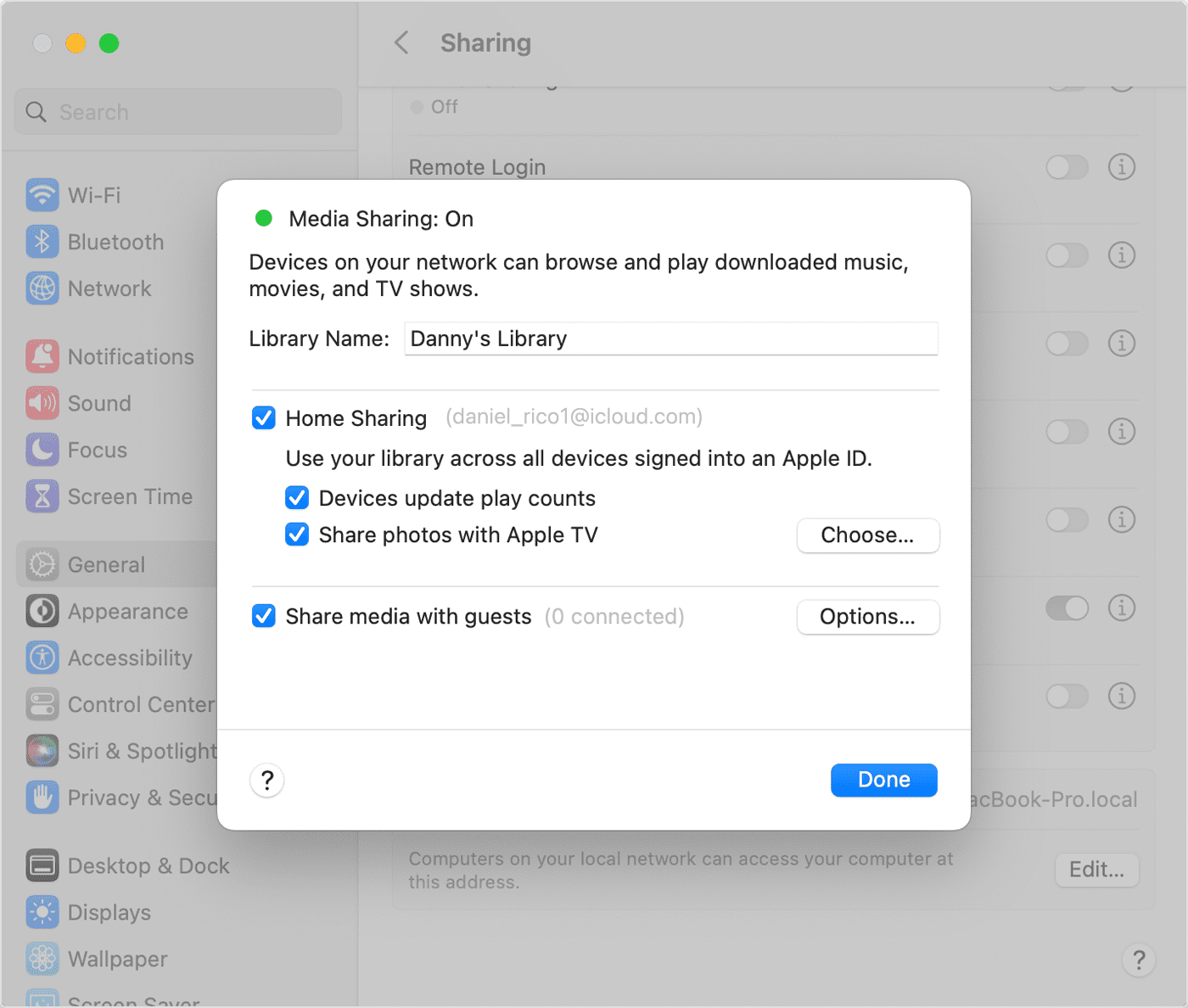 Unfortunately, the only way that you can set up Home Sharing is to do so from your Mac, or if you have a Windows computer. There's no current way to enable Home Sharing from any of your other Apple devices, including the iPhone or iPad.
I Recently Bought the Apple TV. How Can I Share It With the Other Family Members?
Most people have their own preferences when it comes to TV viewing habits and preferences. By using the Home Sharing feature and your Apple ID, you can easily share your Apple TV with other members in the family.
Wake your Apple TV from sleep.
Open the Settings app.
Locate and select Users and Accounts.
Select Home Sharing.
Click Turn on Home Sharing.
If prompted, sign in with your Apple ID and password. It's important to remember that you must use the same Apple ID for every computer or device on your Home Sharing network.
Once you have finished signing in, follow these steps to access your computer's Home Sharing media library on your Apple TV:
Make sure your Apple TV is connected to the same Wi-Fi network as your Mac or Windows computer.
From your computer, open the Music app, Apple TV app, or iTunes (if using Windows).
On your Apple TV, go to the Home Screen.
Locate and select Computers.
Select the shared library.
You can view all of your accounts from different computers without changing anything on the Apple TV.
The key to Home Sharing is that regardless of the account details of each account, if they all use the same Home Sharing details the Apple TV can stream content from any of them.
It doesn't really matter who's account you set up for use with the iTunes store on the Apple TV, everyone who uses the same Home Sharing settings as the Apple TV uses, will be able to connect to their library from the Apple TV. The Apple TV can also access content from an AirDisk, but only if the content is linked via iTunes and the computer running iTunes is running.
The key in using multiple Apple ID accounts for sharing is that the computer will need to be running.
Simple Troubleshooting Tips for your Home sharing Set-up
Make sure you're running the latest version of iTunes available for your computer.
Your Apple TV must be at least a 2nd or 3rd generation model and running version 4.2.1 of the software.
Make sure you are using the same Apple ID for all your devices. This is the most important step and can cause problems if you don't check and make sure
Check your network settings to see if all your devices are connected to the same router.
Turn off your firewall's "Block all incoming connections" and "Allow only essential services" settings.
If your computer is sleeping, access may not be granted. Go to Energy Sharing in System Preferences and check the box beside "Wake for Wi-Fi network access".
Please let us know your comments and thoughts below. Happy Sharing!
Obsessed with tech since the early arrival of A/UX on Apple, Sudz (SK) is responsible for the original editorial direction of AppleToolBox. He is based out of Los Angeles, CA.
Sudz specializes in covering all things macOS, having reviewed dozens of OS X and macOS developments over the years.
In a former life, Sudz worked helping Fortune 100 companies with their technology and business transformation aspirations.