Are you frustrated with the Netflix App on your iPhone, iPad, or iPod? Seeing different errors, problems playing content, incompatibilities, or not able to download the app due to your device's iOS? If so, you are not alone! Quite a few of our readers experience problems with Netflix.
Related Reading:
Sometimes, Netflix gives different errors. These include constantly loading, problems connecting, or even app incompatibility.
Let's look at some of the reasons why the Netflix app might not be working on your iPhone or iPad, plus how to fix the issues you're facing.
Netflix App Not Playing Any Content on iPhone or iPad
Your Netflix app might not play content on your device for a handful of reasons. First and foremost, you should check your device's date and time:
Tap Settings > General > Date & Time.
Toggle Set Automatically on.
You might also not be able to play content because it isn't available in your region. In some cases, this can occur when you have a VPN connected and have set it to a different location. Go to Settings and toggle VPN off if that's the case. If your physical location is hindering the catalog of content on Netflix, you can turn your VPN on instead.
Force Close the Netflix App
Closing and reopening the Netflix app might also allow you to begin watching content again.
Double press the Home Button or swipe up the Home Gesture Bar.
Locate the app preview for Netflix.
Swipe up, off the top of the screen, the Netflix app preview.
Relaunch the Netflix app and see if it works normally.
How To Fix "There is a problem connecting to Netflix. Please try again later (1011)" and Other Errors
Apart from these messages, you might have some problems with the Netflix application on your iPad, or the settings might need to be set correctly. Here's the complete troubleshooting guide for all the iDevice users who have issues with the Netflix app on their iPhones, iPads, or iPod Touches.
1. Update The Netflix App
It's always a good idea to check if there's an update. Go to the App Store and tap on the Updates tab. See if Netflix issued an update to the app, and if so, start downloading and installing it.
Then, try relaunching the app!
2. Check Your Internet Connection
If you see a black screen or the screen is always loading, it might be due to the poor internet connection on your iPhone or iPad. Please make sure that your internet connection is working correctly. Open Safari to check the internet connection on your iPad.
Try toggling off Wi-Fi and then turn it back on again. Connect to your fastest and most stable network available.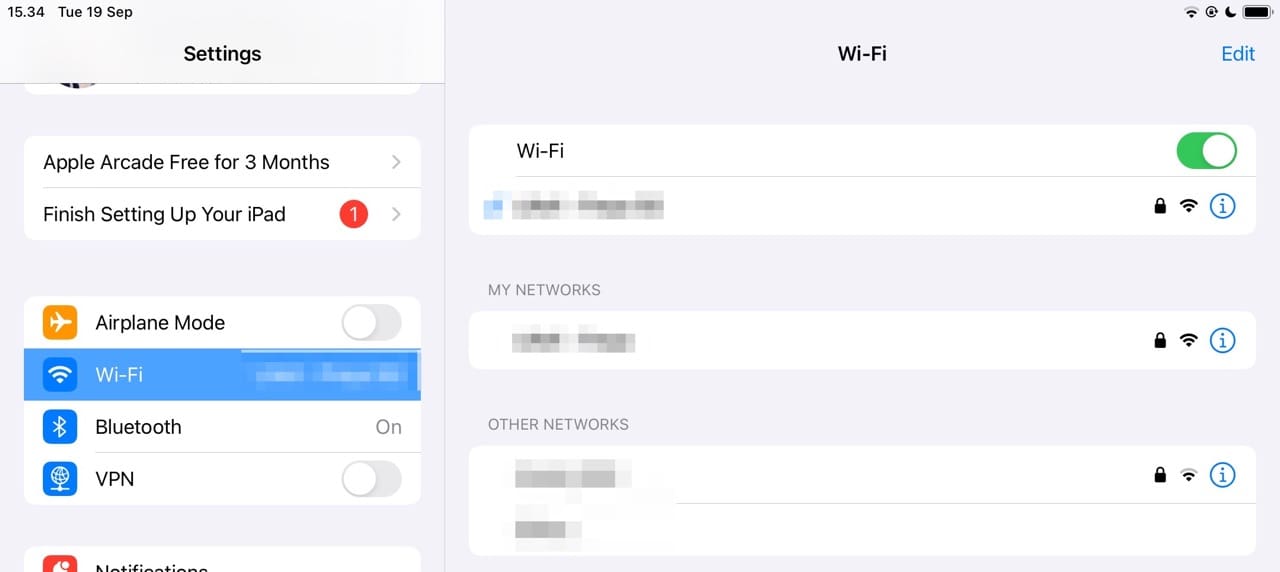 3. Reset the Netflix App on iPad for Errors 1011 and 1012 (+ Others)
The second problem may be due to specific errors such as Error 1011 & 1012, which will not let you play any videos from Netflix.
Follow these instructions to reset the Netflix app on your iPad or iPhone.
Close the Netflix app.
Go to Settings > Netflix.
Toggle Reset on. Resetting the Netflix app removes any titles you have downloaded through the app.
Go back to your Home Screen.
Open Netflix again and sign in to the Netflix app.
This process resets the account on your device and also clears out the cache and any other associated data in the application.
4. Restart Your Device
If the methods mentioned above didn't work for you, restart your iPad using the power button on the side or top of the device.
5. Force Restart
On an iPad with no home button, iPhone with no home button, or iPhone 8, or iPhone 8 Plus: Press and quickly release the Volume Up button. Press and immediately release the Volume Down button. Then, press and hold the Side button until you see the Apple logo.
On an iPhone 7 or iPhone 7 Plus: Press and hold both the Side and Volume Down buttons for at least 10 seconds, until you see the Apple logo
On an iPhone 6s and earlier, iPad with a home button, or iPod touch: Press and hold both the Home and the Top (or Side) buttons for at least 10 seconds, until you see the Apple log.
6. Reinstall Netflix
Removing the Netflix app and installing it again via the App Store is a great troubleshooting option for folks with frequent crashing problems! So if Netflix keeps crashing, try deleting and reinstalling the app.
Another option to fix the Netflix application on your iPad or iPhone is offloading the Netflix application via the Settings app and installing it again on your iPhone. To offload Netflix, go to Settings > General > iPad Storage > Netflix and select Offload App.
7. Check for Restrictions                                                                                                                 
If you still have problems with the Netflix app on your iPhone or iPad, make sure that you have not enabled the restrictions on your iDevice.
Here's how to check for restrictions on your device when Netflix is not playing on your iPhone or iPad:
Go to Settings > Screen Time > Content & Privacy Restrictions.
Look in the Content Restrictions tab. Choose Allow All for Movies, TV, and Apps.
You may also want to toggle Content & Privacy Restrictions off if you don't feel like you need them.
Can't Download Anything From Netflix?
Not all Netflix content is downloadable. So, if you're unable to download a show or movie, begin by checking that you can actually download it in the first place. First, check that you can download it.
Also, if you download a movie or other content, it does not play if Netflix removes the title from its store before you watch it.
Delete Your Netflix Downloads Once Viewed!
Once you or your family watch downloaded titles, it's best to delete those titles from the device.
Although Netflix places expirations on all downloads (anywhere from 48 hours to 7 days depending on content,), it's best to manually delete content after viewing it.
Delete a single downloaded title from your iOS device:
Go to My Netflix > Downloads.
Choose the shows you want to delete and select Delete Download.
Delete all downloaded titles from your iOS device:
Go to My Netflix > More > App Settings.
Go to Downloads and select Delete All Downloads.
After removing all the downloaded titles from the device, connect to the internet, and launch the Netflix app. This lets Netflix know that the device is no longer being used to watch that downloaded content.
Now, if desired, you can download those same titles onto a new device.
Netflix Download Expired?
If a title expired, you need to renew it. Be aware that some titles may only be renewed a certain number of times.
Delete the downloaded version of the program or movie you want to watch, before attempting to redownload it.
Titles that are no longer available on Netflix expire when they leave the service, regardless of when you downloaded them.
Netflix App Isn't Compatible With My iPhone or iPad
Netflix will remove support for older devices over time, and you may struggle to use the app if your iPhone or iPad is more than five or six years old.
Please refer to these two guides for further assistance:
You can also update your iOS or iPadOS software if you haven't for a while. Go to Settings > General > Software Update to do this. Tap Update Now if a software update is available.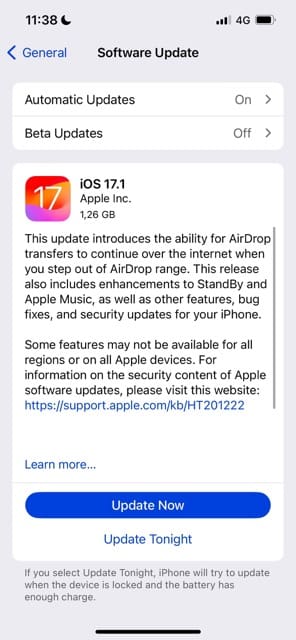 Netflix Says Incorrect Password Even When It's Correct
One of our readers mentioned that when they type in their password, it shows up as incorrect — even when it's not. Unless someone else has changed your password, these are normally related to software glitches.
You can try a couple of things:
Delete and reinstall Netflix
Remove the password from your device and try signing in manually again (this may work if you use Passwords & Keychain)
Restart/force restart your iPhone or iPad
Netflix Shows a Black Screen
If Netflix is showing a black screen instead of playing content, try closing and reopening the app. You should also check your internet connection; sometimes, shows might not load because your Wi-Fi isn't working.
Netflix Goes to the Home Screen When Pressing Play
This is normally a software-related glitch, but it could also relate to the program no longer being available. To ensure that it's not the latter, try updating your device and app software. On top of that, you can also attempt to restart the app.
Reader Tips
David discovered that when he drained his iPad's battery entirely that he was able to get Netflix working again. So if nothing else worked, give David's tip a try by fully draining your battery. A quick way to drain battery is to turn your screen's auto-lock to Never and then play videos via YouTube or similar apps.
If you can't download the latest Netflix App to your older iPad, iPod, or iPhone, try using iTunes version 12.6 or earlier —that supports app management. You can even download an older iTunes Mac App from Apple that has the app purchasing ability (12.6.4.3). When you install this version, you can continue to use iTunes to manage and install apps on your devices — but you CANNOT update iTunes ever again! Just go to your App Store tab within iTunes on your PC or Mac and look for Netflix it in the "Purchased" list.
Netflix App Not Working on iPhone or iPad? Let's Fix It!
Having issues where the Netflix app is not working can be a huge problem, especially if you're a frequent watcher of content on the platform. There could be numerous reasons why you can't use the service, such as issues with connectivity and the fact that your device is no longer compatible. Thankfully, you can try to solve the issue with a whole host of options.
Hopefully, these tips have helped you fix any problems you were previously encountering. If you're still having problems, it's a good idea to contact Netflix's support team.
If anything worked for you to fix the Netflix app not working issue, leave a comment and let us know.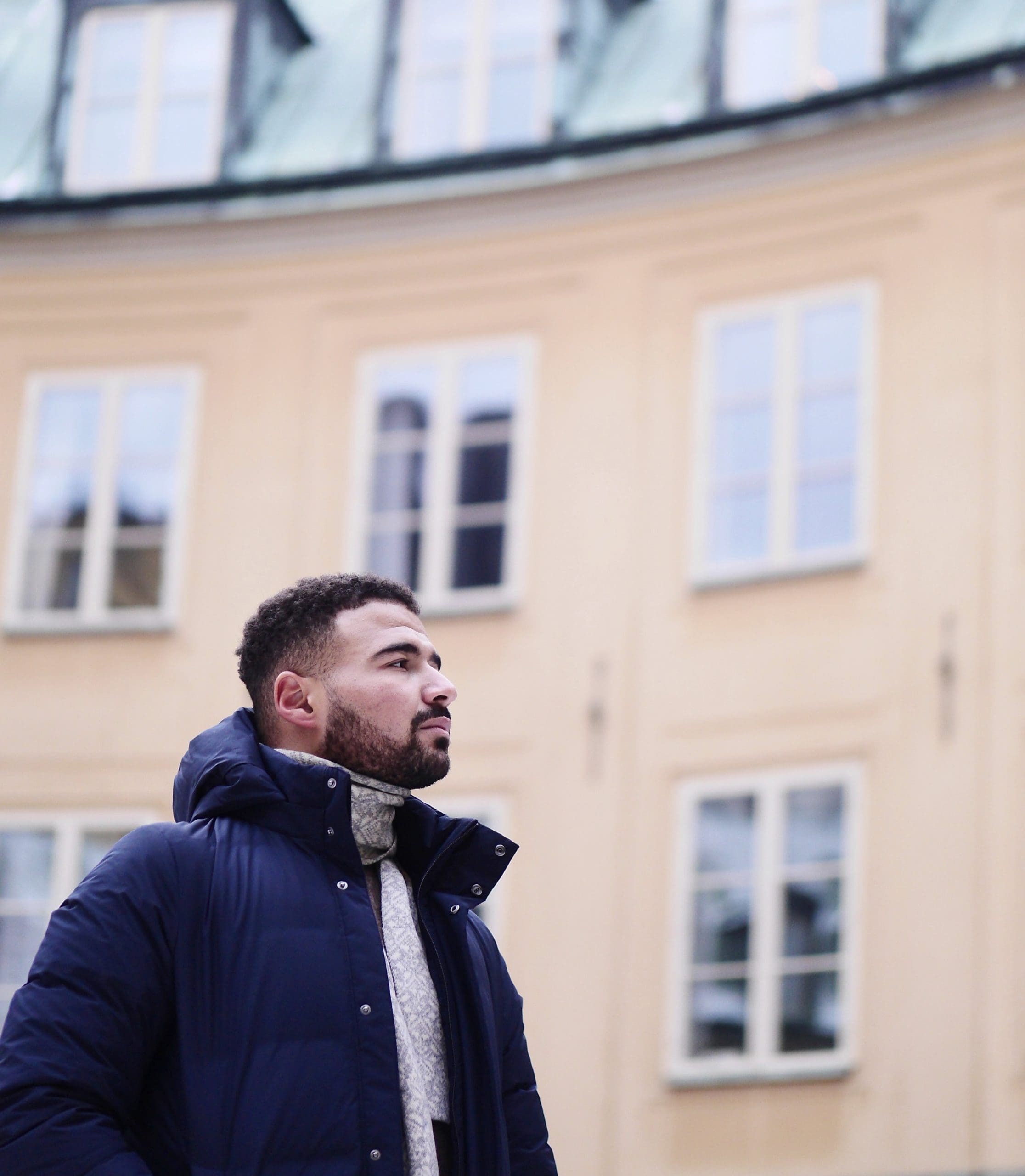 Danny has been a professional writer since graduating from university in 2016, but he's been writing online for over a decade. He has been intrigued by Apple products ever since getting an iPod Shuffle in 2008 and particularly enjoys writing about iPhones and iPads. Danny prides himself on making complex topics easy to understand. In his spare time, he's a keen photographer.