Frustrated with the Netflix App on your iPhone, iPad, or iPod? Seeing different errors, problems playing content, incompatibilities, or not able to download the app due to your device's iOS? If so, you are not alone! Quite a few of our readers experience problems with Netflix–unfortunately.
Netflix is one of the most popular video streaming service used on the iPhone, iPod Touch, iPad, Computers, and even the PS4. Users with the Netflix account can virtually watch all the movies and TV shows on all these devices.
However, sometimes, Netflix gives different errors, like constantly loading, problems connecting, or even app incompatibility.
There are lots of reasons when folks see this problem, such as your internet connection might not be working correctly, or the Netflix servers might have been down.
Related articles
Problems Playing Any Content?
Check your device's Date & Time!
If the date and time of your device are different from the actual date and time of your current location, you will likely have problems playing any videos.
Update Your iDevice's Date & Time
Tap Settings > General > Date & Time
Toggle Set Automatically on 
Prefer manual adjustments?

When the date and time are incorrect, tap either the date or time to adjust them
Force Close the Netflix App
Double press the Home Button or swipe up the Home Gesture Bar
Locate the app preview for Netflix
Swipe up, off the top of the screen, the Netflix app preview 
Lastly, relaunch the Netflix app and see if it works normally.
How To Fix "There is a problem connecting to Netflix. Please try again later (1011)" and Other Errors
Apart from these messages, you might have some problem with the Netflix application on your iPad, or the settings might need to be set correctly. Here's the complete troubleshooting guide for all the iDevice users who have issues with the Netflix app on their iPhones, iPads, or iPod Touches.
1. Update The Netflix App
It's always a good idea to check if there's an update. Go to the App Store and tap on the Updates tab. See if Netflix issued an update to the app, and if so, start downloading and installing it. 
Then try relaunching the app!
2. Check your internet connection
If you see a black screen or the screen is always loading, it might be due to the poor internet connection on your iPhone. Please make sure that your internet connection is working correctly. Open Safari to check the internet connection on your iPad.
Try toggling off WiFi and then turn it back on again. Connect to your fastest and most stable network available.
3. Reset the Netflix app on iPad for Errors 1011 and 1012 (and others)
The second problem may be due to specific errors such as Error 1011 & 1012, which will not let you play any videos from Netflix.
Refresh your device's Netflix information by resetting the Netflix app
Close and Relaunch the Netflix App

Go to your Home Screen
Press the Home button twice or swipe up the Home Gesture Bar
Locate the Netflix app preview
Swipe the Netflix app preview up towards the top of your screen to close it

Go to 

Settings > Netflix

Toggle the Reset button on 

Resetting the Netflix app removes any titles you have downloaded through the app

Go back to your Home Screen
Open Netflix again and sign in again to the Netflix app
This process resets the account on your device and also clears out the cache and any other associated data in the application.
4. Restart your device
If the methods mentioned above didn't work for you, restart your iPad using the power button on the side or top of the device.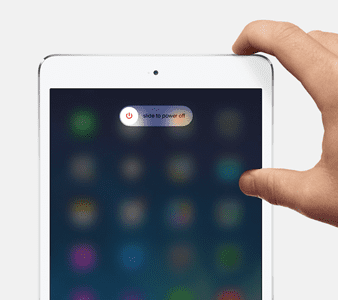 If using iOS 11, or higher, use the Shutdown command in Settings (Settings > General > Shutdown) 
5. Force Restart
On an iPad with no home button, iPhone with no home button, or iPhone 8, or iPhone 8 Plus: Press and quickly release the Volume Up button. Press and immediately release the Volume Down button. Then, press and hold the Side button until you see the Apple logo 
On an iPhone 7 or iPhone 7 Plus: Press and hold both the Side and Volume Down buttons for at least 10 seconds, until you see the Apple logo
On an iPhone 6s and earlier, iPad with a home button, or iPod touch: Press and hold both the Home and the Top (or Side) buttons for at least 10 seconds, until you see the Apple logo 
6. Reinstall Netflix
Removing the Netflix app and installing it again via the App Store is a great troubleshooting option for folks with frequent crashing problems! So if Netflix keeps crashing, try deleting and reinstalling the app.
Another option to fix the Netflix application on your iPad or iPhone is offloading (for iOS 11 +) the Netflix application via the Settings App and installing it again on your iPhone.
How To Delete Netflix
Press and hold the Netflix app until it wiggles
Tap the "x" in the top-left corner
Press Delete–this removes the app and all its data
Then reinstall Netflix via the App Store
You need to sign in with your Netflix credentials again
How To Offload Netflix (iOS 11 and above)
Go to Settings > General > iPhone or iPad Storage
Scroll down and locate Netflix and tap it
Select Offload App–this deletes the app but keeps its documents and data
Once offloaded, press Reinstall App
7. Remove Some Devices
If you and your family connect to Netflix using a variety of devices on the same network, try switching networks on some of those devices. Or, if you're not using some of those devices, simply log some of those other devices out of Netflix.
If your cellular plan supports personal hotspots, create a hotspot from your phone and connect some of your devices to that, then immediately disconnect from it.
8. Check for Restrictions                                                                                                                 
After trying all the troubleshooting steps, if you still have some problems with the Netflix app on your iPhone or iPad, make sure that you have not enabled the restrictions on your iDevice.
Here's how you can check all the restrictions on your iPad or iPhone
For iOS 11 and below

Go to Settings > General > Restrictions

Enter the password that you previously entered for the restrictions
Choose Disable Restrictions
If you want to have the restrictions but want to disable them for the Netflix, Tap on Websites under allowed content. Select one of the mentioned options on the screen. Now, tap on Add A Website" and add https://secure.netflix.com
This lets you watch the Netflix videos and movies on your iPad

For iOS 12 and above

Go to Settings > Screen Time
Tap on Content & Privacy Restrictions 
Enter your Screen Time Password (tap here if you forget or need to reset your Screen Time passcode)
Toggle off Content & Privacy Restrictions
If you want to maintain some restrictions, but want to disable them for the Netflix, Tap on Websites under allowed content. Select one of the mentioned options on the screen. Now, tap on Add A Website" and add https://secure.netflix.com
This lets you watch the Netflix videos and movies on your iPad
Getting Message, "Netflix says my account is already in use when I try to watch."
If you share your Netflix account with friends or family, they may be using Netflix while you're trying to watch.
The number of users that can stream at the same time depends on your Netflix plan. Currently, there are three tiers, with the basic option allowing only one screen and the premium option allowing four screens streaming at the same time.
If you see this error frequently, consider upgrading your plan to a higher number of "screens at once" from the Your Account page.
How To Change Netflix Plan
Open the Netflix App
Press the More Tab at the bottom (3 lines)
Tap Account–this opens a webpage with your account details
Scroll to Plan Details
Select Change Plan
Choose what plan you want to update to
Press Continue 
Can't Download Anything From Netflix?
Netflix finally started allowing content downloading for offline viewing a few years ago. But not all content is downloadable!
So first check that you CAN download it.
Also, if you download a movie or other content, it does not play if Netflix removes the title from its store before you watch it.
What content can you download on Netflix?
Downloadable content always has the download icon next to it (a downward facing arrow.) So if you don't see that icon, you cannot download it! 
Netflix Download Failed?
Tap the arrow next to the

Download Failed

message
Tap the exclamation point next to your downloaded title to find out more information
No Option to download to your iPhone, iPad, or iPod Touch?
If you don't see an option to download TV shows or movies that others can download (like most Netflix originals), you probably have an out-of-date version of the Netflix app.
Update Your Netflix app
Tap the

App Store and choose 

Updates

Search for 

Netflix

Tap

Update

Enter your password if requested
Once the update completes, launch Netflix again
Downloads on Too Many Devices error message?
This error message indicates that you exceeded the maximum number of devices that can store downloaded titles at the same time.
You may need to change your Netflix plan to store content on more than two devices.
You can use 1, 2, or 4 devices to download titles, depending on your plan. To download to a new device, you must either remove downloaded titles from an existing device or upgrade your streaming plan.
Delete Your Netflix Downloads Once Viewed!
Once you or your family watch downloaded titles, it's best to delete those titles from the device.
Although Netflix places expirations on all downloads (anywhere from 48 hours to 7 days depending on content,), it's best to manually delete content after viewing it.
Delete a single downloaded title from your iOS device:
Tap

Downloads

Select 

Edit

in the upper-right corner of your screen
Tap the

red X

icon to remove the title from your device
Delete all downloaded titles from your iOS device:
Tap the Menu icon
Scroll down and select

App Settings

Select

Delete All Downloads

On the confirmation screen, choose 

Delete

Your iOS deletes all downloaded titles
After removing all the downloaded titles from the device, connect to the internet, and launch the Netflix app. This lets Netflix know that the device is no longer being used to watch that downloaded content.
Now, if desired, you can download those same titles onto a new device.
Netflix Download Expired? 
If a title expired, you need to renew it.
Be aware that some titles may only be renewed a certain number of times–is so, you see a message that the title cannot be watched offline.
How To Renew Expired Netflix Downloads
Open the Netflix
Tap the Downloads Tab
Find the title you want to renew
Tap the Renew icon (exclamation point)
Choose Renew (or Renew Download)
If you are unable to renew, you already hit the download limit for this title (you can still stream it)
Titles that are no longer available on Netflix expire when they leave the service, regardless of when you downloaded them.
Netflix App Freezes on Apple TV?
Okay, not all problems are with iDevices. So if Netflix freezes or is unresponsive when you try to select a profile on your Apple TV, try force closing the app and restarting.
Force close the Netflix app
Double tap the home button on your remote
Swipe right or left to locate the Netflix app preview
Swipe up on the remote to force quit the Netflix app
Try Netflix again
Can't Download The Netflix App to an iOS Device? Seeing Message "not compatible with this iPad" or iPhone? or "item no longer available"? 
The current version of the Netflix App requires that your iOS device run iOS 11.0 or above to successfully download the Netflix app.
If you are on an earlier iOS version (5.0 and above), you can download Netflix app only if the app was downloaded in the past onto your iPad.
So first, update your device to the latest iOS it can run–and make sure you backup via iCloud or iTunes before updating your iOS.
To update iOS, go to Settings > General > Software Update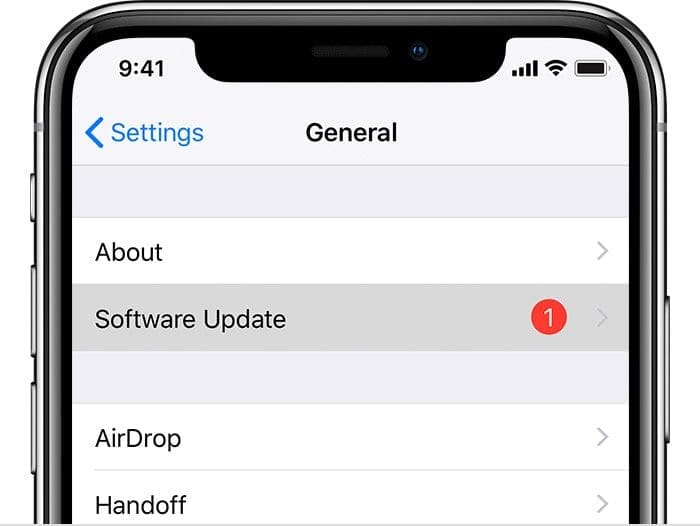 Used The Netflix App In the Past?
If you used the Netflix app previously on your iPad or other iDevice and with the same Apple ID you currently use, you should be able to locate it in your Purchased App section in the App Store (or iTunes Store App.)
This only works for folks previously bought and installed the Netflix app for a different iOS version. Sadly, we cannot figure out a way to get an older iOS Netflix App for someone who never downloaded Netflix before.
Check Purchases in the App Store
Restart your device by powering off, waiting a few seconds, and powering back on
Open the App Store
Tap Purchased tab at the bottom 
Search for Netflix in 'Search App Store'
Locate Netflix. You should see an older version such as Netflix 11.19.0 instead of the current 11.23.0
Tap the cloud icon to download the Netflix app again
If you see a message asking you "do you want to download the last compatible version?" select Download 

This installs the version that works with your current iOS
Can't Find the Netflix App in Purchases?
If you can't find the Netflix App, check your family's purchase history and also check that the Apple ID you've signed in with matches the Apple ID you originally purchased the Netflix app.
You can check your Apple Id on your iPad running an older iOS (iOS 10.3.3). Tap on Settings > iTunes & App Store, and you can check the Apple ID that you are using on your iPad.
If you used a different Apple ID, sign in with that different Apple ID and try again.
Reader Tips 


David discovered that when he drained his iPad's battery entirely that he was able to get Netflix working again. So if nothing else worked, give David's tip a try by fully draining your battery. A quick way to drain battery is to turn your screen's auto-lock to Never and then play videos via YouTube or similar apps
If you can't download the latest Netflix App to your older iPad, iPod, or iPhone, try using iTunes version 12.6 or earlier–that supports app management. You can even download an older iTunes Mac App from Apple that has the app purchasing ability (12.6.4.3). When you install this version, you can continue to use iTunes to manage and install apps on your devices–but you CANNOT update iTunes ever again! Just go to your App Store tab within iTunes on your PC or Mac and look for Netflix it in the "Purchased" list