Is Netflix not compatible with your iPad? Since the streaming platform is one of the most popular in the world, not being able to watch content on your device can be a huge problem. Maybe you can't download new updates, or perhaps you see that your device is not compatible when trying to get it from the App Store.
Related Reading:
It's hard to keep up-to-date on the latest shows without Netflix. So in this post we've explained how you can still download Netflix to your iPad, even if it says it's not compatible.
Why Isn't Netflix Compatible With My iPad?
As Apple's technology improves, they develop new software to take advantage of it. This is great for new device owners, but it eventually means older devices can't keep up with the new software releases.
App developers need to keep updating their apps to work on the latest software releases. As this continues, they can't also keep maintaining older versions of the apps for outdated software.
Over time, these older versions develop more and more problems, which don't get fixed. Eventually, app developers remove them from circulation altogether. When this happens, the app becomes unavailable for users with older devices.
What Software Is Netflix Still Compatible With?
As of September 6th 2023, only iPads with iPadOS 15 or later are compatible with Netflix.
It's useful to know what software you're currently running so you can find out if Netflix should be available to you or not. You can do this from the Settings app on your iPad.
You can find out which version of iPadOS software you're running by going to Settings > General > About and selecting iPadOS Version.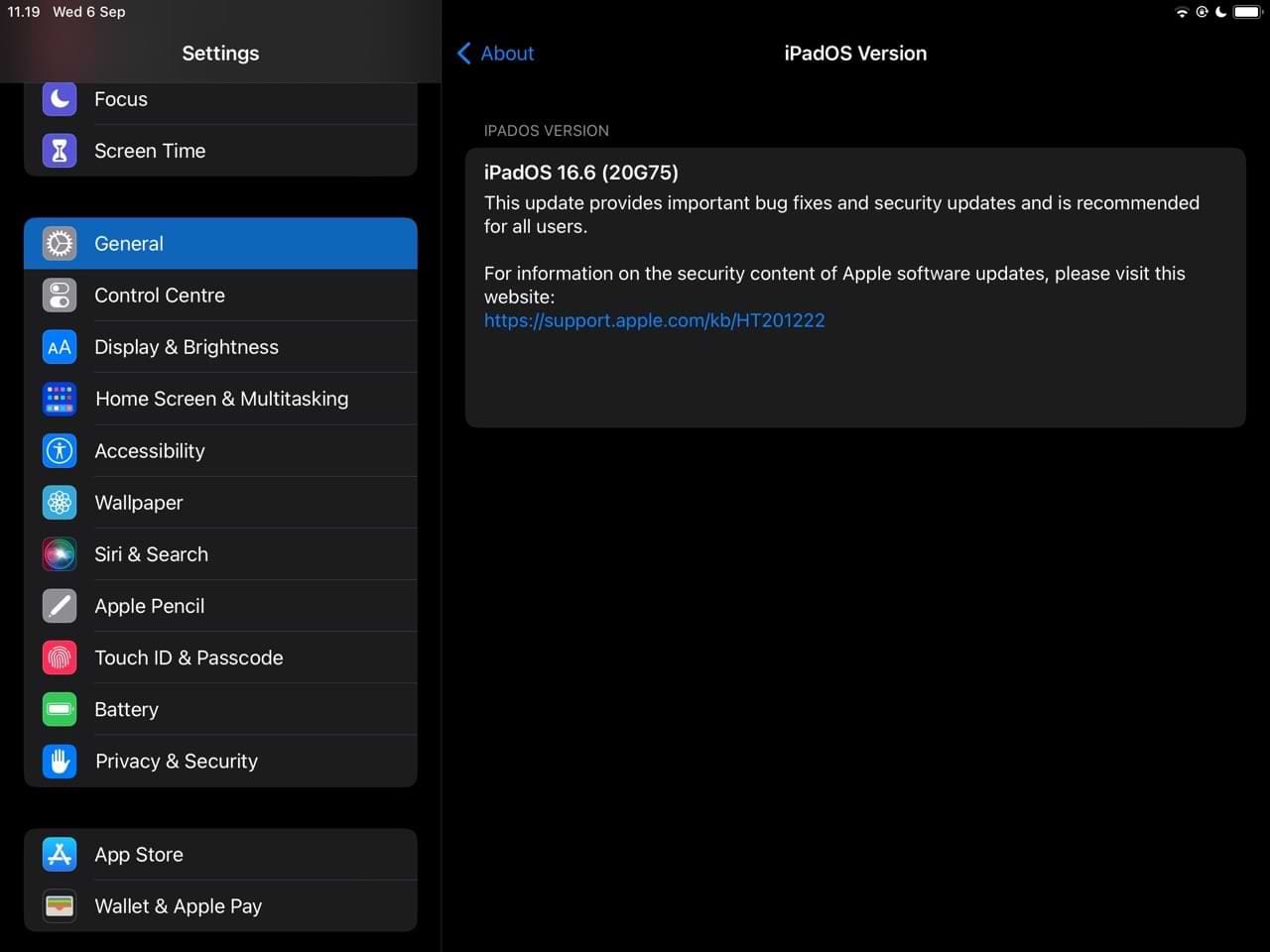 How Do I Download Older Versions of the Netflix App?
Although older versions of the Netflix app are still available, when you try to download them from the App Store you might get a message saying: "Netflix is not compatible with this iPad."
That's because Netflix only makes previous versions of the app available to users who already downloaded it in the past.
If you did download Netflix before, try to find it from the Purchased page in the App Store app. That's the only place you can get older versions of it. Click here if Netflix is missing from your Purchased page.
When you tap the cloud icon from your Purchased page to re-download Netflix, you should see an alert offering the last compatible version of that app. Tap the cloud icon, and there you go! You should have an old version of Netflix working on your iPad.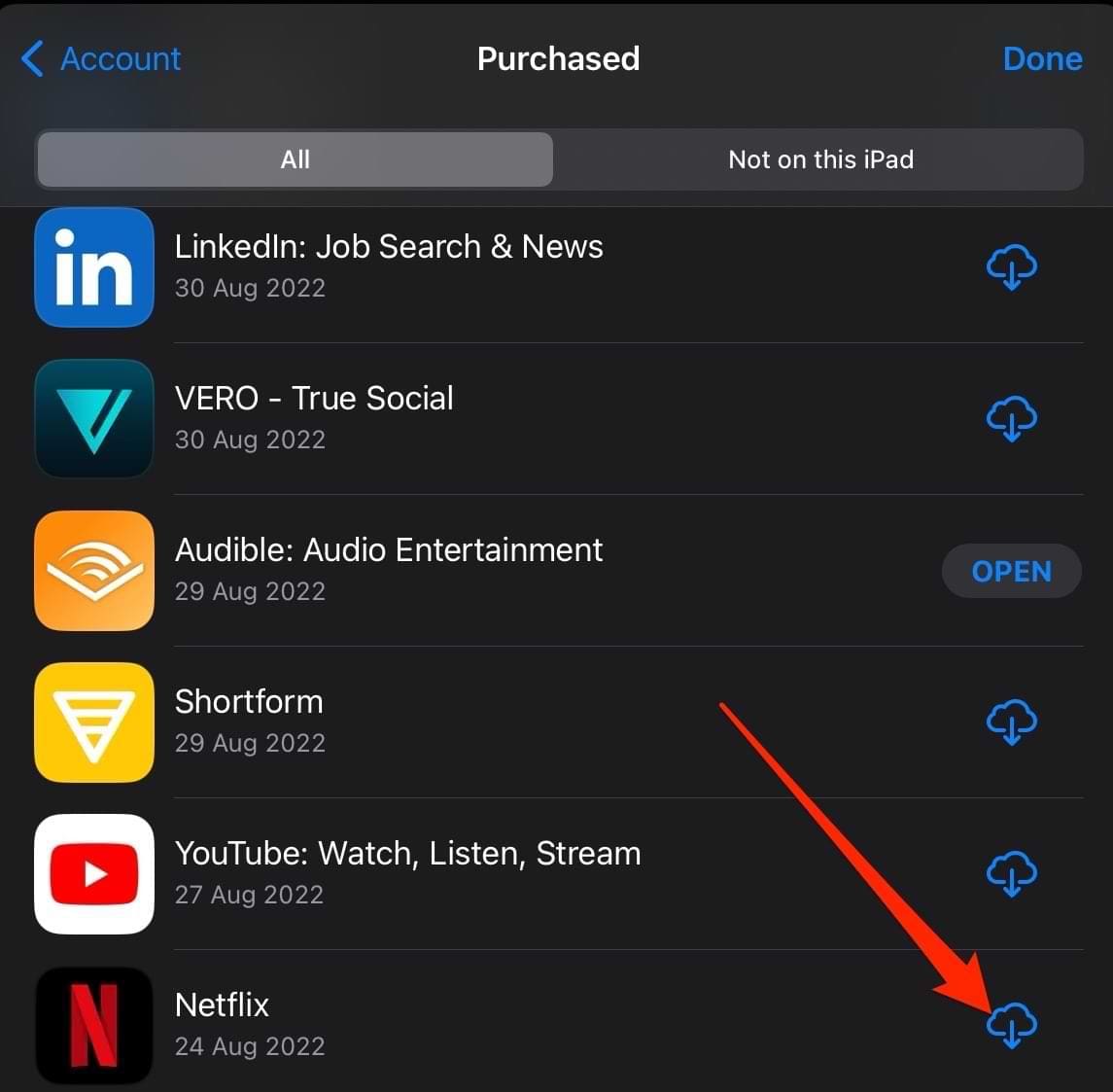 Don't worry if you never downloaded Netflix before; there are still a few things you can try.
1. Update to a Netflix-Compatible Software on Your iPad
If your tablet isn't currently running the latest version of iPadOS, the first place you should start is by making your device compatible with Netflix.
To update your iPad, go to Settings > General Software Update. If an update is available, click on Download and Install.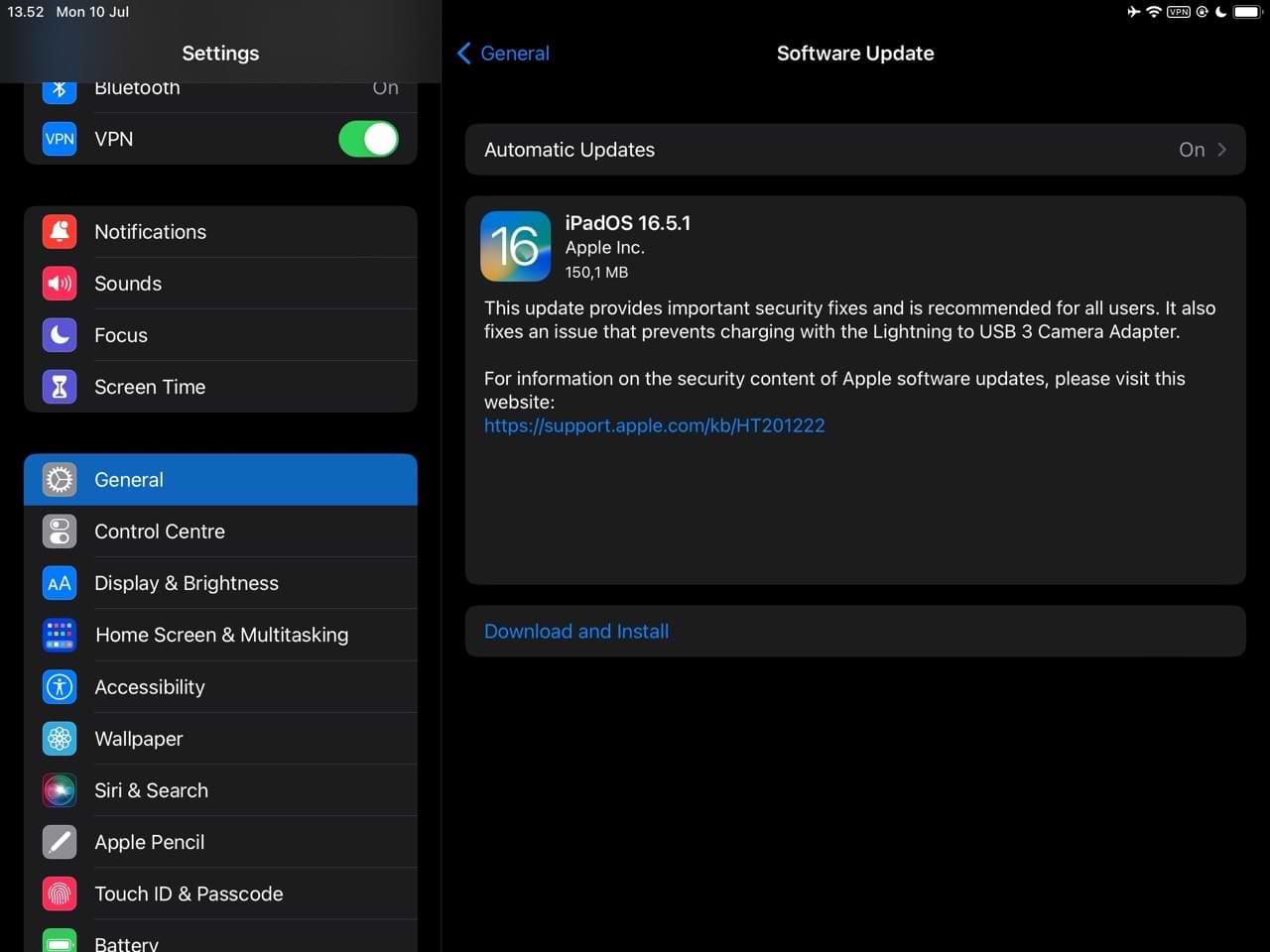 2. Download Netflix From a Device Running Compatible Software
Lots of us have multiple Apple devices: an iPad, an iPhone, and maybe even an iPod touch. If you have access to other devices running the right software, download Netflix from that device to make it appear in the Purchased page on your older iPad.
Whatever device you use, it must be signed in to your Apple ID account when you download Netflix. Otherwise Netflix won't appear in the Purchased list on your iPad.
Check the account you're signed in to on each device by going to Settings > App Store. Temporarily change accounts on the newer Apple device if necessary.
3. Download Netflix Using an Older Version of iTunes
Apple discontinued iTunes in 2019, so you'll need to have an old macOS version to download Netflix with this tip. iTunes 12.6.5 or earlier let you download iOS apps, and you can use this to download Netflix in iTunes and make it appear in the Purchased page on your iPad.
If you already have iTunes on your computer, check what version you have:
On a Mac: Open iTunes and go to iTunes > About iTunes from the menu bar.
On a PC: Open iTunes and go to Help > About iTunes from the menu bar.
Unfortunately, you can't install an earlier version of iTunes if your Mac is running macOS Mojave or later. Unless you're willing to buy an old Mac, you will have to stick to the other steps we've mentioned in this guide.
How do I install iTunes on my computer?
If you already have iTunes on your computer, follow this link to create a backup of your iTunes Media library. This protects your iTunes content from being overwritten by a second version of iTunes.
To download different versions of iTunes, go to the Apple Support website. You should be able to run it alongside existing versions of iTunes on your computer. It's also possible to download iTunes on Windows.
How do I download Netflix using iTunes 12.6.5?
Open iTunes and select Apps from the dropdown menu. Click the App Store button and search for Netflix. Make sure you're signed in to the same Apple ID account you use on your iPad, then download the Netflix app to your computer.
After iTunes downloads Netflix, you should be able to find it from the App Store Purchased page on your iPad.
Troubleshooting
My iPad is compatible with Netflix, but I can't stream. Why is this the case?
If your iPad is compatible with Netflix, you might not be able to stream for several reasons. The first could be that Netflix's servers are down. There's a page in the Netflix Help Center that you can check to ensure this isn't the case. If the servers aren't working, there's not much you can do other than wait for them to start working again.
It's also possible that you can't stream content on Netflix because of the company's crackdown on sharing passwords. In 2023, Netflix introduced a policy designed to stop people sharing access to their accounts outside of their household.
I wasn't unable to download Netflix using these tips… Why?
Some users, such as one on Reddit, revealed that his iPad was no longer able to use the Netflix app after 2022. So, if you have a legacy iPad, it's possible that you'll encounter the same problem. This could also be why Netflix isn't available in your iPad's App Store.
While there isn't much you can do about this, you could try to sign into Netflix via Safari. If that doesn't work, it's best to either use a compatible device or purchase a new iPad.
iPad Not Compatible With Netflix? Try These Tips
Netflix is an immensely popular streaming platform, so it's unsurprising that you may feel disgruntled if you can't use the app on your iPad. This isn't going to impact newer devices as much as older ones, but before you upgrade, you can try a number of steps to fix the problem.
Sometimes, iTunes might be able to help. And in other cases, you can attempt to download Netflix via other devices that are compatible.
We hope this guide helped you to get Netflix working on your iPad, despite originally saying it wasn't compatible. Let us know in the comments what worked for you, and enjoy the vast world of Netflix shows that awaits on your iPad!
Danny is a freelance writer who has been using Apple products for over a decade. He's written for some of the largest technology publications on the web and previously worked as an in-house writer before carving his own route. Danny grew up in the UK, but now writes about tech from his Scandinavian base.