Peer-to-peer AirPlay connects your iPhone or iPad to your Apple TV, without requiring them to be connected to the same WiFi network or even connected to ANY WiFi network. Your iDevice turns into a temporary WiFi hotspot, and your Apple TV connects to it and AirPlays your videos, photos, and music.
So yes, you can connect to apple tv without wifi–how cool is that?
Related Articles
Advantages of Peer-to-Peer AirPlay
Peer-to-Peer makes sharing media contents with friends and family a breeze at home AND guests do not have to log onto your home WiFi network. Your guests simply pull out their iPhones or other iDevices (and even MacBooks), select AirPlay and stream directly to your Apple TV.
So everyone is quickly able to show their pictures, videos, and even play music–all without logging into your home network.
Peer to Peer Airplay works by using Bluetooth for queries and discovery and then creates a point-to-point WiFi connection for data transfer, independent of any network.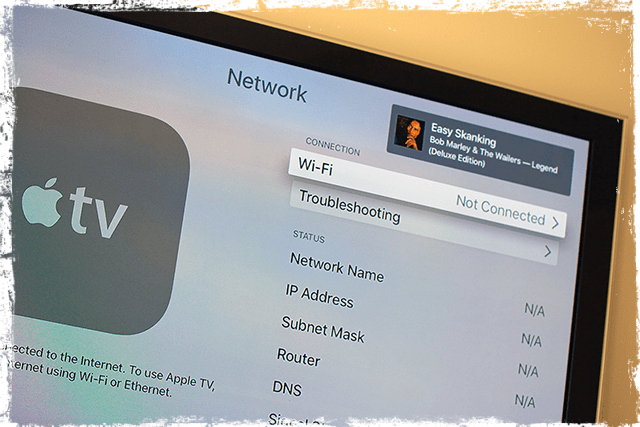 AirPlay Without Internet Access
The idea is to connect to peer-to-peer airplay when you're not on WiFi or at times when connecting to WiFi is hard (need password etc.)  Like when you're at a friend's house or visiting a business. This way you can AirPlay without having to connect to that WiFi network.
And for folks that travel for business or teachers and professors, peer-to-peer makes presentations unbelievably simple.  It's easy to get your presentation on the big screen (or at least larger screen) without plugging into your clients' network.
So this feature is particularly useful for iFolks (and their families) on the road, who conduct presentations, and others who need to showcase something on the big screen.
Peer-to-Peer AirPlay Uses
Sales Representatives delivering presentations.  Just bring your AppleTV to a client site and connect it to the customer's projector. Then just give your presentation wirelessly from your iPhone or iPad
Conference Room and lecture presentations are easy with AppleTVs. Anyone, from teachers to students, employees, and even clients to contractors can display their iDevice screens wirelessly without connecting to the company's WiFi network and even when offline
Distract your kids, your grandparents, and others in your back seats with movies and other downloaded media by using peer-to-peer Airplay to link your iPad to an AppleTV that's connected to your car video/aux input!  Just remember to download all your content before the trip and get ready to screen movies while on the road
Invite your friends over for a multiplayer iDevice Game Night!  All without ever needing to connect to your home's WiFi network.  So no more dealing with sharing and entering passwords and other security worries
Requirements for Peer-to-Peer AirPlay
Peer-to-peer AirPlay requires an iDevice with iOS 8 and later or a mac (2012 or later) with OS X Yosemite v10.10 or later. And an Apple TV that's 4th generation and higher (the 3rd generation Rev A model A1469, March 2013 also works.) And you must run your Apple TV with tvOS 7.0 and later.
If you don't know your model number, just flip your Apple TV over and look at the bottom of your Apple TV.  Or check the model number for your Apple TV by choosing Settings > General > About.
How-To Set-Up Peer to Peer Airplay Without Wifi
Forget WiFi networks on your iDevice or Mac
Forget Wifi Networks on AppleTV
Make sure WiFi and Bluetooth are turned ON for BOTH AppleTV and iDevices or Mac (do this even if not connected to any networks)
Restart both your AppleTV and iDevices or Mac
AirPlay feature should now work on the iDevice or Mac

Connect your iDevice or Mac to AppleTV

For Macs, choose your AppleTV from the AirPlay status menu (screen icon with an upwards arrow)  in the upper right screen menu bar
For iDevices use Control Center to connect to AirPlay. Look for Airplay's icon  (screen icon with an upwards arrow)

If your Apple TV asks for a code for airplay, enter that code
If this is the first time you connect using peer-to-peer, it might take several minutes. Be patient!
Peer-to-Peer Airplay Tips
If you use peer-to-peer AirPlay, all devices need to have BOTH WiFi and Bluetooth toggled ON. You don't have to connect to WiFi router or even pair via Bluetooth. But you must have both switched ON in your Control Center.
If your AppleTV and your iDevice or Mac are on the same WiFi network, peer-to-peer mirroring will not work. They default to using the available WiFi network to AirPlay and AirPlay Mirror.  So keep them OFF the same network!
Troubleshooting Peer-to-Peer Airplay
If you're experiencing problems connecting, try these steps
Turn on Bluetooth for AppleTV
Turn on Wi-Fi and Bluetooth on your iOS device
Restart your Apple TV.
Pull up your control panel on your iOS device and select AppleTV mirroring
You may also need to change the "Require Device Verification" setting to ON for your AppleTV (Settings > Airplay)
If that tip didn't work for you, another reader found success with the following
Update all your iDevices and AppleTV to the latest operating systems–iOS and TVOS
Then reboot your AppleTV and the iDevice. Keep WiFi and Bluetooth 'on'
Enable AirPlay on your AppleTV, then activate WiFi and next Bluetooth on the iPad or another iDevice
Disconnect from your WiFi network on your device but keep the WiFi on

You may need your iPad to "forget" the home network.

You won't have an internet connection, but you'll be able to airplay
When you log into the same iCloud account on both devices, there will appear to be no security to keep random strangers from streaming to your TV from outside your house.
When not logged into iCloud, or when logged in as a different user on each device, streaming requires you to enter a four-digit PIN on your AppleTV.
Want to Disable Peer to Peer Airplay?
Try turning Bluetooth OFF. Settings > General > Bluetooth
Turn ON Require Device Verification
Require a preset password for AirPlay
Set an AirPlay password
Creates a password for AirPlay-enabled devices to connect using AirPlay on your Apple TV.
Use this setting for devices that will need permanent access, and you only want to enter the password once. Go to Settings > AirPlay > Security  OR  Settings > AirPlay > Password > [set password]  
Set an AirPlay Onscreen Code (Older tvOS and AppleTV models)
Create a specific code to AirPlay to the Apple TV. When an AirPlay-enabled device attempts to connect to an Apple TV with Onscreen Code enabled, you must enter the passcode shown on the TV into the device that's attempting to connect to the Apple TV.
Go to Settings > AirPlay > Onscreen Code > On 
Seeing Neighbor's AppleTV?
Change the name of your Apple TV to something different and uniquely YOU. Go to Settings > AirPlay > Apple TV Name > Custom Name.
This naming ensures that you and your neighbor(s) can tell your devices apart.
And, if you're not using any Bluetooth devices on your iOS device, try turning off Bluetooth so that you won't see any of your neighbors' Apple TVs.
Wrapping It Up
With peer-to-peer AirPlay, connecting your iDevice to an AppleTV is easy!  So start up your AppleTV, and it automatically shows up on your iDevice's AirPlay Menu–all without setup.
Share a presentation at work or on a client visit by wirelessly connecting your iDevice to any AppleTV.  Or toss up a movie for the kids on that long drive by connecting an Apple TV and an iDevice to your car's video screen.
However, there are some limitations. Peer-to-peer AirPlay does not work with videos from YouTube, Netflix, Amazon Instant Video, HBO GO, Showtime, Crackle. Facebook and BBC videos work as long as they are not YouTube links.
But the good news is that Peer-to-Peer works for any content that's already stored on your iDevice or Mac such as downloaded videos, pictures, presentations, or music.
So upload and download content BEFORE you engage Peer-to-Peer Airplay for a seamless and trouble-free experience.
For most of her professional life, Amanda Elizabeth (Liz for short) trained all sorts of folks on how to use media as a tool to tell their own unique stories. She knows a thing or two about teaching others and creating how-to guides!
Her clients include Edutopia, Scribe Video Center, Third Path Institute, Bracket, The Philadelphia Museum of Art, and the Big Picture Alliance.
Elizabeth received her Master of Fine Arts degree in media making from Temple University, where she also taught undergrads as an adjunct faculty member in their department of Film and Media Arts.