The 14-inch MacBook Pro is an already pretty impressive laptop, but if you want Apple's true "Pro" MacBook, the 16-inch is going to be the better option. Regardless of which one you pick, these are the best Mac notebooks that we've ever seen, as they bring back the ports from the beloved 2015 MacBook Pro lineup. But we also have a ProMotion display with miniLED technology so you can enjoy the best picture quality possible on a laptop.
Related Reading
While the AirPods continue to be some of the most popular headphones out there, the AirPods 2 were definitely overdue for an upgrade. Apple has delivered with the AirPods 3, which adopts the design of the AirPods Pro, minus the silicone in-ear tips. Instead, these just rest in your ear canal and come with a new charging case. Plus, this new charging case is MagSafe compatible, which is something that we have been hoping to see.
Since Apple has officially discontinued its Leather Sleeve, that leaves us looking elsewhere for an ultra-premium MacBook Pro sleeve. Thankfully, Comfyable is here to save the day with its Leather Laptop Sleeve. There are different size options available ranging from the MacBook Air all the way to the 16-inch MacBook Pro. Plus, this Leather Laptop Sleeve is available in a variety of different colors, something that Apple didn't offer with its sleeve.
Waterfield makes some of the best travel accessories for your various Apple devices (and much more). The new MacBook SleeveCase has been designed to fit the new 14-inch and 16-inch MacBook Pro's perfectly, and are available in several different colors and finishes. You can choose from either Waxed Canvas or Ballistic Nylon Shell, both of which are TSA-friendly, so you won't run into issues going through airport security.
At some point in time, you'll probably find yourself wanting to head out for a trip and want to take the MacBook Pro with you. Instead of just throwing it in your bag and being worried about it getting accidentally scratched up, make sure you get a laptop sleeve. This sleeve from Inateck is large enough to work with the new MacBook Pro, and includes an additional bag so you can throw your cables and chargers in there too.
Incase has just released a new series of backpacks and travel accessories dubbed "Bionic". The new Incase Commuter Backpack will work with the larger 16-inch MacBook Pro and is created using a durable ocean-recycled plastic fabrication, which looks pretty sleek and is extremely durable. In the backpack, you'll find multiple compartments for organization, and there's an external water bottle pocket.
If you do plan on traveling with your MacBook Pro, the trackpad is pretty incredible as it is, but sometimes, it's just nice to have an external mouse to use. The Logitech MX Anywhere 3 is arguably the best travel companion for the MacBook, being the smaller brother of the ultra-popular MX Master 3. The mouse is comfortable to use, and can be used on pretty much any surface, including glass.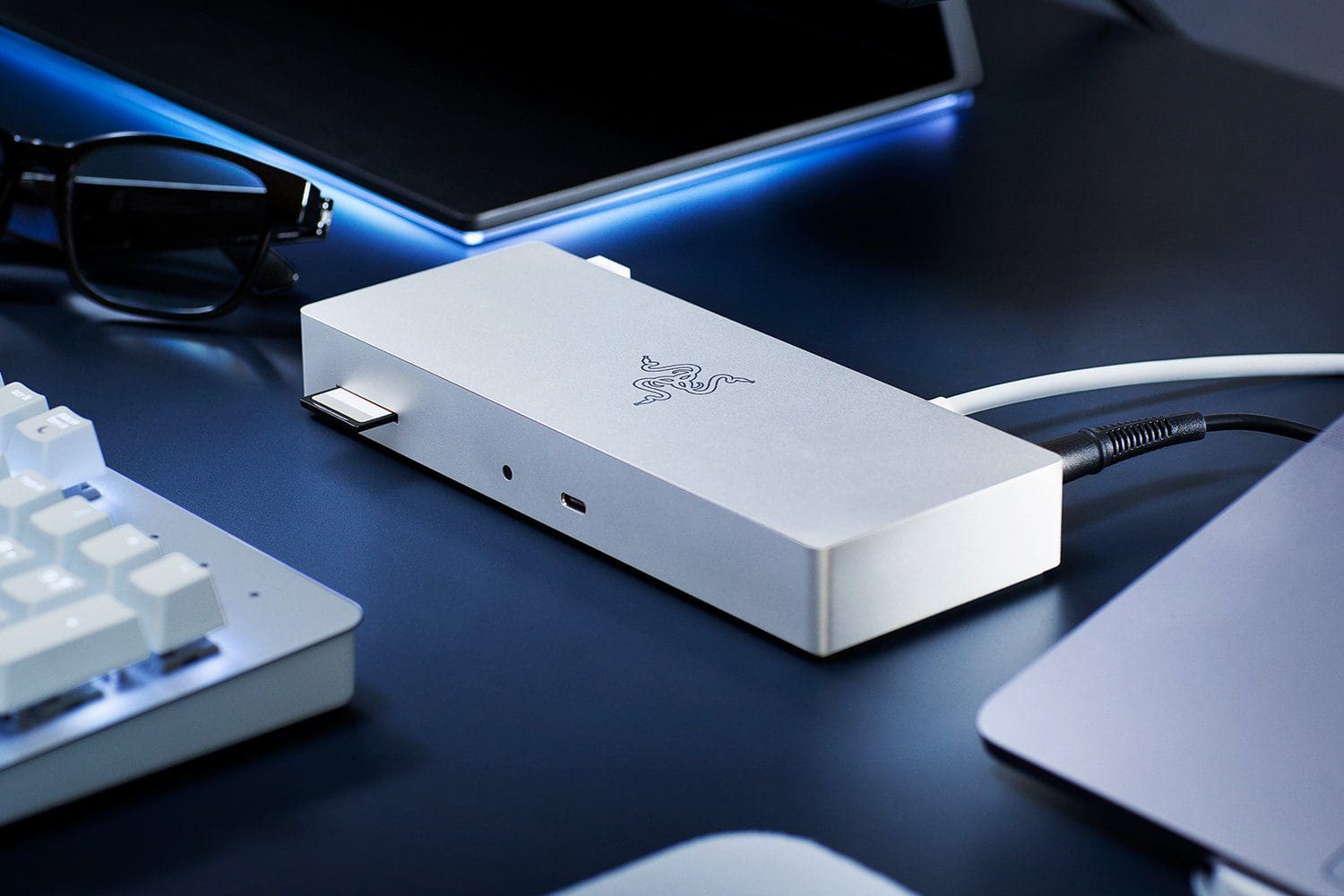 Pivoting over to working from home, chances are you'll find yourself wanting to get a dock that makes it easy to charge your MacBook and hook up all of your favorite peripherals from the comfort of your desk. Razer's new Thunderbolt 4 Dock is a pretty incredible option, expanding your MacBook Pro even further by providing a total of 10 ports including Gigabit Ethernet, SD card slot, and three USB-A 3.2 Gen 2 ports. And with this dock, you can opt to use dual 4K monitors or a single 8K video output.
Thunderbolt 4 accessories and docks are pretty sparse at the time of this writing, but the great thing is that Thunderbolt 4 is backward-compatible with Thunderbolt 3. That's why we recommend checking out the CalDigit USB-C Pro Dock, as you can use this to add up to 10 additional ports to your MacBook Pro. There are also two different versions, one of which offers dual DisplayPort 1.2 ports, while the other includes dual HDMI 2.0b ports.
If you don't need a bunch of extra non-USB or display connection ports, then you might want to check out the OWC Thunderbolt Hub. This dock includes a total of four Thunderbolt 4 ports, along with a single USB-A 3.2 Gen 2 port with speeds up to 10Gb/s. Additionally, you'll be able to connect up to a single 8K display or dual 4K displays. It can even be used to create a daisy chain of monitors and accessory hubs.
Although there aren't as many Thunderbolt 4 docks and accessories available just yet, it's still important to have backups and additional cables. By doing so, you can essentially "future-proof" yourself, while making sure that you're ready for whatever accessories pique your interest down the road. This Cable Matters Thunderbolt 4 Cable is available in either 2.6 feet or 3.3 feet, while supporting up to 40Gbps speeds and USB-4. It can also be used with Power Delivery 3.0 chargers, offering support for up to 100W charging speeds.
Surprisingly, Thunderbolt 4 cables are hard to come by. But if there's one thing that we can count on Anker for, other than its wonderful charging accessories, are its awesome cables. Anker has released its first Thunderbolt 4 cable, measuring in at 2.3-feet, and supporting the ability to be used with an 8K display. It's also been officially certified by Intel, so it will work perfectly with your new MacBook Pro.
Thankfully, Apple upped the minimum SSD sizes for the 2021 MacBook Pro but that doesn't mean that you'll always want to fill up the storage on your Mac. For those reasons, we recommend grabbing an external SSD and that's where Samsung's T7 Portable SSD comes into play. This portable SSD offers up to 1,050 MB/s read speeds and write speeds up to 1,000 MB/s. On the top of the casing, there's an LED square letting you know when the SSD is in use, with a fingerprint scanner for the best security possible.
It doesn't matter if you're working from home or working at a local coffee shop. Ergonomics are extremely important, and being hunched over the MacBook Pro is bad for your neck and back. With the Nulaxy Ergonomic Laptop Stand, you won't have to worry about that any longer, as it's height-adjustable so you can opt to sit and get some work done, or stand up (like you should) every once in awhile throughout the day.
Thanks to the improved charging speeds offered by MagSafe 3 and USB-C, Apple has introduced an all-new 140W USB-C Power Adapter. Not only is this compatible with the new 2021 MacBook Pro models, but it's also compatible with previous MacBook and iPad models. But with those new MacBook Pro's, you'll be able to go from 0–50% in just 30 minutes.
MagSafe makes its triumphant return to the Mac with MagSafe 3. But now, instead of being limited to a proprietary charging method, you can enjoy USB-C on the other end. Of course, Apple includes one of these in the box, but it never hurts to get an extra cable to throw in your bag.
Andrew is a freelance writer based on the East Coast of the US.
He has written for a variety of sites over the years, including iMore, Android Central, Phandroid, and a few others. Now, he spends his days working for an HVAC company, while moonlighting as a freelance writer at night.