The act of being productive can mean a lot of different things to a lot of different people. "Productivity" can also feel like a "dirty word", as you might associate it with those who try to gain clicks and views by acting as though they are putting out all of this work by themselves, only to really have an entire team behind them that is doing the bulk of the work.
Related Reading
But the truth is that no matter what the case may be, finding the best productivity apps for Mac couldn't be easier, as there are options for pretty much everyone out there, regardless of what projects you are working on. And some would argue that productivity apps are more feature-rich and just downright look better on the Mac, compared to similar options on other platforms. Today, we've rounded up some of our favorite productivity apps for Mac that we've tried out and used ourselves at some point in the past year.
Best Productivity Apps for Mac: Note-taking Apps
Apple Notes
Apple Notes is a great default option if you don't really want to dive further into the world of note-taking apps. Apple is also finally giving Notes some love, as evidenced by the introduction of Quick Notes, along with Tags with the release of iPadOS 15. It's completely free and is already pre-installed on your iPad, iPhone, and Mac.
Drafts
The tagline for Drafts has always been "Drafts, where text starts", and truer words haven't been spoken. From just having a place to jot some notes to creating an email or blog post from scratch, Drafts can do everything you want, and then some. Just download some actions and see what you can do with just a bit of text.
Craft
While Drafts is one of the best note-taking apps out there, Craft takes a different approach. It's similar to Notion or Roam Research in that it's a wonderful database application. But Craft offers one of the best designs that we've ever seen hit the App Store. Apple actually awarded the developers with the title of "Best Mac App of the Year" in its 2021 App Store Awards.
Notion
Notion is one of those "one-size-fits-all" applications, easily making it one of the best productivity apps for Mac. You can keep things simple by creating different spaces based on your areas of interest, or by creating linked databases that input information from one area and make it available and viewable in another. Notion can also be used to just take down some notes, and is available on pretty much any device that you can think of. And if you find that the app isn't working properly, you can still fall back to the web version in your browser of choice.
Obsidian
Obsidian is one of those apps that requires a bit of time to truly master, as you can just use it as a simple Markdown editor, or transform it into something completely different. This is done with the ability to download and use plug-ins that come from either Obsidian directly or from the community. It's an excellent app that everyone should check out.
Best Productivity Apps for Mac: Email
Apple Mail
This is going to be the app that the majority of Mac users rely on. It's free, already installed on your Mac, iPhone, and iPad, and has enough functionality and flexibility to make it a solid all-around email client. There are some quirks, mainly for those who use Gmail on a regular basis. You won't always get Gmail messages as soon as they arrive, a problem that has been around for years. We had hoped this would be rectified by this point, but that simply hasn't been the case.
Mimestream
The truth is that everyone has a Gmail account, and admittedly, the stock Mail app isn't the greatest at email management. It's much better than what we have on the iPhone, but Mimestream has become my favorite email app to manage my different Gmail accounts. The app was created by a former Apple developer who worked on the Mail app and that's evident from the first time you go through the setup process.
Microsoft Outlook
For years, Microsoft Outlook has been considered to be incredibly useful and powerful. However, when it came to the "looks" department, it fell flat and just wasn't an enjoyable experience. Those days are long gone, as Outlook received a face-lift a few years ago and it's now one of the best apps on the App Store. You can sync multiple accounts within the app, including your Gmail or iCloud accounts, and will receive notifications instantly. Microsoft has also been implementing other features, such as being able to manage your calendar and daily tasks, right from the app.
Spark Mail
One of the biggest annoyances when it comes to the Mail app on the iPhone and iPad is for those who use and rely on Gmail. Apple and Google had a partnership for years that made it so users would instantly receive any emails that came through. But after that partnership ended, the days of "instant push" notifications went to the wayside. There are a lot of different email apps that can solve that problem for you, but Spark Mail remains easily one of our favorites. The app includes an array of different integrations and features that help it stand apart, and you can download Spark Mail on all of your devices.
Best Productivity Apps for Mac: Task Management
OmniFocus
The OmniGroup finally moved away from the single-purchase model and moved to subscriptions. The app itself is perhaps the most robust out of the group, but it's well worth it if you need an app to help manage your tasks and your life as a whole. There's even a new web client available for those who want OmniFocus but don't have a Mac.
Things 3
Considered by many to be the best project management app, Things 3 offers an incredible design. The app is one of the few that has yet to adopt the subscription model, but that just means that one purchase provides full access to the app with no restrictions. Things 3 also follows the GTD methodology, aiming to make it easier to help you complete tasks and projects.
Todoist
Those who want a task manager that can handle just about everything other than collaboration will want Todoist. The app is constantly being added with all of the project management features you want, but you'll have to pony up some dough to get them.
Apple Reminders
For quite a while, Apple's own Reminders app felt like the company had just forgotten about it. That all changed with the release of iOS 15 and iPadOS 15, as Apple introduced quite a few useful features to its Reminders app. Now, you can go from getting basic reminders to taking advantage of things like tagging, attachments, and so much more. And of course, it will sync across all of your Apple devices. And if you use a Windows computer, you can easily access Reminders from your web browser of choice.
Best Productivity Apps for Mac: Menu Bar Apps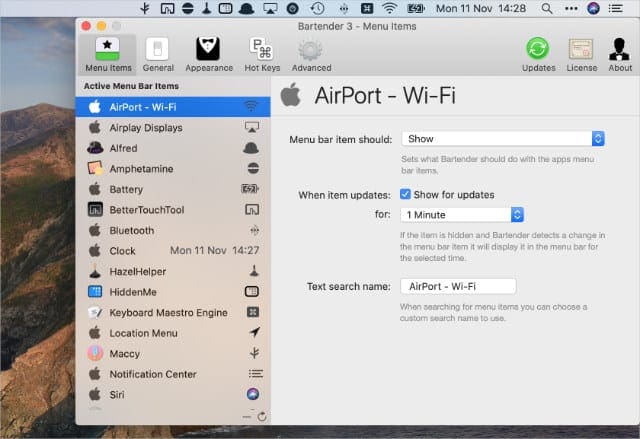 Bartender
With all these awesome new Mac utilities, you might find your menu bar is getting a bit cluttered. That's where Bartender comes in.
With Bartender, you can choose which items to show or hide from the menu bar. For each app, choose to show, hide, always show, or always hide. Then expand or minimize your menu bar with a click.
AirBuddy
Open your AirPods case next to your Mac to see the status right away, just like it works on your iPhone or iPad. AirBuddy lives in your Menu Bar and can also show battery information for your iPhone, iPad, Apple Watch, Mouse, Keyboard, and more.
Ejectify
As with the other apps you can use to automatically eject external drives from Mac, Ejectify makes it easier than ever to avoid the annoying pop-up notification that appears. The app offers a bunch of flexibility, as the developer provides you with a slew of different configuration options.
CleanShot X
CleanShot X provides over 50 features making it the ultimate screen capturing tool. You can replace the built-in macOS screenshot tool, using CleanShot X for everything from basic screenshots to screen recording, and pretty much anything else you could think of.
BetterTouchTool
Mac gestures are already pretty great, but with BetterTouchTool they're out of this world. This is the best Mac utility to unlock advanced gestures on your trackpad, Magic Mouse, Touch Bar, Siri Remote, and more.
You can add custom gestures for a range of different Mac functions: adjust volume and brightness, cycle through browser tabs, capture screenshots, and more.
Magnet / Rectangle
One of the biggest missing features on macOS is the lack of windows management. There are workarounds to this, provided that you are okay working with a couple of full-screen apps. Other than that, you'll likely find yourself getting frustrated as you try to drag window corners to your liking. Magnet and Rectangle have been around on the Mac for quite some time, and bring true windows management to macOS.
Best Productivity Apps for Mac: Utilities
1Password
The first app that I install on every device that I own, regardless of the platform, is 1Password. This is where all of my passwords and private notes are stored, tucked away behind multiple authentication methods. This ensures that all of your passwords will be protected, while also being available wherever they are needed.
Alfred / Raycast
Alfred is a great tool, and if you still want to keep the old Spotlight around, you can set a custom key combo to activate Alfred, while leaving cmd-space for Spotlight. The app itself is free, but there is a Powerpack that you can purchase which unlocks even more potential.
Raycast is a new contender in the "Spotlight replacement" space, as the app first debuted in 2020 but has exploded in popularity over the past year. Not only can you perform all of the same functions that either Alfred or Spotlight offer, but there are even more options at your disposal. For example, Raycast makes it possible to manage your open app windows, without needing to download another app like Rectangle or Magnet.
TextExpander
TextExpander is not a word processor or an app for spellchecking. Instead, it'll help you automate certain segments of your writing. TextExpander allows you to program certain typed words and phrases to automatically expand into other words and phrases.
Keyboard Maestro
For those that aren't familiar with Keyboard Maestro, it's an app that allows you to automate tasks on your Mac. Kind of like the default Shortcuts app from Apple, but much, much, much more powerful.
You can use Keyboard Maestro to write and execute code, control your mouse and keyboard, create multiple clipboards, keep track of a database, change the default behaviors of apps, design your own keyboard shortcuts, and infinitely more.
CheatSheet
When it comes to performing tasks on your Mac, you can enjoy gestures thanks to Apple's incredible trackpad, but you might not know that there are a slew of keyboard shortcuts to take advantage. The best part is that, at least in most cases, you don't even need to configure these yourself, as there are a slew of default shortcuts built into every app you install. The problem is, trying to figure or remember what those keyboard shortcuts are.
Thankfully, CheatSheet is here to help, as you'll only need to press and hold the CMD key for a couple of seconds and then will be able to see all of the keyboard shortcuts pertaining to the app that you're currently using.
Best Productivity Apps for Mac: Calendar
Apple Calendar
As you might expect, Apple's Calendar is completely free, super clean, and integrates with everything on your Mac, iPhone, and iPad, while including a lot of the useful features that other third-party calendar apps have, such as NLP, travel times, and more.
If you're looking for something basic and useful and you haven't given this a try yet, then give it a shot now. You may just find that your favorite option is the one that was there all along.
Fantastical
Add your existing calendar accounts directly to Fantastical and keep all of your events and tasks in sync. Your Flexibits account syncs all your custom calendar sets, templates, notifications, weather settings, and more.
Cron
It's not all that often that we see a new calendar app being released that has the potential to draw you away from Fantastical. But Cron is aiming to do just that, as it's touted as being "the next-generation calendar for professionals and teams." There are a lot of the more basic features that you would expect to see from a calendar app, but Cron also offers things like "Availability sharing" which will "mark holds on the grid, share the slots, and schedule with ease". The current downside to Cron is that it's available via invite-only, but the developers are rapidly and constantly adding more and more users.
Andrew Myrick is a freelance writer based on the East Coast of the US. He enjoys everything to do with technology, including tablets, smartphones, and everything in between. Perhaps his favorite past-time is having a never-ending supply of different keyboards and gaming handhelds that end up collecting more dust than the consoles that are being emulated.