Bluetooth headphones are convenient, and in most cases sound just as good as their wired counterparts. But what happens when they just sound terrible on some devices?
Related:
According to a slew of user reports, Bluetooth headphone experience a drastic drop in quality when connected to macOS (even if they sounded fine when used with an iPhone).
Here's why — and how to fix it.
What causes this drop in audio quality?
Why do Bluetooth headphones often sound worse when you connect them to a Mac? In a nutshell, it's because of the audio codec.
Most modern Macs try to use the AAC audio codec with audio devices. It's Apple's preferred codec and is objectively higher-quality than the SCO or SBC codecs.
But occasionally, Bluetooth-connected devices will "fall back" to the SCO or SBC codec. This typically happens when macOS thinks you're going to use the built-in microphone on a Bluetooth device (actually the device's external microphone).
That's why a good pair of Bluetooth headphones will often sound worse when connected to a Mac than an iPhone. It's also why more in-depth attempts to fix the audio quality, such as terminal commands or resetting the SMC, won't alleviate the issue.
Some users may not notice the drop in quality, but that doesn't mean that it isn't happening. Unfortunately, there aren't many easy, native ways to prevent Bluetooth devices from defaulting to the lower-quality codecs. But there are a couple of workarounds that you can use to force macOS to use AAC whenever possible.
Don't use the microphone
First thing's first: check to see if your Mac defaulted to using your headphone mic as the input device.
This commonly happens when using AirPods. Even if the headphones use AAC codec when they're first connected, they can switch to a lower-quality codec if you open an app that uses microphones.
One of the easiest ways to deal with this is to simply switch the microphone input to the built-in microphone on your device.
You can do that by going to System Preferences —> Sound. Select the Input tab and make sure that the input device is set to the Mac Microphone. It'll say, for example, MacBook Air Microphone or MacBook Pro Microphone.
If you have the volume icon in your menu bar, you can option-click it and change the default input device to the baked-in microphone.
It's worth noting that if your Mac doesn't have a built-in microphone to switch to, use another microphone that is not connected to your Bluetooth headphones. If you don't, you may need to pursue some of the other solutions below.
Kill apps or system settings that are listening in
One of the most effective solutions is an unlikely strategy that a reader stumbled upon. Essentially, you'll want to find and kill apps or system functions that use a microphone.
Check Dictation settings
In the reader's case, it was the native Dictation feature that caused macOS to switch to the lower-quality codec.
That may be the case for you — just go to System Preferences > Keyboard > Dictation and turn dictation off (or toggle on and off.)
Also, check the microphone that's listed in Dictation, switch it to the internal microphone.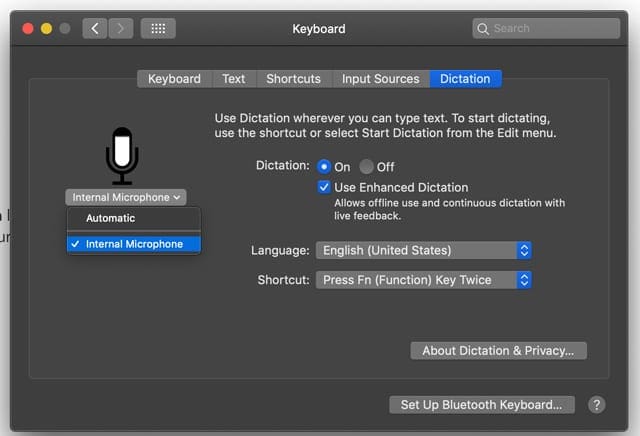 But, as you may know, Dictation certainly isn't the only app or system setting that uses a microphone. Depending on your specific setup, the culprit of your lower-quality audio connection could be something entirely different.
That's why we recommend weeding through the apps that use your microphone
You may be able to find some of these apps in System Preferences > Security & Privacy. Just select which apps have permission to use your microphone.
In other cases, you may need to do a bit more digging. Just try to find anything that allows you to speak or dictate. The specific "problem app" in question may surprise.
Consider using Toothfairy
We've previously written about Toothfairy, a simple app created by developer Michael Tsai that's pretty much a must-have if you use AirPods with your Mac.
As we've covered in the past, Toothfairy makes it much easier to switch between various Apple devices with a single pair of AirPods (or other Bluetooth headphones).
But Toothfairy can also help boost your audio quality by preventing your devices from falling back to the SCO codec. You can find the option to prefer the AAC coded in the advanced settings of the app.
When it's enabled, macOS won't use the SCO codec — even if your Bluetooth headphones have a built-in microphone.
We recommend giving Toothfairy a spin and seeing if it fixes your issue. You can find more information about the app and download it here.
Sound issues in macOS Catalina
It's worth noting that you may run into the same exact problem running versions of macOS Catalina (or its beta).
Because this doesn't appear to be a bug (or at least a serious one), Apple may not have it on its radar. In fact, switching to a lower-quality codec may be intended behavior for macOS.
All of this is to say that macOS Catalina doesn't fix this issue. If you're running into it on a Mac running the latest software, just try out the solutions above.
Mike is a freelance journalist from San Diego, California.
While he primarily covers Apple and consumer technology, he has past experience writing about public safety, local government, and education for a variety of publications.
He's worn quite a few hats in the journalism field, including writer, editor, and news designer.