Several users have reported an issue in which iPad mini stops responding, an apparent iPad Mini won't turn on problem. More specifically, iPad mini (a) does not turn on (b) appears frozen and (c) has a black (or blank) screen. If your iPad mini is "dead," not working properly or not responding, please try the following tips.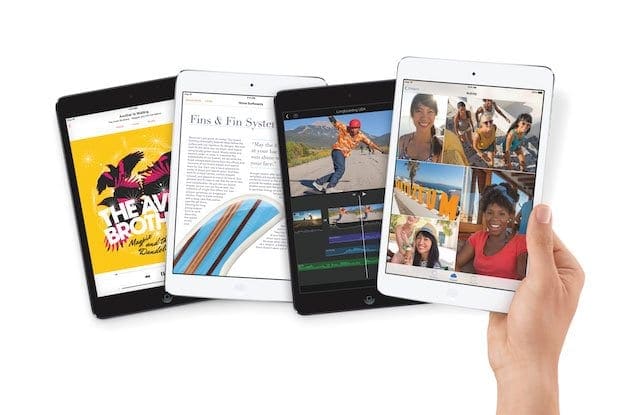 Related: iPad Troubleshooting, How to fix your iPad problems
Fix iPad Mini Won't Turn On Problem
Try restarting your iPad mini. Just press and hold the on/off button until the red slider appears and then slide the slider. Press and hold the on/off button until the Apple logo appears to turn your device back on.
If your iPad mini is not responding (touchscreen or buttons) because of some misbehaving apps; try quitting the app. To do this, double press the Home Button, tap and hold on the app until it jiggles, then press the (-) sign to close it.
If your device is still unresponsive, try resetting your device. Simply press and hold the on/off button and the Home button together for at least ten seconds until your device shuts off and begins to restart. Note that this does not remove app, songs, contacts or any other data that you have.
If your iPad does not turn on, make sure that your iPad mini has enough charge to turn on. Connect your iPad to a power outlet and charge for at least twenty minutes.
If you are still having this problem, connect your device to your computer, launch iTunes and try restoring your device with iTunes by clicking the "Restore" option (Summary tab). Note that restoring your device deletes all of your settings, media, and data.
No Time? Check Out Our Video!
Wrapping it up
I hope that these fixes will help you bring your iPad mini back to life. It sucks to have a dead device especially a tablet that you truly love and use for many purposes.
In an event where your iPad still misbehave, it's a good sign that something is wrong inside the tablet, meaning hardware problem. Take it to a repair shop nearby or visit the Apple Store.
Obsessed with tech since the early arrival of A/UX on Apple, Sudz (SK) is responsible for the editorial direction of AppleToolBox. He is based out of Los Angeles, CA.
Sudz specializes in covering all things macOS, having reviewed dozens of OS X and macOS developments over the years.
In a former life, Sudz worked helping Fortune 100 companies with their technology and business transformation aspirations.