After years of a stale Home Screen, Apple finally surprised everyone and brought a little bit of customization to the iPhone. In the old days, the most that you would be able to customize was the wallpaper. Then, you could view and interact with widgets, but those were relegated to a dedicated screen to the left of the main page.
Related Reading
iOS 14 has changed this for everyone, making it possible to add widgets, and Smart Stacks to the Home Screen. Instead of remembering to swipe for those Widgets, just find one and put it anywhere on the Home Screen.
What's new with Fitness in iOS 14
With iOS 14, there is a new shift in how your iPhone and Apple Watch handle your Fitness metrics. The old "Activity" app has been rebranded to "Fitness", and this is what you'll find throughout iOS when looking for information.
In addition to getting a new name, the Fitness app in iOS 14 always sports a fresh look. There are only two tabs on the bottom, with a myriad of sub-sections in each panel. The first is your Summary, showing a basic breakdown of your activities throughout the day. These can be expanded and combed through, giving you more information, including Trends.
The Sharing panel provides some basic information about any challenges you are a part of. From here, you can see the progress of you and the competition on a daily basis.
Fitness+
Coming later in 2020, Fitness+ aims to revolutionize how you workout from home. Forget going to the gym, or paying for expensive equipment. Fitness+ is a subscription-based service, which will be accessible from the updated Fitness app.
After you have signed up, there is a library of video workouts to choose from. This works in conjunction with the Apple Watch to capture your workout data in real-time. Other than not needing to go to the gym, the best part of Fitness+ is that the video workouts can be viewed on your iPhone, iPad, Mac, or Apple TV.
Apple confirmed that Fitness+ will launch sometime in 2020, and is priced at $9.99 per month or $79.99 per year. Plus, Apple is offering a 30-day free trial for anyone who wants to give this new service a tryout.
Add Fitness Widget to Home Screen
Whether you have an Apple Watch or not, being able to view your fitness metrics at a glance is extremely helpful. With the addition of Widgets in iOS 14, you don't even have to worry about swiping to the right on your Home Screen anymore. As one might expect, Apple included a dedicated Fitness widget that can be added.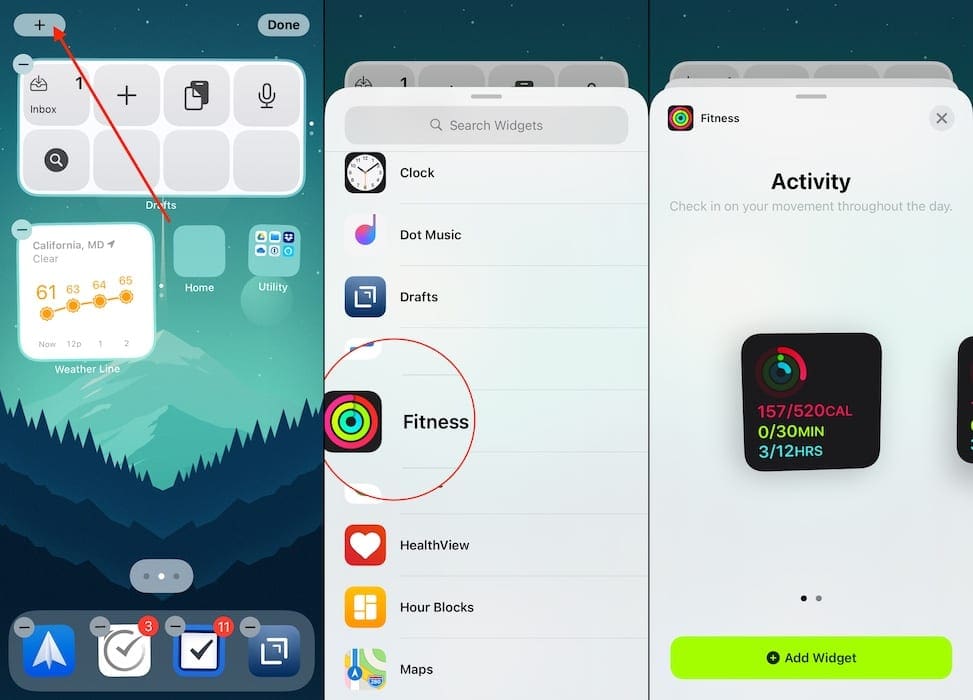 Long press a blank space on your Home Screen until you enter "Jiggle" mode (icons start jiggling).
Tap the + button in the top left-hand corner.
Scroll until you find the Fitness widget.
Tap on the Fitness Widget.
Select which size you want to have on your Home Screen.
Tap the Add Widget button at the bottom.
Tap Done in the top right-hand corner.
What does the Fitness Widget show?
Currently, there are only two widget options available for the Fitness app. Both of which, show off the Move, Exercise, and Standing Goals for the day.
The 2×2 widget shows the Progress Ring, similar to what you'll find if you looked at your Apple Watch. You can also see the progress and goals for each metric.
The 2×4 widget has all the same information as the 2×2 option. However, off to the right-hand side, you will see a few graphs to help indicate your progress throughout the day. Standing Goals are blue dots, which are filled in whenever the hour goal is met. Bar graphs cover both the Move and Exercise Goals.
Tapping either the 2×2 or 2×4 Fitness widgets will take you directly to your Activity Summary.
Andrew is a freelance writer based on the East Coast of the US.
He has written for a variety of sites over the years, including iMore, Android Central, Phandroid, and a few others. Now, he spends his days working for an HVAC company, while moonlighting as a freelance writer at night.