Apple continues to implement new features with new versions of iOS, and with iOS 15.2 we have a big update for those who need to get repairs made to their iPhone. In iOS 15.2, a new Parts and Service History section will appear if you've had repairs done, letting you know whether the repair uses genuine Apple parts or not.
Related Reading
How To Check iPhone Parts and Service History
Naturally, this won't be of concern if you get your iPhone repaired at an Apple Store. However, considering that not everyone is close to an Apple Store and can't go days with being without their iPhone, this forces owners to use third-party repair shops. We're beginning to see more and more certified repair shops appear, including the likes of Best Buy, but you might want to double-check that the repair was completed using genuine Apple parts.
If not, you might end up running into issues down the road as they might not be exactly compatible with your iPhone. Nevertheless, here's how you can find the Parts and Service History on your iPhone if you've recently had repairs done:
Open the Settings app on your iPhone.
Tap General.
Tap About at the top of the page.
From here, if you've ever had any parts replaced on your iPhone, or had your iPhone serviced and want to see if something was replaced, this is where you need to go. If any of the components of your iPhone have been replaced, a new Parts and Service History section will appear. A list of replaced parts will be viewable, and they will be denoted with either of the following descriptions:
Genuine Apple Part
Unknown Part
If the part that was replaced is a "Genuine Apple Part" then you'll be able to view more information about the service, including the date that it was performed. If not, you won't be able to view any more information, and Apple recommends taking your iPhone to an Apple Authorized Service Provider.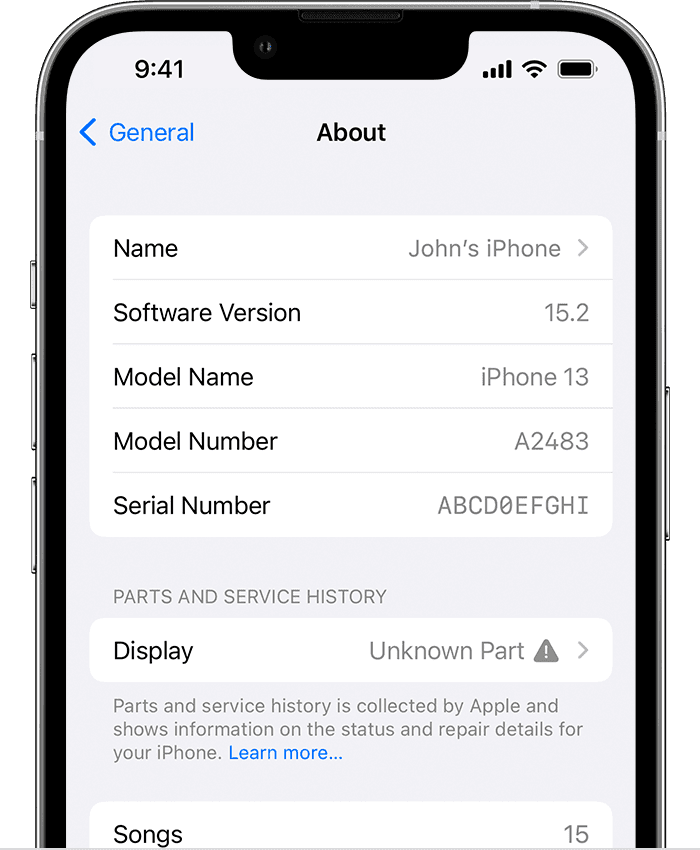 This is the case with any repairs that need to be done, and thankfully, the number of locations that fall under the Authorized Service Provider program continues to grow. Now, you can take your iPhone to your local Best Buy or you can click here to search for the closest location near you.
Unfortunately, the amount of information that can be viewed varies depending on the type of iPhone that you own. Here's what can be viewed depending on your iPhone model:
For iPhone XR, XS, XS Max, and later, including iPhone SE (2nd generation), you can see if the battery has been replaced.
For iPhone 11 models, iPhone 12 models, and iPhone 13 models, you can see if the battery or display have been replaced.
For iPhone 12 models and iPhone 13 models, you can see if the battery, display, or camera have been replaced.
The only other requirement is that your iPhone has to be updated to at least iOS 15.2 or later. If not, you will not be able to view the Parts and Service History information regarding any repairs that have happened to your iPhone.
Andrew is a freelance writer based on the East Coast of the US.
He has written for a variety of sites over the years, including iMore, Android Central, Phandroid, and a few others. Now, he spends his days working for an HVAC company, while moonlighting as a freelance writer at night.