If you've been paying attention to the Apple airwaves over the past couple of weeks, there's been a lot of talk about the iPad. Specifically iPadOS 16 and Stage Manager, a new feature that brings a new multi-window experience to the iPad. And while that is easily the defining change coming to select iPad owners this fall, there are some other exciting features on the way.
Related Reading
What Is Display Zoom?
For years, iPad owners were stuck with just a single display scale when using the iPad. Even when multitasking was improved in iPadOS, the display scaling just didn't really meet the needs of those who want as much screen space as possible. But with Display Zoom, that's all changing.
With iPadOS 16, Apple finally added a third option for those who want to have as much screen real estate as possible. Previously, iPadOS was limited to just "Standard" or "Zoomed", but this third option makes it much easier to have multiple windows on the screen.
This third option is simply called "More Space", as it does just that – adds more space to your screen. By doing so, the icons and font size will be made even smaller, allowing more information to be shown on the screen. It's no different than adjusting the screen scaling options on your Mac.
How To Enable Display Zoom on iPadOS 16
The biggest reason why you might want to enable Display Zoom on iPadOS 16 is to take better advantage of Stage Manager. With this new multi-window and multitasking experience, you are now able to have four "floating" app windows on the screen at a single time. And if you connect your iPad to an external monitor, you can have up to eight apps open at once.
Even with a 12.9-inch iPad, there's no such thing as having more screen space, and Display Zoom does just that. Here's how to enable Display Zoom on iPadOS 16: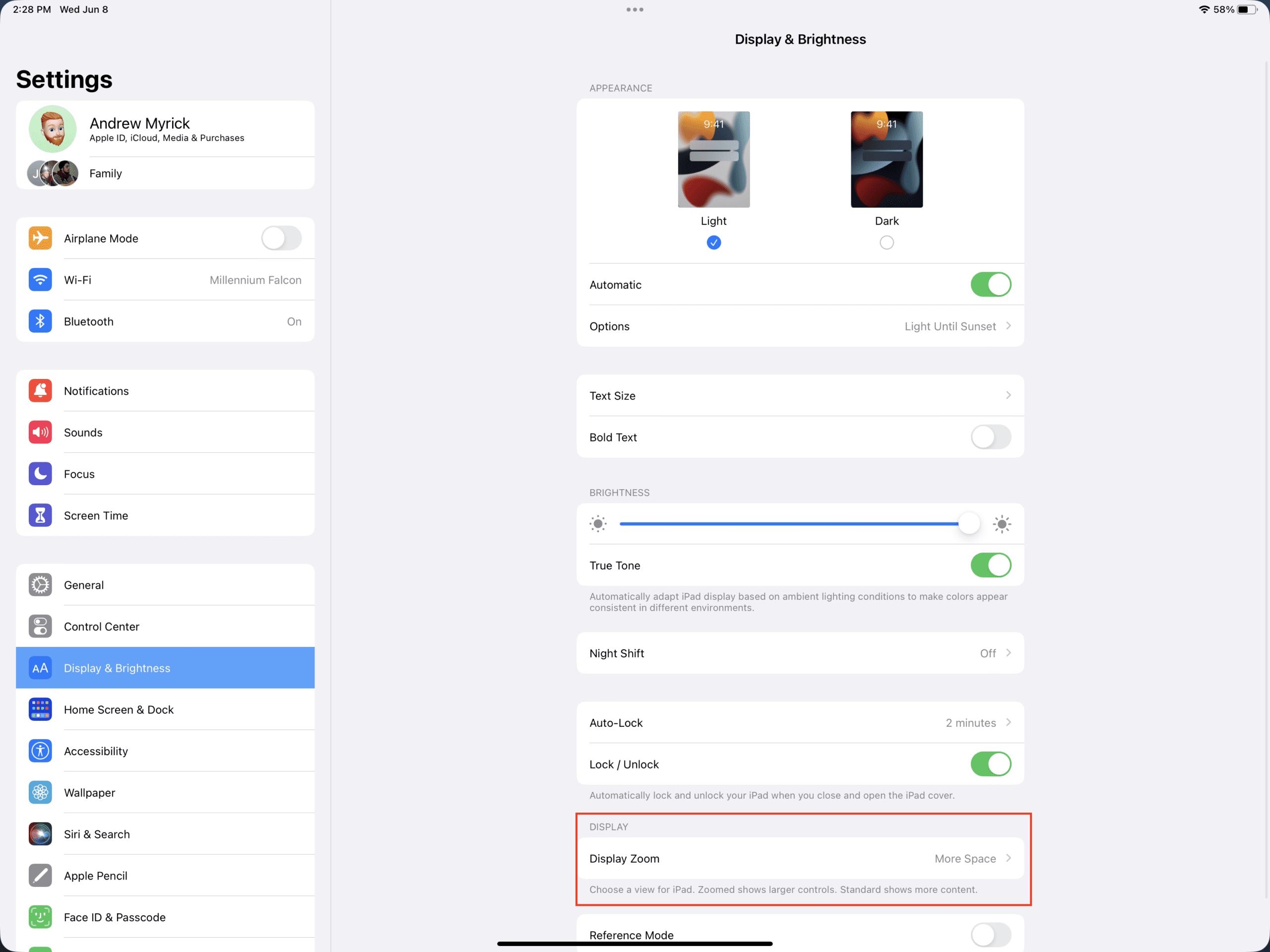 Open the Settings app on your iPad.
Tap Display & Brightness in the left sidebar.
Under the Display section, tap Display Zoom.
Select More Space from the list of options.
After just a moment, you'll see the screen change. As we mentioned previously, the font size will shrink, along with the different UI elements. This also extends to the Home Screen, as your app icons will also be smaller than before.
The end goal of this all is to provide users with more space to work when using multiple apps. Whether that's with the all-new Stage Manager feature, or even if you're just using the traditional split-screen interface with Slide Over. More Space is a great addition to iPadOS, we just wish it had arrived sooner.
Andrew is a freelance writer based on the East Coast of the US.
He has written for a variety of sites over the years, including iMore, Android Central, Phandroid, and a few others. Now, he spends his days working for an HVAC company, while moonlighting as a freelance writer at night.