There's a small handful of issues plaguing Apple's new iPhone XS and iPhone XS Max devices. While there aren't many, they're still rather significant.
One of these problems reportedly consists of mediocre or even sluggish LTE and Wi-Fi performance.
That's peculiar because the iPhone XS and XS Max both pack significantly improved LTE hardware — including 4×4 MIMO. That means on paper, they should be significantly faster when it comes to downloading and uploading speeds.
The problem is that doesn't seem to be the case across the board.
The Problem
Essentially, some users report slow Wi-Fi or LTE speeds on their new iPhone XS and XS Max devices. These reports can be seen across Reddit, the Apple Support communities, and social media.
To be clear, these issues do not seem to impact all iPhone XS and XS Max devices. And it's hard to tell how widespread they are.
Here's what you need to know about the Wi-Fi and LTE issues.
The Wi-Fi Issue
Basically, some iPhone XS and XS Max devices will favor a 2.4GHz Wi-Fi network over a faster 5GHz Wi-Fi network.
This bug seems to be carrier agnostic. But again, it doesn't appear to be impacting all new iPhones.
How to Fix Slow Wi-Fi on iPhone XS
Luckily, if you're running into the Wi-Fi issue, the fix is pretty easy.
Apple has patched the Wi-Fi bug in its latest iOS 12.0.1 update, which also addresses charging issues and a couple security vulnerabilities. But unless you have automatic updates enabled, you may not have seen or installed iOS 12.0.1.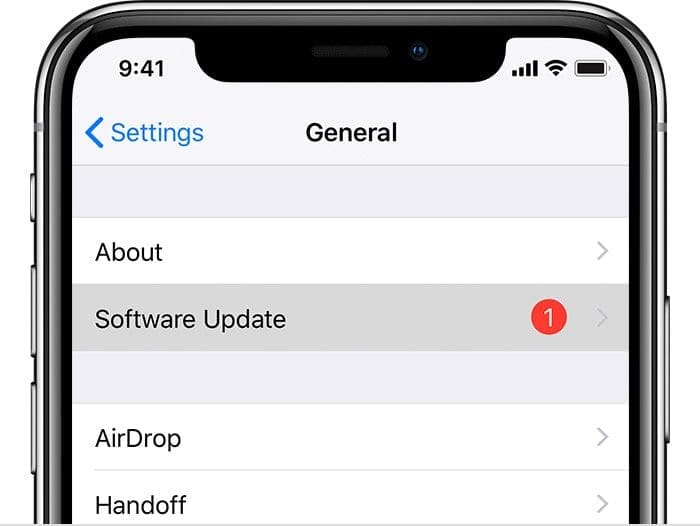 If that's the case, you can find the update by going to Settings —> General —> Software Update.
RELATED:
The LTE Issue
When it comes to the cellular bug, it basically entails shoddier service and fewer bars — especially in fringe areas.
This problem seems to be mostly affecting Verizon customers, though there are sporadic reports of AT&T and T-Mobile customers experiencing the issue.
Does iOS 12.0.1 Fix the LTE Problem?
While iOS 12.0.1's release notes specifically mention the Wi-Fi bug, they don't have any indication of the LTE issue.
Similarly, user reports collection by PiunkaWeb indicate that iOS 12.0.1 does not address slow LTE speeds for impacted customers. In other words, it doesn't contain a fix for the issue.
It isn't clear what's causing the mediocre LTE speeds, and the lack of a patch in iOS 12.0.1 suggests that Apple is still looking into the problem.
Hopefully, it isn't a hardware issue tied to the exclusive use of Intel modems in Apple's new iPhones. But, thanks to several anecdotal user reports of fixes, it does appear to be more of a software-side problem.
How to Fix Slow LTE on iPhone XS
According to a user report — who spoke about the issue with Apple Support staff — there does appear to be a fix for the problem. But it's a bit of a scorched earth solution.
Because of that, there are a few things you should try before trying it.
You can, for example, try toggling Airplane Mode on and off to see if it allows your iPhone to reset its antennas. Similarly, you can toggle LTE on and off by going to Settings —> Cellular —> Cellular Data Options.
If these methods don't alleviate any slowness, you can try resetting your network preferences. You'll have to reconnect to Wi-Fi network, but it may just fix the bug. Just go to Settings —> General —> Reset, and tap on Reset Network Settings.
If all else fails, you can move onto the reported fix.
Basically, you'll need to fully restore your iOS device to factory settings without the use of a backup.
That, of course, is a bit of a pain. All of your data, information, and settings will be deleted in the process. Though it's worth noting that a lot of your data may already be stored in the cloud — such as apps, notes, iMessages, and media in iCloud Photo Library.
It has been reported to work, so it's worth a shot if you're desperate.
Plug your iPhone into a PC or Mac with iTunes installed on it.
On your computer, select your iPhone from the menu bar.
Click on the Restore iPhone button.
In the next prompt, click on Restore.
If you don't have access to a computer, you may also have luck simply going to Settings —> General —> Reset and tapping on Erase All Content and Settings. We haven't seen any anecdotal reports of this method, but it does basically the same thing (with the exception of freshly installing the latest version of iOS).
Many people prefer a "clean slate" when they get a new iPhone — and this is similar to that. It may take some time to re-input all of your settings and get your data back onto your device.
But if slow LTE speeds are driving you crazy, this may just be the solution until Apple fields a fix in a future update to iOS 12.
Mike is a freelance journalist from San Diego, California.
While he primarily covers Apple and consumer technology, he has past experience writing about public safety, local government, and education for a variety of publications.
He's worn quite a few hats in the journalism field, including writer, editor, and news designer.