Local storage is one of the most important things to manage on your Mac. And generally, it's pretty easy. But how do you go about clearing out storage that's "purgeable"?
Related:
Based on the name, you may think that purgeable space is simple to get rid of. But Apple doesn't make it very easy. As a workaround, it could require some technical tweaking. In any case, here's everything you need to know about purgeable storage on your Mac.
What is Purgeable Space?
In a nutshell, purgeable storage refers to files or documents on your disk that macOS can remove if more space is needed. Don't worry, macOS isn't going to delete any of your important files — the files in purgeable space are actually more of a redundancy feature.
To see how much purgeable space is on your Mac, you can head to Apple menu —> About This Mac —> Storage. Purgeable space shows up as white space with a diagonal gray pattern over the top (see above).
But what files or documents does the purgeable storage category actually refer to? Well, there are a couple of things that fall into it, including the following:
Locally stored copies of files that you have stored in iCloud. This helps speed up opening those files if you need them.
Full-resolution versions of photos stored in iCloud (that can be downsampled if needed).
Various cached data and temporary system files that macOS can delete if necessary.
Large font files that you rarely use, or may never use.
Dictionaries that you haven't used or accessed in a while.
Movies and TV shows that you've already watched. (And, if deleted, can easily be re-downloaded from iTunes.)
Locally stored Time Machine data, which is separate from the backups on your Time Machine drive.
There are also reports that data sent to Trash but not deleted immediately will show up as purgeable space.
As you might notice, there's another element to purgeable storage: guesswork. For many of the data categories, macOS is making an educated guess as to whether or not you'll actually need or access those files anytime soon.
While macOS will theoretically clear out purgeable space as needed, there are some instances when it may not do so. If you're trying to partition your drive, download a major software update or install a large app, you may run into a brick wall. That's because purgeable space is technically still "allocated" system storage.
How to clear out Purgeable Space
So purgeable space is space that isn't necessary, so you can go about safely clearing it out, right? Theoretically, yes. But the problem is that the fact that Apple doesn't allow users to clear out purgeable space manually.
There are a few other options and workarounds for clearing out additional space on your Mac's drive, including purgeable storage, however. Here are a few that work.
Method 1: Optimize Mac Storage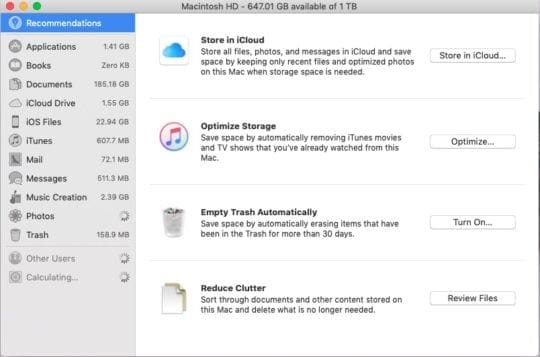 Apple first introduced the idea of purgeable space back in macOS Sierra, when it also debuted a new Optimized Storage feature to the Mac ecosystem.
There are conflicting reports about whether Optimize Storage actually causes purgeable space or whether it can help clear it out. But while your own mileage may vary, heading to Optimize Storage and trying out some of the options are worth a shot.
Click on the Apple icon in the top menu bar.
Click About This Mac.
In the window that pops up, click on Storage to bring up the storage pane.
Click the Manage button.
From here, you should see a number of options that could help clear out the storage space on your Mac. That includes storing files and photos in iCloud, optimizing storage by clearing out email attachments and media content, emptying the trash automatically and reducing clutter.
Try these out and see if it makes a difference on your purgeable storage.
Method 2: Open up that Terminal
You can also "force" macOS to clear out purgeable storage by attempting to download or install a large file. It can be hard to find a file large enough to fill your Mac's disk, but you can just create one yourself.
This method relies on using the Terminal, so you may want to skip it if you aren't comfortable with Terminal commands. In any case, it's effective (as noted by its creator, software engineer Brian Ambielli.)
Note: System commands like these can be dangerous. Make sure to copy and paste the following commands or type them exactly as they appear.
Open the Terminal app by typing that into the Spotlight search bar.
Type the following command into the Terminal window: mkdir ~/largefiles
Hit Return.
Now, type in this command: dd if=/dev/random of=~/largefiles/largefile bs=15m (It's normal for your Terminal to look like it's frozen. That's just the command at work.)
After about five minutes or so, hit Control + C in Terminal to stop the previous command.
Now, type in this command:  cp ~/largefiles/largefile ~/largefiles/largefile2
Once that's done, type the same command in, but change the last number to "3." After it runs, change the last number to "4," and so on.
You'll want to continue this cycle until you see a macOS message appear that says "disk is critically low."
Once you do, type in and execute this command: rm -rf ~/largefiles/
Head to the Trash Bin and empty it.
Essentially, what this is doing is creating a single large file and storing it in a system folder called "largefiles." Then, using the third terminal command, you're actually copying the large file in its entirety over and over again.
The last command will delete all of the large files. (Though they'll keep taking up storage until you clear out the Trash Bin.)
Note that you won't be able to achieve similar results by just copying a large file over and over again in Finder. That's because if you just use copy/paste or Command + D, macOS actually just creates a reference to the old file instead of creating a brand new file.
Method 3: A Third-Party App
There are also third-party apps, like CleanMyMac, that can help you achieve similar results. It's an option, but we recommend it the least out of the options on this list.
For the most part, many of these apps are bloated and contain unnecessary features. And, unless you're careful about the app you download and the permission you give it, there's a risk of malicious activity, too.
The kicker is that most of these apps aren't free. Or, if they are, they'll only let you perform certain activities without paying for a premium membership.
Of course, if Optimize Storage isn't helping and you're 100% not comfortable with Terminal, then a third-party app may be your best bet.
Mike is a freelance journalist from San Diego, California.
While he primarily covers Apple and consumer technology, he has past experience writing about public safety, local government, and education for a variety of publications.
He's worn quite a few hats in the journalism field, including writer, editor, and news designer.