Find the double click to install on your iPhone's Side button or iPad's Top button to purchase apps confusing, awkward, or difficult? Want another option that doesn't require two hands to complete? The good news is there are some options for people who just don't like or want this behavior. Instead of double-clicking a button, you can type in your Apple ID password.
Related articles
A lot of our readers are annoyed or confused by the animated message that they need to "Double Click to Install" when trying to get apps from the App Store. Unfortunately, Apple's message is not very clear that we actually need to press our Side Buttons or Top Buttons to install an app purchased in the App Store. Quite a few folks assume they should double click the button that appears on their screen rather than press the physical button!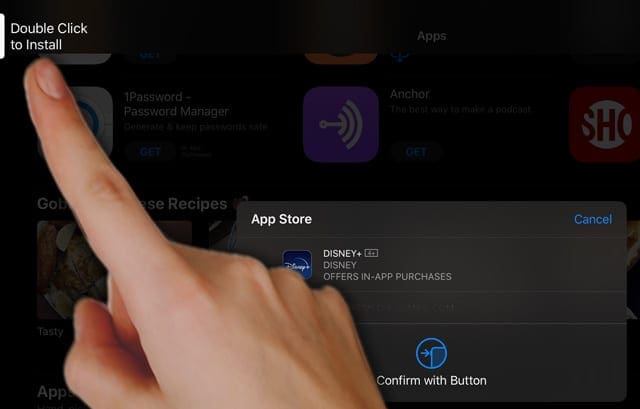 It's an easy mistake to make.
Why does Apple ask me to double click to install apps anyway?
With the introduction of Face ID to act as your password, Apple wants to make sure that you verify any app purchases (or any purchases, like those in the Wallet app.) It seems that it was all too easy to unintentionally make purchases with Face ID–since all you needed to do was make one navigational error and then look directly into your device.
And that's why Apple added this second step to verify that you do indeed want to make a purchase (even a free one.)
But Apple's execution of this verification measure is simply bad.
When you decide to download an app (or make any purchase like with Apple's Wallet app), an animated message appears on-screen asking you to Double Click to install (pay or update.)
And for a lot of people, it's unclear what they need to do next as that animation bounces around the side or top of their device's screens. Should you tap the button on the screen? Should you press the physical button?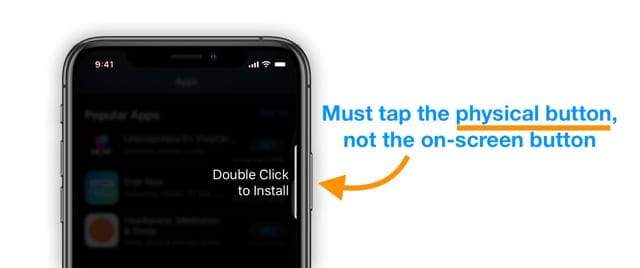 What would be super helpful is if the message simply read "Double Click the Side Button to Install" or for iPads, "Double Click the Top Button to Install." And just like that, no more confusion!
But we aren't there.
How to get rid of the Double Click to Install message?
Okay, first of all, we cannot get rid of the need to verify your purchases.
Since it is so easy to inadvertently make purchases using Face ID, we still need to tell Apple that "yes, we agree to this purchase and understand that we are making a purchase."
So instead of clicking the side or top button (or tapping on-screen with no results), we can instead enter our Apple ID's password to confirm purchases.
Change your app verification setting in two ways:
1. Change accessibility settings for your top or side button
Go to Settings > Accessibility
Scroll down to Side Button or Top Button
Toggle on Use Passcode for Payments
Confirm with your device passcode or Apple ID and password, if requested
2. Change your Face ID settings
Go to Settings > Face ID & Passcode
Toggle off iTunes & App Store
For Apple Pay and the Wallet App, toggle off Apple Pay
If other apps use this feature, tap Other Apps and toggle them on or off (as desired)
Confirm with your device passcode or Apple ID and password, if requested
Once done, stay in Settings > Face ID & Passcode and scroll down and turn on Attention Aware features.
How to use Face ID to log into your third-part apps automatically
Turn on Use Face ID for the features you want including iPhone Unlock, iTunes & App Store, Apple Pay, Password Autofill, and tap other apps to add additional functionality.
Face ID only works with apps that support this feature.
When you open an app for the first time or after an update, look for a prompt asking you if you want to add Face ID support.
For most of her professional life, Amanda Elizabeth (Liz for short) trained all sorts of folks on how to use media as a tool to tell their own unique stories. She knows a thing or two about teaching others and creating how-to guides!
Her clients include Edutopia, Scribe Video Center, Third Path Institute, Bracket, The Philadelphia Museum of Art, and the Big Picture Alliance.
Elizabeth received her Master of Fine Arts degree in media making from Temple University, where she also taught undergrads as an adjunct faculty member in their department of Film and Media Arts.