There's a lot to be said about being productive on the Mac while using an iPad at the same time. Sidecar has transformed the way that many people work, providing a secondary display without needing to download any other apps or configure anything.
Related Reading
But what if you own a Windows PC and want to use your iPad as an external display, essentially achieving the same goal? Well, there aren't any elaborate solutions like Sidecar, but you aren't completely out of luck.
How To Use iPad As A Second Monitor for Windows
As we mentioned, there are a couple of options for those who want to use the iPad as a second monitor for their Windows machines.
Duet Display
Long before Apple introduced Sidecar or even really envisioned using a Mac and iPad in tandem, there was Duet Display. This app introduced a productivity workflow that was unparalleled for the time, making it easy to extend your Windows or Mac desktop onto an iPad.
The app was developed by ex-Apple engineers while providing touch controls for your Mac or Windows computer. It's easy to think about pairing your iPad with a Mac Mini as a headless touchscreen display to get the touch-enabled Mac we all want.
But an app and service that works as well and is reliable as Duet, comes at a cost. There are three different pricing tiers, all of which offer something a bit different:
Duet Display: $14.99 (One-time purchase)
Duet Air: $24.99 (Per year, billed annually)
Enterprise (Must contact Duet)
With Display, you are able to download the app on your iPad and the companion app on your Windows device. After the app has been set up for the first time, you'll only be able to use Duet with a wired connection.
Those looking to use the iPad as a second monitor for Windows wirelessly will want to check out Duet Air. Not only does this turn your iPad into an extension of your computer, but it can also work as a great remote desktop client. This gives you access to your PC from pretty much anywhere, without actually needing to be in front of it. It's definitely a bit of a steep cost, but if you are constantly on the go, having a wireless second monitor is extremely handy.
Luna Display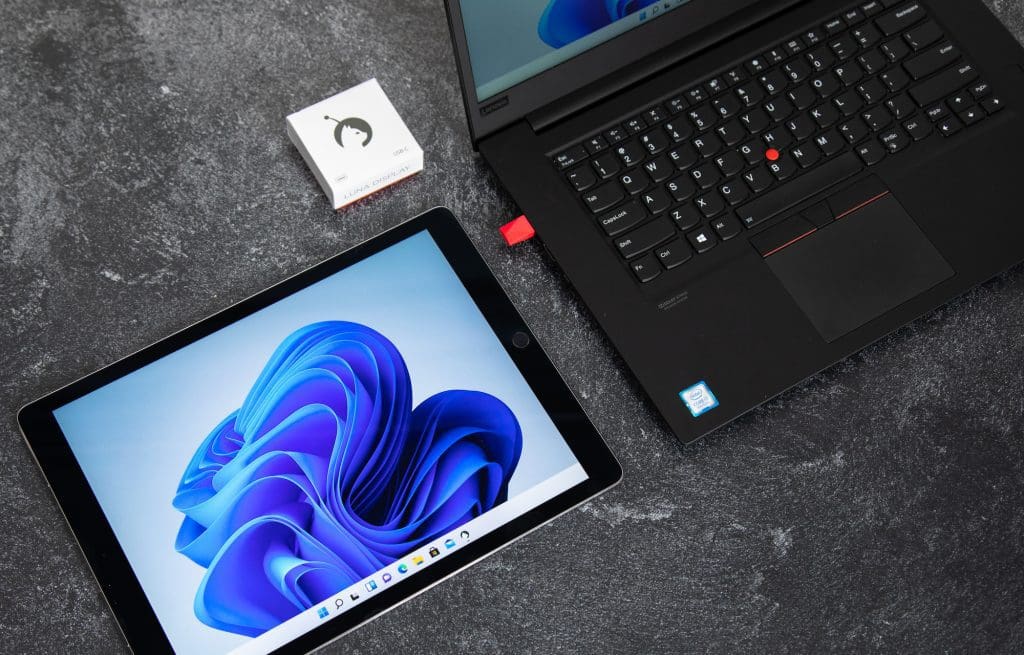 The next option is one that has also been around since before Sidecar became an integral part of macOS and iPadOS. While there are apps that need to be installed, Luna Display is powered by a little dongle that plugs into the back (or side) of your Windows computer.
Late in 2021, Luna Display 5.0 was introduced, finally bringing proper support for Windows PCs. There are also two new hardware dongles available as you can opt for the USB-C version or HDMI. As a note, the HDMI version will only work with Windows computers, while the USB-C version works with both Windows and macOS.
Requirements and setup
Before you can even get started with Luna Display, you'll first need to pick up the hardware directly from Astropad. While the app is free to use, the hardware comes in at $130, regardless of whether you opt for the HDMI or USB-C models.
From there, the company lists a few requirements that will need to be met by your computer and iPad. They are as follows:
Primary PC: Microsoft Windows 10 64-bit, Build 1809 or later
iPad: iOS 12.1 or later
Recommended WiFi/Network: 802.11n or wired ethernet
One more little tidbit that Astropad shares is that if you plan on using Luna Display with an adapter of some kind, that will not be possible. While it may work with your hardware, the company cannot guarantee compatibility and provides the following explanation:
"We highly recommend plugging Luna directly into a compatible port on your Mac or Windows PC. Not every adapter uses the same communication protocols as our hardware, so we cannot guarantee that Luna will work with every adapter, hub, or dock setup. Using Luna with any adapters, hubs, or docks would be at your own discretion."
After you get everything set up, using your iPad as a second monitor for Windows is a breeze. Just fire up the Luna Display app while the dongle is plugged into your computer, and you instantly have a second display. You really shouldn't run into any problems, but if you are, make sure to double-check your network speeds as a slow network can make for a frustrating experience.
Which Works Better?
Picking between Duet Display and Luna Display feels like picking between the iPhone 13 Pro and iPhone 13 Pro Max. Both offer pretty much the same experience while doing so in two semi-different ways. If you really want to go with a no-frills solution that relies on hardware and your network, we would recommend Luna Display.
Astropad doesn't charge any subscription fees, and instead, you only need to pay the $130 for the dongle. On the other side of the coin, in order to use the iPad as a second monitor for Windows without any wires, you're looking at $25 per year which really isn't all that bad, and there's even a one-week free trial for you to give Duet Air a test drive. Or, you can just opt for the one-time $15 app purchase and just need to remember to have a cable handy whenever you're on the go.
Andrew is a freelance writer based on the East Coast of the US.
He has written for a variety of sites over the years, including iMore, Android Central, Phandroid, and a few others. Now, he spends his days working for an HVAC company, while moonlighting as a freelance writer at night.