There's a new trend making waves throughout the tech space, and that's the world of mechanical keyboards. Head over to YouTube and check out pretty much any of the latest "desk setup tours" from your favorite creators, and there's likely a mechanical keyboard on the desk.
Related Reading
While there's one world of full-size mechanical keyboards, complete with different boards, hot-swappable switches, and more keycaps than you can count, there's another, more minimal world too. Keyboards that "thunk" isn't everyone's cup of tea, which is why we're beginning to see more and more low-profile mechanical keyboards hit the market.
That's where the Vissles LP85 comes in, offering a budget-friendly, yet mechanical, alternative to Apple's own Magic Keyboard.
Vissles LP85 Review: The Overview
Take one look at the Vissles LP85 and you would have a hard time discerning it from the smaller Magic Keyboard. You won't find a number pad, but you will find an enjoyable low-profile design, just like Apple's.
This is a 75% keyboard, meaning that you have a low profile on the desktop without taking up too much space on the desktop. Vissles offers the LP85 in either Black or White and in configurations for both Windows and Mac. However, regardless of which version you can get, you'll be able to use it with up to three devices at once thanks to the built-in Bluetooth 5.0 connection.
On the backside, there's a toggle allowing you to switch between Bluetooth and a wired connection, along with a USB-C port that doubles as a charging port for the built-in 2,000mAh battery. On the bottom, you'll find two non-slip strips that span the length of the keyboard at the top and bottom.
And unlike other keyboards on the market, you won't have to sacrifice the function row, so you'll be able to still use all of the same keyboard shortcuts that you are used to. Vissles even went so far as to add another row of keys on the right-side for Insert, Home, Page Up, Page Down, and End.
Vissles LP85 Review: Changing Colors
Along with being an optomechanical keyboard, the Vissles LP85 has another hidden trick up its sleeve. The keyboard is backlit with RGB LEDs and can cycle between 19 different color-changing modes.
All you need to do in order to switch between the modes is hold down the Fn key and press the delete key. Continue tapping that combination, and you'll be able to see the different lighting modes appear right on the keyboard.
It's a really nice touch, especially for those who prefer having and using a backlit keyboard. And considering that Apple's own Magic Keyboard for the desktop doesn't have it, we give Vissles the leg up here.
Vissles LP85 Review: Performance
So what is it actually like to use the Vissles LP85 on a regular basis? Truthfully, there's a bit of a learning curve, but in the weirdest way possible. For some reason, Vissles opted to put the Function (Fn) key on the left side of the keyboard. On a traditional keyboard with an Apple layout, it's in the same place as the Option key.
So on more than one occasion, I've found myself trying to hit Option+backspace to remove a word while typing, only to be met with nothing. It's a frustration in the kindest sense of the word and has forced me to re-train my muscle memory to reach a little bit further when I need to hit the Option key.
When many people hear about mechanical keyboards, they think about loud and obnoxious keyboards that drive everyone around them crazy. While the LP85 is definitely louder than Apple's Magic Keyboard, it's nowhere near as loud as using a traditional mechanical keyboard with "normal" switches.
There's just enough of tactile feedback to make it so you don't feel like you're pushing the key through the bottom of the keyboard. And although I have more than a few custom-built mechanical keyboards within arms reach, the Vissles LP85 is my go-to choice when I want to give my fingers a break.
Vissles LP85 Review: Final Thoughts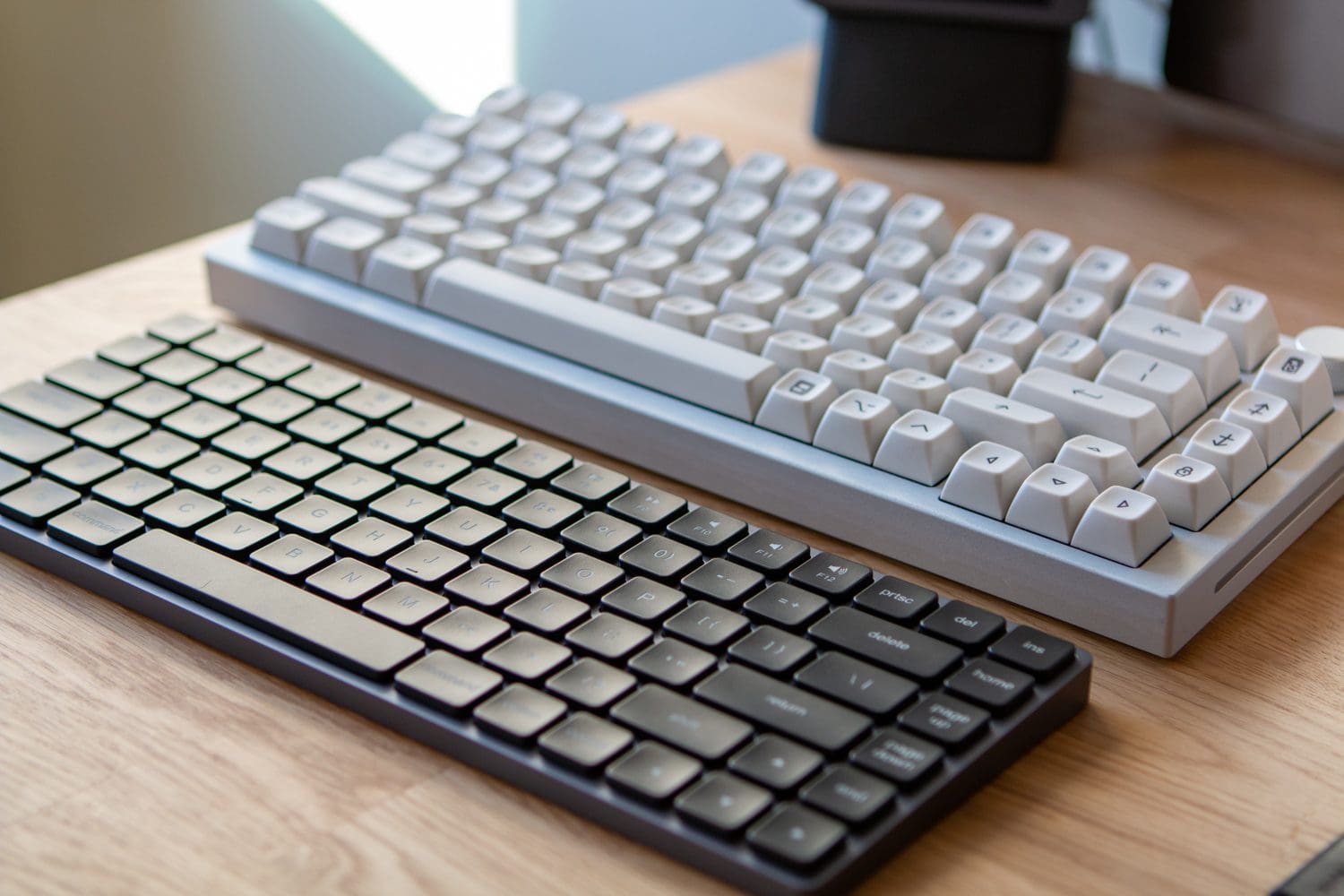 Outside of the Function key frustrations, there is one other point that we would like to mention. In keeping with its low-profile design, the Vissles LP85 cannot be adjusted in terms of the angle that the keyboard sits at. If you're used to using Apple's Magic Keyboard, then this won't be a problem, as the two keyboards are almost identical in height. But if you are coming from a different (and more ergonomic) keyboard, then you might go throw a few growing pains.
The Vissles LP85 is currently available for pre-order, directly from the Vissles website following a successful Kickstarter campaign. If you jump in now and pre-order the keyboard, you'll save $20, and get the LP85 for just $119, compared to the $139 retail price. And as we mentioned before, Vissles is offering configurations for both Windows and macOS, along with coming in either Black or White.
If you want to get into the world of mechanical keyboards, but want to retain a low profile on your desk, then the Vissles LP85 is a fantastic choice.
Andrew is a freelance writer based on the East Coast of the US.
He has written for a variety of sites over the years, including iMore, Android Central, Phandroid, and a few others. Now, he spends his days working for an HVAC company, while moonlighting as a freelance writer at night.