Apple introduced the familiar Voice Memo app on Apple Watch starting with watchOS 6. With this, the Voice memo app is now available on your iPhone, iPad, Mac and Apple Watch. Voice memos on Apple Watch make it super easy and convenient to quickly record something without having to take your iPhone out. This is especially helpful when you are trying to make a short note to yourself so that you don't forget it later.
In this short article, we will explore how you can easily create, rename and delete Voice Memos on your Apple Watch when using watchOS 6 or later.
Related:
Create a Voice Memo on your Apple Watch with 3 easy steps
Creating a new voice memo on the Watch is as easy as it is on your iPhone. To get started, launch the new Voice Memo app on your Apple watch and tap on the record button (large red circle).
You can also use Siri on your Apple Watch to launch Voice memos. 'Hey Siri Launch Voice Memos' does the trick.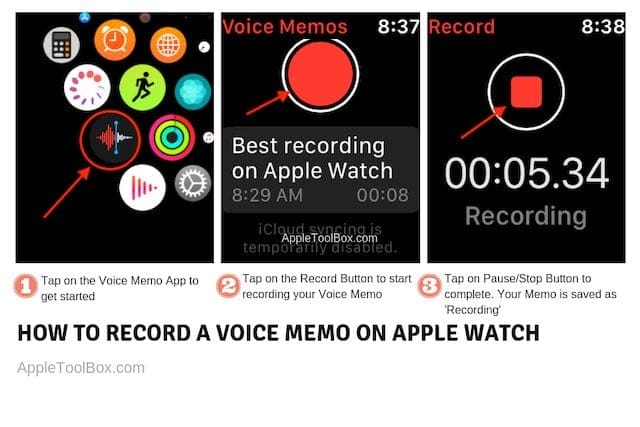 Launch Voice Memo App on Apple Watch
Begin Recording by tapping on the Record Button
Use 'Stop' button to complete your recording
Your new Voice Memo is saved with the prefix of 'Recording'
Rename your Voice memo using Dictation or Scribble
'Recording' or 'Recording 2' and so on may not be the best name for the voice memo that you just created. It is super easy to rename your voice memo once you are done recording. You can either use Dictation or Scribble feature on your Apple Watch to rename the new Voice memo.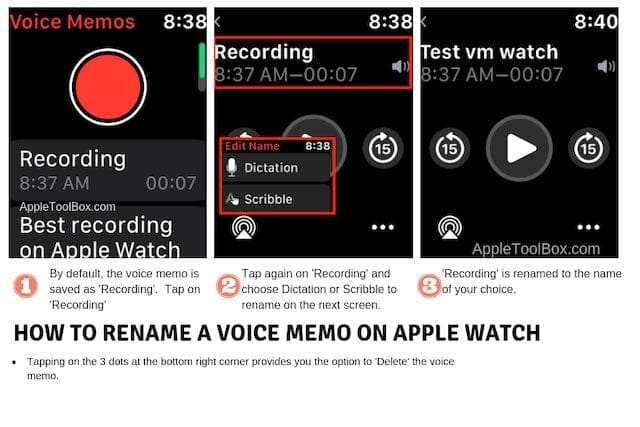 In order to rename your Voice memos on your Apple Watch,
Tap on the 'Voice memo' named 'Recording' that you just created.
Tap again on 'Recording' on this review screen
Next  choose Dictation or scribble on this 'Edit Name' screen to rename
Tap Done when complete
Thats' it. Your voice memo on your Apple Watch is now renamed from the default name to the designated name that you created.
Deleting Voice Memo on Apple Watch
In order to delete the Voice memo on your Apple watch , tap on the three dots at the bottom right corner of the screen when you are reviewing a recording. Next, tap on 'Delete' to permanently remove the Voice memo.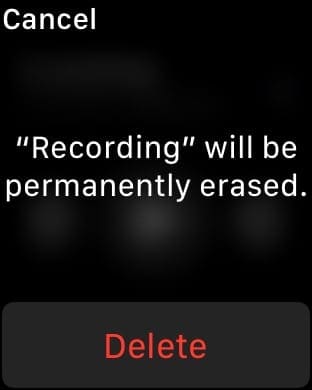 Do the voice memos sync with all your other Apple devices? We would assume that your voice memos would eventually sync across all your devices, but as of today, we have not seen settings that might help facilitate this. 
On the watchOS 6 beta, the iCloud Sync has been temporarily disabled and there are no settings to turn iCloud sync manually. We will be monitoring this feature closely as Apple makes more changes moving forward.
So, Stay Tuned for more!
Please note that watchOS 6 requires iPhone 6s or later with iOS 13 or later, and one of the following Apple Watch models:
Apple Watch Series 1
Apple Watch Series 2
Apple Watch Series 3
Apple Watch Series 4
What are your thoughts around the Voice Memos app? Do you currently use it on your iPhone on a regular basis? We would love to hear your thoughts via the comments below.
Obsessed with tech since the early arrival of A/UX on Apple, Sudz (SK) is responsible for the original editorial direction of AppleToolBox. He is based out of Los Angeles, CA.
Sudz specializes in covering all things macOS, having reviewed dozens of OS X and macOS developments over the years.
In a former life, Sudz worked helping Fortune 100 companies with their technology and business transformation aspirations.