This nice Apple Maps feature was introduced iOS 10 and is really a much-welcomed and loved feature. How many times have you visited a mall or an office complex or your doctor's office and forgotten where you parked your car? I have covered large parking lots tirelessly pressing my car remote button to figure out where exactly I parked my car. Usually, I would take a photo of the location ( Floor/Spot #s) and find my way back. The Maps Parked feature is way better when it works.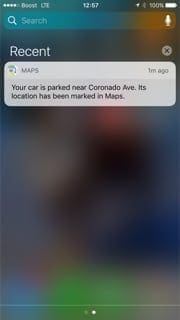 Set iOS's Parked Car Feature Up
By default, this feature works out of the box on your iPhone with a few easy settings. In order to get this functionality working, you will have to follow these easy settings on your iPhone running at least iOS 10.
The feature takes advantage of your Bluetooth pairing with your vehicle if your car does not have the car play option. If you are having issues with pairing your Bluetooth with your car, fix that first. The best course of action is to force close all the open apps on your iPhone, reboot your phone and then follow the steps below.
Steps to Enable Parked Car Feature
Make Sure that your iPhone has been set up to connect with your car's Bluetooth. We recommend that you unpair the iPhone and redo the pairing process following any iOS update (for 10 and above.) While at it, Delete the old iPhone connection info from the car and re-do it. On your iPhone, tap on Settings > General > About > Name and change the name of the device from iPhone to something new. Once you have renamed the device, try to pair it with your car's Bluetooth.
Turn on Location Services. Go to Settings > Privacy > Location Services
Significant Locations ( also called Frequent Locations) setting needs to be turned on under Settings > Privacy > Location Services > System Services > Significant Locations (also listed as Frequent Locations)
You need to be using Apple Maps to get this functionality as you only see the parked car spot on your Apple Map. Please make sure that you turn on the notification settings for Maps. Tap on Settings > Notifications > Maps and make sure you have the setting enabled
Turn on Show Parked Location. Go to Settings > Maps > Show Parked Location. Scroll down to find and enable "Show Parked Location" under Your Car
Steps three and four are critical for this feature to work. If you are still having issues in getting this functionality working try to do a Reset All Settings on your iPhone and then try to re-do the above steps to get the functionality working.
Mindful of the Battery
Since the functionality depends on turning ON your location services setting, it can drain your battery. This is particularly important if you are using an older iPhone 6.
If you use the functionality, be mindful about the status icon for location services as well. That can impact your battery life and cellular data. You may consider switching off this status icon by going to
Go to settings > privacy > systems services and scroll right to the bottom. Turn the setting to OFF for the Status bar Icon here.
For optimal battery performance on iDevice, Apple suggests
You can optimize your battery life by turning off Location Services for the app. Turn off in Settings > Privacy > Location Services
In Location Services, you can see each app listed with its permission setting. Apps that recently used location services have an indicator next to the on/off switch
Parked Car Feature Not Working?
As of writing this post, many users have complained that the feature is not working with their iPhone 5S devices. Apple support seems to be thinking that is related to older Car stereo equipment but we have seen issues even in some newer cars. As additional information comes in, we'll update the article. Additionally, we have not been able to get the feature working on the iPhone 5 or iPhone 5C models. We have tested this on the 5S, 6S, 7, and the iPhone X models using a 2006 Lexus with no problems. There are some known issues with the feature not working with BMW vehicles due to Bluetooth connectivity problems.
Tips to Get Parked Car Working
Temporarily disconnect your Bluetooth car accessory, go to Settings > Bluetooth, and tap the "i" next to your Bluetooth accessory. Then tap Disconnect. Wait 10-20 seconds and reconnect. See if it works
Toggle Location Services OFF and ON. Go to Settings > Privacy > Location Services
Close Maps App on paired iDevice by double pressing Home and swiping up on the app preview to close. Restart your iDevice and then open Maps App again
Enable Location Services and pair your phone with your automobile again and test
We hope that you are able to connect to your automobile and take advantage of this nifty feature.
Obsessed with tech since the early arrival of A/UX on Apple, Sudz (SK) is responsible for the original editorial direction of AppleToolBox. He is based out of Los Angeles, CA.
Sudz specializes in covering all things macOS, having reviewed dozens of OS X and macOS developments over the years.
In a former life, Sudz worked helping Fortune 100 companies with their technology and business transformation aspirations.