Like a good Apple iOS citizen, you perform regular backups of your iPhone or other iDevice using iCloud.  But one day, when doing your civic iDevice duty, you realize that your iCloud back up now greyed out.  And you are no longer able to create a backup of all your important iDevice data manually.
Maybe you've tried everything you can possibly think of but all for nothing, your iCloud back up now remains greyed out.  It feels like the last straw–the one that broke the camels back, perhaps it's time to switch to that other phone operating system that shall not be named?

Fear not, you are among friends and fellow iFolks with similar problems.  And today, we have some collected tips for you to solve all these iCloud back up now greyed out problems!  Now, take a breath and dive in–let's get things back to working order.
Related Articles
The Background
When you back up your iPhone, iPad, or iPod touch on iCloud, you have a copy of all your information, just in case your iDevice is ever replaced, lost, or damaged.
That's why backing up is so important. In some instances, iCloud  "Back Up Now" option (Settings > iCloud > Back Up) on your iPhone, iPad, or iPod touch appears "grayed out" or dim.
If this happens, you are not able to back up your device manually.
If the Back Up Now option is grayed out, it might be because you aren't connected to WiFi so check this first.  Seeing your iCloud Back Up Now greyed out is also a symptom of network restrictions.
Generally, public internet networks have restriction settings that make iCloud Backup unavailable. This is the case with many schools, commercial, business, and even hotel networks as well.
If you think this is your situation, contact your system administrator or the IT department for assistance.
Another possible cause of iCloud Backup greyed out is Apple's own servers
So before troubleshooting, check whether iCloud Backup is available on the Apple System Support page.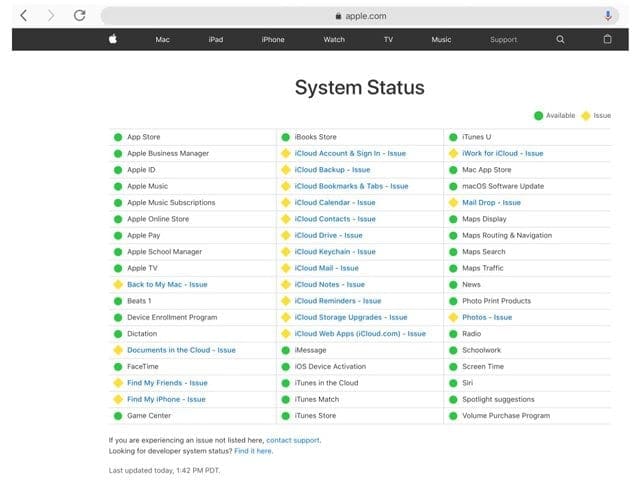 Check for any yellow yield sign next to iCloud services. If you see any, click or tap on each service to get more details like when problems were first reported and the current status.
Sadly, if you see problems on Apple Servers, the only workaround is time. So practice patience and wait a bit of time (anywhere from hours to days) and then check later to see if the services are back to normal (listed in green–as in available) and then try again to back up iCloud.
Fixes for iCloud Back Up Now Greyed Out
If you are having this problem, try these steps, one at a time, to fix your issue. Note that after performing each step, check to see if the problem has been resolved.
Toggle iCloud Backup Off and back On again. Go to Settings > Apple ID Profile > iCloud > iCloud Backup > Off (say OK to Stop iCloud Backup message alert, then wait 20-30 seconds and toggle it back on)
Connect to iTunes, if available. Select your device and check the settings listed for Backups. If you selected the button for This Computer, change that selection to iCloud. Then disconnect your device, restart it, and see if iCloud BackUp is no longer greyed out

You don't have to use your computer to do this. As long as it has iTunes installed, you can make these changes

Check that airplane mode is OFF (Settings > Airplane Mode) remember you must have a WiFi connection to start your backup 
Make sure that your iDevice is connected to a strong and stable WiFi
Check if Restrictions is turned on

For iOS 12, go to Settings > Screen Time > Content & Privacy Restrictions and turn off all restrictions temporarily 
For iOS 11 and below, in Settings > General > Restrictions and toggle it off
Also, tap  Settings > General > Restrictions > Accounts and set this to Allow Changes

Reset the network settings (Settings > General > Reset > Reset Network Settings)
Update your iOS device to the latest version of iOS
Verify you have enough memory left on your iDevice. Tap Settings > General > iPhone Storage or Settings > General > About > Available and make sure that you have at least 500MB available
Check iCloud Devices
You might have multiple iPhones or other iDevices associated with your iCloud account.
Check how many older devices are still listed as linked to your iCloud account. Remove all of these old devices from your iCloud account. See if that changes the greyed out iCloud issue.
Additional Tips for iCloud back up now greyed out
Try Settings>General>Reset>Reset All Settings

You won't lose any texts, emails, photos, apps or other data. But you do need to re-enter a few settings like your ringtone, wallpaper, WiFi login, and passwords 

Check that everything on your iPhone is signed into the same iCloud account, including the iTunes & App Store, FaceTime, messages, game center (settings only now) and others
Finally, if still, nothing try to log out of the app store

Open the App Store
Tap the profile icon or picture in the upper-right corner
Tap your Apple ID or scroll down an choose Sign Out
Restart and then sign back in
For Older iOS versions

Look for the Features page
Scroll all the way down to the bottom and press on the button with your Apple ID
Tap Log Out
Restart your device. THIS IS SUPER IMPORTANT. This does not work without this part
Once restarted, sign back into your account
Summary
When iCloud isn't working on our iDevices as usual, it's disconcerting and inconvenient.  So hopefully, one of these tips works for you.  If you or your friends/family discovered different methods with results, let us know.  We love sharing information and learning from each other–that's what this internet thing is all about.
Once iCloud is back into working order, toggle on automatic backups.  That way, you know that even in the rare time when things go awry, iCloud has you covered.
Set iCloud to Automatically Backup
Check that you have enough available space in iCloud for the backup
Turn on iCloud Backup in Settings > iCloud > Backup
Connect your iDevice to a power source
Ensure your iDevice is connected to a Wi-Fi network
Lock your iDevice's screen
Readers Tips 
Many users use the same device for work as well as their personal use. If you are using a work iPhone, the chances are that your company has added in a profile to the device. This might be causing a conflict. Workplaces often add a private VPN/Profile onto their employees' company-owned devices
Tap on  Settings->General->Profile Management. Remove the profile that is blocking the iCloud backup feature. This was put on my device as a part of getting a work email established on the device. The backup worked immediately after getting the profile removed.
If the Back Up Now option is grayed out, it might be because of a network restriction. Schools or business networks often have profile or restriction settings that make iCloud Backup unavailable. Try to remove the associated profile which gets installed while setting up work or school email. Go to Settings > General > Profile and delete the profile. Then, try and enable iCloud Backup and tap Back Up Now, if available. If this doesn't work, contact your school or company's IT department
I connected my phone to iTunes to do a wired back up and realized that when I clicked on my phone in the Backup section, the button for This Computer was selected instead of iCloud. I changed the switch to iCloud, and when I disconnected my iPhone from my computer, the Backup button was no longer greyed out on my phone
If you participate in the public beta and leave it, make sure you restore to the backup of your data from BEFORE you entered the public beta
Obsessed with tech since the early arrival of A/UX on Apple, Sudz (SK) is responsible for the original editorial direction of AppleToolBox. He is based out of Los Angeles, CA.
Sudz specializes in covering all things macOS, having reviewed dozens of OS X and macOS developments over the years.
In a former life, Sudz worked helping Fortune 100 companies with their technology and business transformation aspirations.