The current iPad lineup can be confusing because even if you ignore the iPad mini, there are three different models to choose from. To make it even more complicated, while the iPad is easy to tell apart from the others, the iPad Air and iPad Pro are closer in terms of hardware and features than they've been in a while.
To make it easy for you, if you're looking for an iPad to replace your old iPad or iPad Air, go for an iPad Air. If you're coming from a Pro or you really like the improved screen on that model, go for the Pro. That said, it seems an easy conclusion that the iPad Air is the best option for most of us.
I had to make that decision myself recently, and I opted for the Air over the Pro. After spending some time with it, am I regretting that decision?
My iPad Air 5 Experience
I didn't exactly decide to replace my aging iPad Air. Instead, I accidentally knocked it off my deck, finding the screen shattered when I retrieved it.
I had known that there were certain parts of my daily work that just fit on the iPad. A task may not be more efficient on the iPad, but it was more enjoyable on a tablet instead of a computer or phone screen. It wasn't until I was suddenly without an iPad that I realized how much I'd come to rely on it.
At the same time, from the years I'd spent with my previous Pro model, I knew that the newest iPad Pro was overkill for what I would be using it for. With that in mind, it took less than five seconds for me to choose the iPad Air over the base model, even with the recent improvements to the base iPad.
Even so, I knew that 64 GB was not going to cut it. Opting for the 256 GB model took me close to the price of the 128 GB iPad Pro, but as I take and edit a ton of photos, I knew I'd rather have the space.
It took me weeks longer than I expected to receive the iPad Air 5 I'd picked out, thanks to an issue with the delivery. I eventually borrowed a iPad Air 3rd Generation for a few weeks, which helped make my workweeks feel sane again. This also gave me a good idea of the type of upgrade most people would likely see moving to the newest iPad Air.
Setting Up the iPad Air 5
When my iPad Air 5th Generation finally arrived, setting it up was incredibly simple. Apple has made this process so streamlined that I almost didn't like it. Not that there was anything wrong with the setup, but my settings and apps transferred over so smoothly that it almost didn't feel like a new iPad at first.
To help get over that, I immediately updated to the iOS 16 beta, to try out new features like Stage Manager and see what the future of the iPad as a device may look like. Even with the new features, I quickly fell back into the rhythm of using my iPad to get things done.
Of course, if you're going to be doing any serious writing on an iPad Air, you'll need a keyboard. Any keyboard will do—you don't need the Magic keyboard.
Everything else is optional, including the Apple Pencil. This model does support the Apple Pencil 2nd generation, which is nice. As for me, I'm not an artist and can type faster than I can write with a pen, so I didn't pick one up.
Design and Overall Feel
Like the previous generation iPad Air, this model is similar in built to modern iPhone models, with flat edges around the side instead of the curved edges used on older iPads. This helps you grip the case more easily, but I never found the flat edges to dig into my fingers.
There are some issues of flex with the body. I've seen this with every iPad I've ever owned, but it doesn't seem as bad as my 10.5-inch iPad Pro. That model ended up visibly bent after a few years. It's my hope that the flat edges on the case will help with structural integrity, but that won't protect against dents.
After the minuscule buttons on the older iPad Air that I had been using as a temp, the chunkier volume buttons on the iPad Air 5th generation were a relief. The location of TouchID is much better too, letting it sit on the top-right when in portrait orientation and the top-left in landscape.
Sure, FaceID would be nice. That said, I'm much happier with the TouchID button on the side than on the front of the device.
Display
As I mentioned above, the main advantage the iPad Pro has over the iPad Air in this generation is its screen, more specifically the 120 Hz ProMotion refresh rate. That said, how important that refresh rate is will vary from person to person.
I used my iPad Air alongside my iPhone 13 Pro Max, which does have ProMotion. Using the two side-by-side didn't bother me. I could tell that the refresh rate was slower on the iPad, but it still looked and felt smooth to use, regardless of what I was doing.
While the iPad Pro's screen may also have an edge in brightness, that doesn't mean the iPad Air's display is lacking. I've used it outside in bright sunshine and that hasn't made the screen unusable once. Of course, this likely has as much to do with the antireflective coating as the screen brightness.
Still, the screen is easily as bright as my MacBook Pro, if not brighter. The display also features TrueTone, which is especially nice when you're using it with warm indoor lighting.
Camera
I—and I'm assuming most people—don't often use the camera on my iPad. For me, it's not even an issue with the quality, I just frequently forget that it's even there. The 12 MP, f/2.4 aperture camera is a definite improvement on earlier models.
As comparatively impressive as the new camera is, the form factor of the iPad Air doesn't lend itself to photography easily. That said, with the improvements, I could see myself using the iPad camera now and then, assuming I don't have my iPhone or DSLR handy.
As for the webcam, I for whatever reason don't often find myself using video chat. Center Stage seems like a nice feature, but I'm not sure when I'll actually have the chance to use it.
iPadOS
I used the iPad Air with iPadOS 15 for maybe 20 minutes before deciding to upgrade to the iPadOS 16 Beta. I'd already been using the older OS on my previous iPad, so felt the new model was a great opportunity to move forward.
Part of it also had to do with the fact that thanks to running the M1 chipset, this iPad Air 5th generation is one of only a few models capable of running the new Stage Manager feature in iOS 16. Keep in mind that I'm speaking about beta software here, so this could change, but Stage Manager feels like a game changer for the iPad.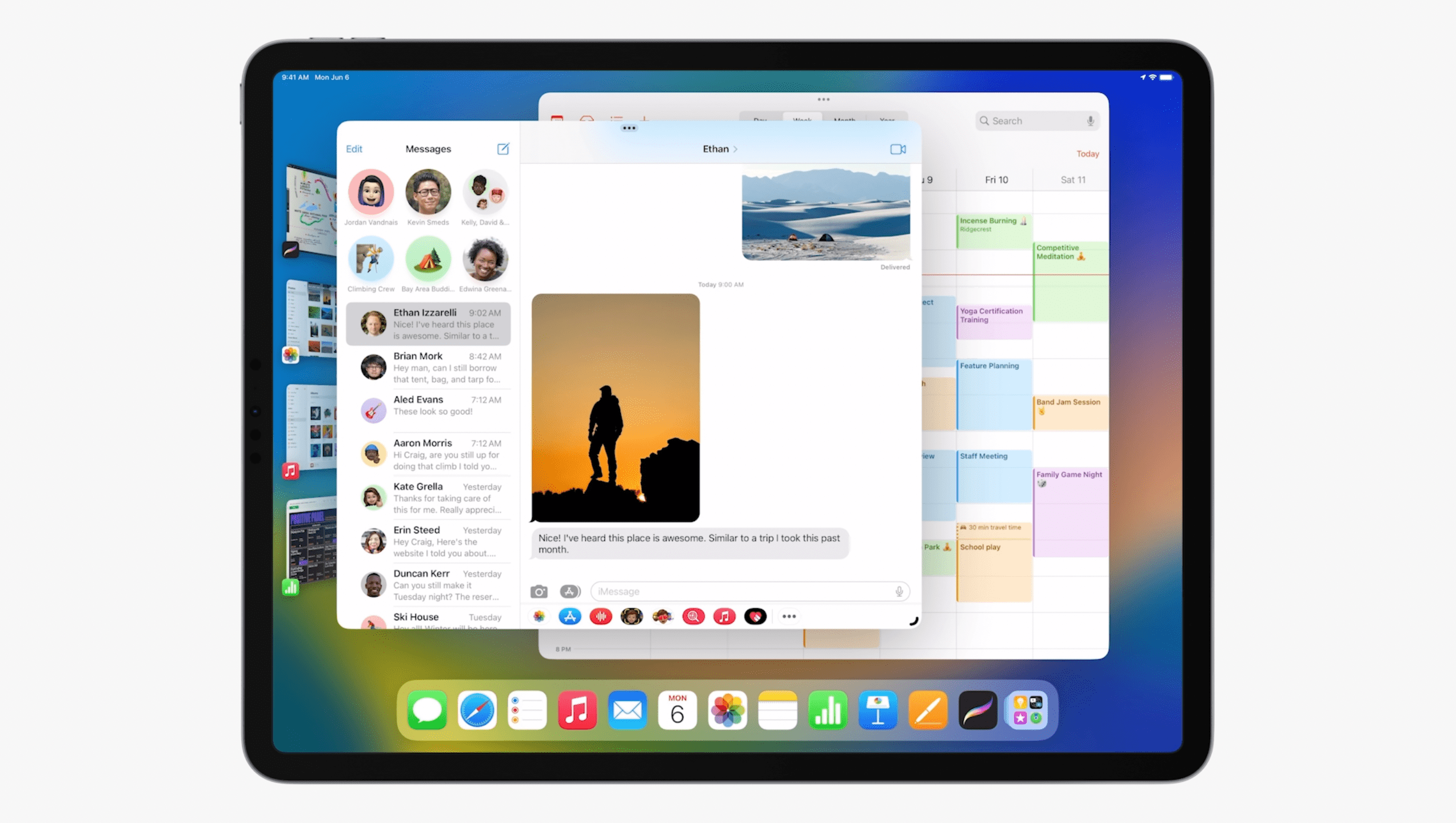 Stage Manager isn't enabled by default, and when you turn it on in settings, there's no tutorial. Instead, you get a new way of looking at multiple app windows. This can be tricky at first, but I was surprised at how intuitive it was. Within an hour, I was switching between window groups with ease.
That said, Apple still needs a better way to introduce this feature. Plus, even after using it for hours, there are still certain aspects of Stage Manager that I find myself forgetting over and over.
Battery
For years, the iPad has been known as a monster when it comes to battery life, regardless of which model you're looking at. This remains true with the iPad Air 5, as it can wring efficiency out of the M1 chip.
Charging is another matter. While Apple does ship this iPad with a charging brick, it's only a 20-watt model. That will do a fine job charing the iPad Air overnight, but it won't charge it very quickly.
When I did need a fast charge, my MacBook Pro charger did the job well. Not everyone will have one of these available, but you can get a capable USB-C charger without spending too much money if you need to supplement the Apple-supplied charger.
Nearly all of my iPad use involves text, either reading it or writing it. This means that I tend to get especially good life out of my iPad. For me, I could easily use the iPad Air for two workdays at home without needing to charge it.
Would I feel confident taking the iPad Air on a two-day trip without a charger? Probably not, but I have a feeling that I could make it work if I needed to.
Performance
Previously, I've never thought of the iPad Air as a particularly powerful piece of hardware. I didn't often worry about whether the iPad Air would work for a given task, but I didn't think of it the same way I do the iPad Pro. This time around, that's different.
Compared to other models I've used, even older Pro models, the iPad Air 5th generation feels noticeably fast. This is to the point that I'm starting to think about other ways I might use my iPad to take advantage of this power.
Gaming felt great on the iPad Air. No matter which games I tested, from Genshin Impact to Call of Duty: Mobile, gameplay was smooth. Pairing an Xbox controller for controller-compatible games made it feel like it could be a somewhat unwieldy Switch alternative.
I don't edit video on the go, so I wasn't able to test that, but from everything we know about the M1 chip in the iPad Air, it should be a smooth process.
iPad Air or iPad Pro?
In most cases, if the iPad Pro is something you need, you probably already know. If you don't know that you need it, you most likely don't need it. Sure, you might want it, but you don't need it.
That said, if you're a video professional and the ProMotion screen is important to you, that's probably all you need to know. Additionally, if you need serious storage like 1 TB or 2 TB, you're only going to find that in the iPad Pro.
As nice as the iPad Air 5 works as a gaming tablet, serious gamers may want to consider the iPad Pro. To start, the ProMotion display will enable even smoother frame rates in games that support it, and you may want more storage than is available in the iPad Air.
That said, the screen in the iPad Air is still very nice, and 60 Hz, while a long way from ProMotion, is still smoother than people give it credit for.
Should You Buy the iPad Air 5?
As I mentioned at the top of the article, I bought my iPad Air with my own money, based on my reasoning that it was the best option for the money. After spending more than a week using it hours a day, I'm still happy with the decision.
If you're shopping for an iPad, it's important to keep your specific needs in mind. For example, you can equip your iPad Air with a Magic Keyboard and Magic Mouse and end up with something nearly as powerful as an M1 MacBook Air. Depending on your options, this could run you more than the cost of the M1 MacBook Air, but it would be a more modular system.
I'm consistently surprised by how easily the iPad Air 5 handles everything I throw at it, and how effortless using the entire device feels. If you're like me and tend to use an iPad only for tasks that make sense on that type of device, the Air is likely the perfect tablet for you.
Kris Wouk is a writer, musician, and whatever it's called when someone makes videos for the web. He's an Apple nerd with a fondness for hi-res audio and home theater gear.