Some of our readers report that their iPhone or iPad Keyboard Shortcut Bar disappears, often after completing an iOS update.  Your iDevice Keyboard Shortcut Bar (sometimes called the Edit, Suggestion, Predictive, or Quick Type Bar) suddenly closes, or just plain doesn't show up when you start typing.  It's done a disappearing act into thin air!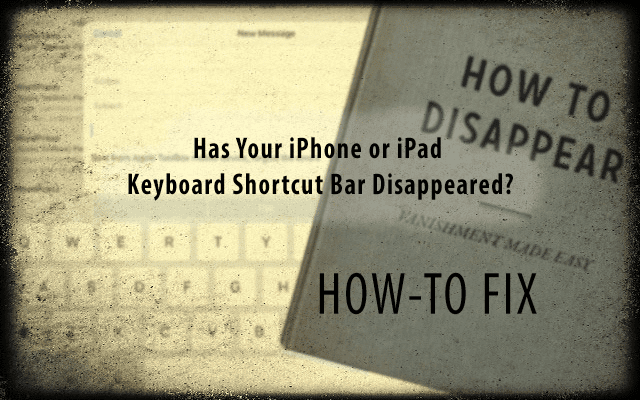 Related Articles
Bad News for iOS 11+ Users, Many Keyboard Shortcuts Are Gone!
Many of our readers report that their iPhones are missing quite a few of their keyboard shortcuts or quick actions when typing in landscape mode after updating to iOS 11. This includes actions like undo or hiding the keyboard. Sadly, I am the bearer of some really awful news. If you updated to iOS 11 or above and lost your keyboard shortcuts on the left and right, and this is sadly the new norm for your iPhone's Keyboard–NO SHORTCUTS!
Yup, in iOS 11 the arrow keys, undo, hide keyboard, and even the comma buttons that we all found so useful are gone. Apple completely removed these options from the landscape keyboard starting in iOS 11. Compare this new keyboard layout to one from iOS 10–you see the difference! And for many people, this change is most unwelcome. 
Instead, in iOS 11 we get the One-Handed and QuickType keyboards
Apple built this new one-handed keyboard mode for all those iPhone users that complained about the difficulties of typing with only one hand available–the other presumably is holding the phone. To bring up a left or right One-Handed keyboard on your iPhone, press the Emoji key and then select which keyboard orientation you prefer, usually dependent on whether you are right handed or left handed. But not always for those lucky enough to be ambidextrous!

The revised QuickType keyboard is for iPads
And it aims to speed up your typing by limiting how many times you have to toggle to the second set of keys to type in numbers and symbols. Letters, numbers, symbols, and punctuation marks are now all your main iPad keyboard. A flick down on a key quickly selects the number or symbol. 
How-To Use Your iDevice's Keyboard Shortcut Bar
The truth is that your keyboard shortcut bar is really robust on iPads and quite simplified on iPhones. iPhones pretty much provide you Predictive suggestions but not the shortcuts and other fun stuff of iPads and iPad Pros!
And hey, if you're looking for how to create shortcuts or even delete them, check out this article. Or if your issue is rather problems with shortcuts and not the keyboard shortcut bar, look at this.
The 411 of your iPad's The Keyboard Shortcut Bar
The Left Side of Your Keyboard Shortcut Bar
Undo and Redo

It's those top left buttons that look like curved arrows pointing either left (backward) and right (forwards)

Undo is the arrow pointing left (or backward)
Redo is the arrow pointing right (or forwards)

Paste

It's the clipboard like icon in the top left, just next to Undo and Redo

Pressing this icon pastes the most recent information from your clipboard

Copy

It's the button with two overlapping squares, one solid and one also dotted next to Undo and Redo

First, select the text you want to copy
Then tap the copy button
Copied text is saved to your clipboard

Cut

It's the scissors icon that appears AFTER you choose the text you want to cut
Cut text is stored to your clipboard
The Right Side of Your Keyboard Shortcut Bar
BI

U

They're all in the top right corner of the keyboard

Press BI

U

and choose what option you want for your text

B is for bold
I is for italics
U is for

underline

All text is typed with your selected option (B, I, or 

U)

Press BI

U

again and deselect option to return to plain text

Camera

Pressing this icon opens up your Photos
Select a Photo and choose Use to add

Paperclip

Opens up your iCloud Drive to attach files
The Symptoms of Your Disappearing Keyboard Shortcut Bar
iFolks notice two unique situations where the Keyboard Shortcut Bar disappears.  One thing to remember is that keyboard shortcuts are different from app to app.  So before you troubleshoot, open another app and test out the keyboard there.  If the Keyboard Shortcut Bar appears in another app, it's probably a localized app issue.
Situation One
The Shortcut Bar closes, but then you can't open it again when sliding up the Grab Handle
Situation Two
Well, the Shortcut Bar just disappears completely and unexpectedly
The Solutions
This thing just happened to me about 10 minutes ago.  I wanted to respond to a friend's email, so I hit reply and to my surprise, no shortcut bar on the keyboard!
Collapse the Keyboard and Reopen
My first thought was to check Settings, but instead, I hit the lower right keyboard symbol key (the one with the downwards arrow).  Hitting that collapses the keyboard down.
Once the keyboard collapsed, I again tapped into the reply email and wouldn't you know, the keyboard shortcut bar reappeared!
So before you do anything, try closing and then reopening a keyboard session.  This tip just might work for you too!
Now, if my tip didn't work for you, I've got something else up my sleeve for you!
Toggle Some Settings
So now we indeed visit our Settings app.  This workaround appears to resolve the issue for most iFolks who didn't have good luck with the first suggestion.
Open Settings > General > Keyboards
And toggle OFF then ON the following settings
Shortcuts (for iPads)
Predictive
"." Shortcut
And Another Option
Within the keyboard itself, you can toggle both predictive and shortcuts OFF and ON. Tap on the globe key or the emoji key. A pop-up menu gives you options to turn OFF and ON both Predictive and Shortcuts.
Keyboard Showing Zoom View? 
Have you changed your display from standard to zoomed? Often when we update our iOS version or if we reset our iDevice settings, this keyboard preference returns to iOS defaults. In that case, all you need to do is update this setting to enlarge the on-screen keyboard. Go to Settings > Display & Brightness > scroll down to Display View, tap it, and select Zoomed. 
Wrap Up
I surprised even myself how much I use, almost without thinking, the keyboard shortcut bar for emails, texting, notes, reminders, and a whole bunch of other apps.  So when it's gone or somehow disappeared, I notice!
I hope these relatively simple fixes work for you.  If not, let us know!  Write your solutions or suggestions in the comments.
Finally, if your Predictive Text or Emojis just ain't working they way they should, take a look at this article for some surprising tips!
For most of her professional life, Amanda Elizabeth (Liz for short) trained all sorts of folks on how to use media as a tool to tell their own unique stories. She knows a thing or two about teaching others and creating how-to guides!
Her clients include Edutopia, Scribe Video Center, Third Path Institute, Bracket, The Philadelphia Museum of Art, and the Big Picture Alliance.
Elizabeth received her Master of Fine Arts degree in media making from Temple University, where she also taught undergrads as an adjunct faculty member in their department of Film and Media Arts.