Have you recently updated your iPhone, iPod Touch, or iPad to the latest version of iOS or iPadOS, only to discover that when you try to save a photo from Facebook, you can't? Is your iPad, iPod Touch or iPhone not saving Facebook photos and you're asking yourself why can't I save photos from Facebook anymore? Seeing the message to open your Settings, tap Privacy then Photos and Set Facebook to ON?
But then you open Settings > Privacy > Photos and Facebook is nowhere to be found? So you actually can't allow photo access to Facebook!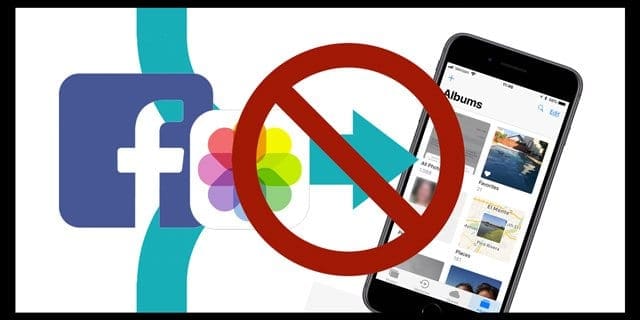 If you experience this problem, you are certainly not alone!
We've received quite a few emails, comments, and Facebook Messenger chats about this very issue.
It seems simple enough: if Facebook requests permission to access your photos, it should appear in your Privacy Settings and let you turn it on. But nope, not working!
Well, then why isn't it working and how do I get this darn issue fixed?
Apple Removes Social App Integration in iOS 11+
First off, iOS 11+ marked a big change in the way your Apple iDevices handle third-party privacy.
Mainly, your Apple iOS no longer integrates ANY third-party social networks by default.
What that means is Apple removed all social app single sign-ons from iOS's Settings App.
Instead, apps like Facebook, Twitter, and so forth are supported just like all your other apps. You must give permission within apps for access to things like notifications, contacts, calendar, photos, camera, mic, and so forth.
In earlier iOS versions, Facebook, Twitter, Vimeo, and Flickr all had special rights in iOS–you could even sign into these apps right in your Settings App. With iOS 11, that's no longer possible.
You now sign into all third-party apps via the app itself.
And this changes our daily use ALOT, from Photos to Siri.
3-Steps To Save Your Facebook Photos in iOS 11+ and iPadOS !
If you can't save pictures from Facebook to iPhone or iPad, the first time you open Facebook after updating to any version of iOS or iPadOS from ioS 11 onwards, you need to update your app permissions to allow Facebook access to Notifications, Location Services, and Photo Access.
Don't see these messages to update permissions?
Then go to Settings > Privacy > Photos and see if Facebook is already there
If so, all you need to do is update Allow Photo Access from Never to Read and Write
Also, check  Settings > FaceBook and set the Photos App to Read and Write
Don't see the Photos toggle under Facebook?
For most of us, we need to first give Facebook permission before this toggle shows up.
iPhone Not Saving Facebook Photos: How to Allow Facebook to Save Photos on iPad and iDevices
Step 1. Open your Facebook App and sign in with your FB credentials
Step 2. Tap Allow or OK to any pop-up message regarding notifications, find&connect, and photo access 

If you don't see any message about photo access find any photo and tap it (make sure it's a photo and not a link)
Once the photo opens on its own screen, deep press on the photo itself or tap the 3 dots in the upper right 
Select Save Photo and a message should pop-up asking "Please Allow Photo Access." 

Step 3. Once you give FB photo access, go to Settings > Privacy > Photos & update Facebook from Never to Read and Write

Or open Settings > Facebook > Allow Facebook To Access > Photos > Read and Write 
Once you give Facebook permission to access your Photos, saving photos is easy! Just long-press a photo or tap the three dots and select Save Photo. And remember that not all photos can be saved to your iPhone–some photos are restricted by the owner. So if you find you cannot save a particular photo, try another!
There are also options to Share, Send in Messenger, even edit the privacy or caption as well as some additional functions.
Not Seeing Any Message to Allow Photo Access?
If you're not getting any message to allow photo access AND Facebook is not listed in Settings > Privacy > Photos or Photos is NOT an option in Settings > Facebook > Allow Facebook to Access,  restart your iDevice by pressing the power button and sliding your device off. Once it restarts, check again.
If it's still not there, perform a forced restart
On an iPhone 6S or below plus all iPads & iPod Touches, press Home and Power at the same time until you see the Apple logo
For iPhone 7 or iPhone 7 Plus: Press and hold both the Side and Volume Down buttons for at least 10 seconds, until you see the Apple logo
On an iPhone 8 and above and iPad with no home button: Press and quickly release the Volume Up button. Then press and quickly release the Volume Down button. Finally, press and hold the Side button until you see the Apple logo
And if that didn't work, delete the Facebook App by going to Settings > General > Storage > Facebook > Delete App.
Once deleted, restart your iDevice by powering off and then powering back up. Then visit the App Store and download/install Facebook. Then go through Steps 1-3 again.
Can't Access Your Camera on Facebook?
Because Facebook is no longer integrated with your iOS Settings, you also need to allow FB camera access. To give Facebook permission to use your camera for things like Facebook Live, open your FB app and select the Live Option.
The first time you select it, a pop-up message appears asking you to Please Allow Camera Access, tap Allow
You may need to follow 2 steps: Tap Privacy and Switch Camera On
Tap Allow Access to open your Facebook App Settings and toggle ON Camera
Return to Facebook and again select Live. If it asks you for permission to use your Mic, tap OK or Allow
Once you give permission for both the Camera and the Mic, these settings appear in Settings > Facebook as toggles to switch on and off as desired
What About Facebook Integration with Siri? 
Yup, you guessed it! Facebook and Twitter integration with Siri has changed. Siri can't help you send a tweet or update your Facebook status.
Siri's New Options!
Within Siri & Search Settings, you can toggle on both Search & Siri Suggestions and Use with Siri, to allow Siri access to search Facebook, Twitter, and other third-party apps.
When you turn on Use with Siri, you can ask Siri to look up things on your Facebook and other social network accounts, like finding friends. 
But, you can no longer ask Siri to update your FB status or send a tweet for you. So something gained and something lost.
For most of her professional life, Amanda Elizabeth (Liz for short) trained all sorts of folks on how to use media as a tool to tell their own unique stories. She knows a thing or two about teaching others and creating how-to guides!
Her clients include Edutopia, Scribe Video Center, Third Path Institute, Bracket, The Philadelphia Museum of Art, and the Big Picture Alliance.
Elizabeth received her Master of Fine Arts degree in media making from Temple University, where she also taught undergrads as an adjunct faculty member in their department of Film and Media Arts.