Sometimes you can't answer an incoming phone call. Maybe you're driving or in a big meeting, at church, or watching a movie on the big screen. Whatever the reason, you need to decline a phone call.
But what if you want to decline that call with a custom text message?
For those moments, Apple has you covered with its feature Respond with Text.
iPhone users can decline calls while choosing to reply with a text or set a reminder to call back. This feature lets you politely decline an incoming call when you are busy and you can't answer.
You can only respond with a message if the call is from another mobile number.
This short tutorial shows how to reject a call with a text message and how to set a reminder to call the caller back at a time or at a certain location.
Related Articles
How to Set Up an Automatic Text Reply on Your iPhone
When your iPhone rings, tap on the little phone icon in the lower right and swipe up.
You get the option to either reply with a message or set a reminder you to call the person back later.
To send a text, tap on Respond with Text (on older iOS, it reads Reply with Message). 
Here you may choose different default options:
Sorry, I can't talk right now
I'm on my way
Can I call you later? 
For older iOS, you see these options:
I'll call you later
I'm on my way
What's up?
Custom…
How To Customize Your Respond with Text Phrases
To customize the three options, you may tap Settings > Phone > Respond with Text (or Reply with Message.)
Tap one of the default responses and enter your personalized answers.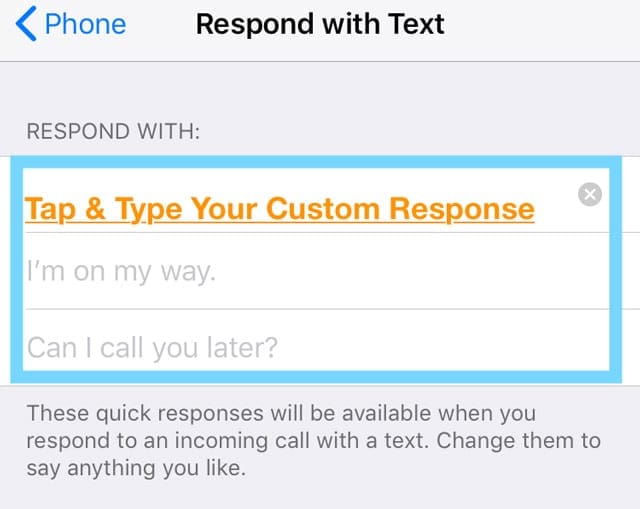 Respond With Text Not Working?
First, check that you toggled on Settings > Face ID/Touch ID & Passcode > Reply with Message.
When you turn this feature on, it allows access to the call options even when the iPhone is locked.
How to Set Reminders (Remind me Later)
After sliding up during an incoming call, you see another option for setting a reminder. This option supports location-based or time-based reminders.
Options are:
In 1 hour
When I Leave
When I get home 
For location-based reminders to work, you'll need to have Location Services enabled.
Obsessed with tech since the early arrival of A/UX on Apple, Sudz (SK) is responsible for the original editorial direction of AppleToolBox. He is based out of Los Angeles, CA.
Sudz specializes in covering all things macOS, having reviewed dozens of OS X and macOS developments over the years.
In a former life, Sudz worked helping Fortune 100 companies with their technology and business transformation aspirations.