So, when should we reset MacBook or Macs? Sometimes our macs just don't work the way the used to. Maybe performance is slowing down.  Or your mac is crashing a little too frequently.  Maybe you're seeing error messages constantly.  Or your favorite software just won't run.
Basically, your Mac simply isn't working right.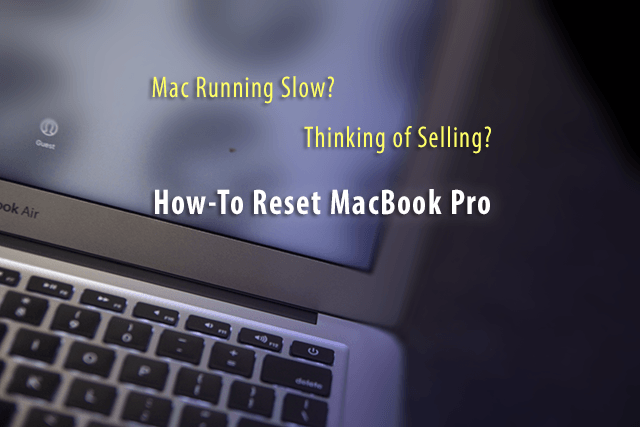 Operating System SOS.  Think Reset MacBook
All of these symptoms are so frustrating that you might find yourself wanting to start from a clean slate and reset your mac to factory settings.
We love that our Mac are typically easy to use and rarely experience the kinds of problems reporting regularly by Windows Users.  But sometimes, we find ourselves at the breaking point, where our mac OS is so befuddled that operating system reinstallation or resetting is our best path forward.
Thinking of Selling or Giving Away?  First Reset MacBook
Perhaps you are thinking about upgrading to the latest mac and selling or giving away your older model.   If so, performing a factory reset is essential before you send your current mac on its way to a new owner. Handing our mac to someone with any of our information on it is out of the question.  What we want to provide the new owner is the closest thing to a never-used mac.
So for whatever reason, be it improving your current mac's performance or preparing it for a new owner, conducting a factory reset on mac is recommended.  And unfortunately, it is not as simple of an operation as we mac users are used to.
This guide helps you learn the steps to reset macbook pro and all mac computers, back to initial factory settings.
Note: This guide is relevant to Mac Pro, iMac, MacBook, MacBook Pro and MacBook Air.
So without further ado, 9 steps to reset mac to factory settings
1- Clone Your Hard Disk Before You Reset MacBook
When you reset your mac, all the information and data you have on your hard drive gets wiped off. So, you need to create a backup. We call this cloning your hard disk – making a full backup of your HD and keeping it for some time.
At Apple ToolBox, we always recommend following the 2X2 rule for backing up–meaning keep 2 local backups and 2 cloud backups.

When you are performing a reset to factory settings, we also recommend maintaining a clone. This a bootable duplicate of your hard drive–a complete and identical copy of your startup volume that is stored on an external drive in such a way that you can boot your Mac from it if necessary.
To create a true clone, you need an application and an external hard drive.
A Word About Time Machine
If you are using Time Machine, then you already have a nice backup.  It's not a true clone, but it has all your information, applications, and other data safely stored in its backups.  So if you choose to use Time Machine only, then make sure you manually backup with Time Machine before proceeding to any next steps.
To perform a manual backup, go to System Preferences.  Select Time Machine.  And choose the checkbox "Show Time Machine in menu bar."
Once selected, you see a Time Machine icon pop up on your menu bar's right corner (near date and time.)  Click on this icon and select Back Up Now.  Selecting that ensures you have everything you need in your Time Machine backups.
Drive Cloning Versus Time Machine Backup
The biggest difference between Clones and Time Machine Backups are that clones provide immediate recovery. With a clone, you get back to work immediately after a drive crash or severe startup volume problems.
Simply attach your clone drive, restart your computer while holding down the Option key, select the clone drive in Startup Manager, and press Return. And you're back up and running.  So you finish any work or projects before you deal with your problem drive.  By running on a clone drive, you repair or replace your main startup drive when your schedule allows.
With Time Machine, restoring your files to a new drive or repaired drive takes hours, possibly days. And restoring an entire drive from a cloud backup service takes even longer and is dependent on your internet speed.
Using Third Party Drive Cloning Applications
There are a lot of applications out there that backup your mac to an external drives.  For illustration purposes, we are showcasing Carbon Copy Cloner.  Another popular option is SuperDuper.    Both Carbon Copy Cloner and SuperDuper have been around for quite a while so they have a good track record.  Both focuses on cloning, showcase a simple and easy to understand user interface.  And both include clear features to create and maintain bootable duplicates.
SuperDuper offers a basic free version and a feature-rich paid version.  Carbon Copy Cloner is unfortunately not free but does offer a 30-day free trial.
With Carbon Copy Cloner, the cloning process is easy – you select your primary hard drive as the source and an external hard drive one as the destination. Once selected, click "Clone".
Once completed, you boot your mac from the external hard drive without any more tweaks. Simply restart your system and press "option" key. If the system boots fine, you have successfully cloned and create a cloned backup of your hard drive.
2-Reset NVRAM Before You Reset MacBook
If you experience issues related to start-up disk selection, screen resolution, or volume, you resetting the NVRAM on your mac might fix the problem.  Or if a question mark icon appears briefly when your Mac starts up, then resetting the NVRAM usually fixes this problem.
It's also a good idea to reset the NVRAM when preparing your mac for sale or gifting.
So what the heck is NVRAM?
A small amount of your computer's memory, called "non-volatile random-access memory" (NVRAM for short,) stores certain settings in a location that mac OS accesses quickly. The settings that are stored in NVRAM depend on the type of Mac you're using, and the types of devices you connect to it.
Information stored in NVRAM includes:
Speaker volume
Screen resolution
Startup disk selection
Recent kernel panic information, if any
Resetting NVRAM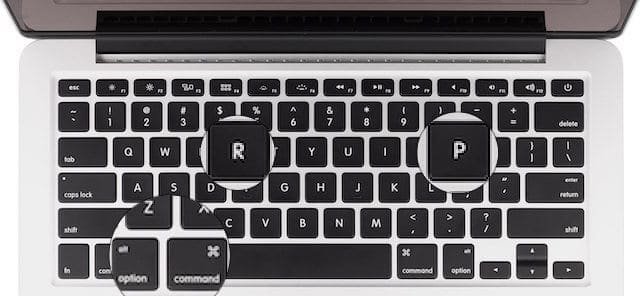 Shut down your mac
Locate the following keys on the keyboard: Command (⌘), Option, P, and R
Turn on your mac
Press and hold the Command-Option-P-R keys immediately after you hear the startup sound
Hold these keys until the computer restarts and you hear the startup sound for a second time
Release the keys
After resetting NVRAM, you may need to reconfigure settings for speaker volume, screen resolution, startup disk selection, and time zone information.
3-Reset System Management Controller (SMC) Before You Reset MacBook
The system management controller (SMC) is a chip in your Mac that runs a lot of the physical parts of the machine, like LED indicators, keyboards and other peripherals, cooling fans, and power buttons. SMC also determines some behaviors of your hard drive, such as how your computer behaves in sleep mode and how it handles the power supply.
Indicators that your SMC might need to be reset:
The computer fans run at high speed, though the computer is not experiencing heavy usage and is properly ventilated
The keyboard backlight behaves incorrectly on Mac computers that have this feature
The status indicator light (SIL) behaves incorrectly on Mac computers that have this feature
Battery indicator lights, if present, behave incorrectly on Mac notebooks that have a non-removable battery
The display backlight doesn't respond correctly to ambient light changes on Mac computers that have this feature
The computer doesn't respond to the power button when pressed
A Mac notebook computer doesn't respond properly when you close or open the lid.
The computer sleeps or shuts down unexpectedly
The battery doesn't charge properly
The MagSafe power adapter LED doesn't indicate the correct activity
The computer is performing unusually slowly, though it isn't experiencing abnormally high CPU utilization
Application icons may bounce in the Dock for an extended amount of time when opened
Applications may not function correctly, or they may stop responding after being opened
A computer that supports target display mode does not switch into or out of target display mode as expected, or it switches into or out of target display mode at unexpected times
The illumination around the I/O ports on a Mac Pro (Late 2013) does not activate when you move the computer
First find out if the battery is removable. MacBooks that have a non-removable battery include MacBook Pro (Early 2009) and later, all models of MacBook Air, MacBook (Late 2009), and MacBook (Retina, 12-inch, Early 2015).
If the battery is non-removable
Shut down the Mac
Plug in the MagSafe or USB-C power adapter to a power source and to your Mac
Using the built-in keyboard, press Shift-Control-Option on the left side of the keyboard, then press the power button at the same time
Release all keys, then press the power button again to turn on your Mac
If the battery is removable
Shut down the Mac
Disconnect the MagSafe power adapter from the Mac
Remove the battery

Look at your MacBook's User Manual for detailed instructions on how to remove your specific model MacBook's battery

Press and hold the power button for 5 seconds
Reconnect the battery and MagSafe power adapter
Press the power button to turn on the Mac
The LED on MagSafe power adapters might change states or temporarily turn off when you reset the SMC.
Reset Mac Desktop SMC
Follow these steps for intel-based iMac, Mac mini, Mac Pro, and Xserve.
Shut down the Mac
Unplug the power cord from your Mac's power port
Wait 30 seconds
Plug the power cord back in
Wait 5 seconds, then press the power button to turn on the Mac
Performing an SMC reset helps to resolve many power and hardware related issues that are otherwise unresponsive to troubleshooting techniques.  With an SMC reset, many hardware issues you encountered should be resolved. It's also a good idea to reset the SMC before you sell or gift a mac.  Remember that only Intel Macs have an SMC controller.
4-Deauthorize iTunes
If selling or gifting your mac, this step is imperative.  If you reset mac for your continued use, this step is still recommended but you may skip it.
Next, let's unlink your computer from your personal iTunes account.
Quick Tip – Remember that you have a maximum of 5 Macs to your iTunes account. So, never give your account to anyone.
To unlink your iTunes account, click "Store" in iTunes and then "Deauthorize this computer". Here you enter your ID and Password.  Once you provide that information, your system is no longer be linked to iTunes.
5- FileVault
Before going any further it is best to disable the FileVault. Open "system preferences" and select "security and privacy."  Select FileVault and click "Turn Off".
6- Disable iCloud
This is another step that is crucial if you sell or gift your mac.  If you rest mac for your continued use, this step is recommended but you may skip it.
If we are deleting everything off our hard drive, it's always a safer option to disable and delete your iCloud account before moving any further as it tends to cause some errors.
To disable iCloud, open "system preferences" select "iCloud" and then "sign out". On every popup make sure that you click on "Delete from Mac" to remove all your personal data.
7- Restart in Recovery
This is pretty straightforward. Simply click on the apple icon on the top left corner of your screen and select "Restart". As the system restarts, keep on holding the "Command" and "R" key together until you see the recovery mode window on your screen.
8- Erasing the Hard Drive to Reset MacBook
Once booted in the recovery partition, select "Disk Utility" and then "Continue."  Click  "Unmount" and then select the "Erase" tab located amongst the top buttons. Click "erase" to delete all data.
Remember that there is no coming back from this point as this will be deleting everything from your hard drive. So, please ensure you have a complete backup and/or clone of your hard drive.
If unsure – don't proceed.  Go up this article and follow step 1
When finished erasing, select "disk utility," select the Hard Drive, and Mount it.  To exit click "quit disk utility."
9- Reinstall mac OS or OS X to Reset MacBook
Click the "Reinstall" and the rest is easy to follow through the on-screen instructions. The process downloads the latest version of mac's operating system to your hard drive and installs.
If you are selling or gifting this mac, remember that during the installation process to not enter your Apple ID or Password as the person buying or receiving your mac should enter their own Apple ID and Password.
Summary on How-To Reset MacBook
When your mac starts acting really weird with things like display errors, freezing or crashing a few times per week, graphical glitch issues, getting really hot, or generally high latency, it's time to think about a reset.
If you're selling or giving away your Mac, you don't want them to have access to your files. That's why you should securely wipe your Mac's hard drive or solid state drive and reinstall mac OS or OS X. Doing this means your files will be protected.  And the next owner will have a Mac that runs like new!
For most of her professional life, Amanda Elizabeth (Liz for short) trained all sorts of folks on how to use media as a tool to tell their own unique stories. She knows a thing or two about teaching others and creating how-to guides!
Her clients include Edutopia, Scribe Video Center, Third Path Institute, Bracket, The Philadelphia Museum of Art, and the Big Picture Alliance.
Elizabeth received her Master of Fine Arts degree in media making from Temple University, where she also taught undergrads as an adjunct faculty member in their department of Film and Media Arts.