After updating your Mac to the latest macOS version, mail notifications may suddenly disappear. This problem can affect both the native Mail app, as well as third-party email clients. Not getting any audio or visual notifications when a new message lands in your inbox can be really annoying. The good news is that the badge count number on the app icon is not affected by this glitch. Sometimes, a simple restart can work wonders. If the issue persists, follow the troubleshooting solutions below.
Not Getting Email Notifications on macOS? Use These Fixes
Disable and Re-enable Notifications
Make sure you're using the correct notification settings. First things first, disable all your mail notifications. Then, re-enable them, restart your Mail app and check the results.
Go to System Preferences.
Click on Notifications.
Select Mail in the left-hand pane.
Toggle on Allow Notifications.
Be sure to enable the following settings:

Show notifications on lock screen
Show in Notification Center
Badge app icon

Save the settings and check the results.
If this issue is affecting Outlook, go to System Preferences, select Notifications, and then click on Outlook. Enable all the settings listed above. Additionally, enable Play sound for notifications. As a quick reminder, all sound preferences for emails are handled in the mail program preferences.
Disable Do Not Disturb
Go to System Preferences, select Notifications & Focus, and make sure to toggle off Do Not Disturb.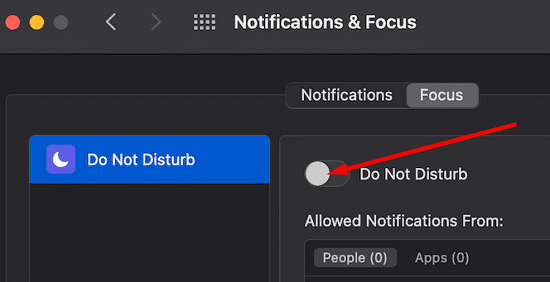 If this option is enabled, you won't receive any alerts or notifications. If DND is already off, enable the option and leave it on for 30 seconds. Then disable it and check if you notice any improvements.
If you're using your Mac through an external screen, the DND option automatically hides all screen notifications. The same thing happens if you're mirroring your screen wirelessly via AppleTV or other services. Tweak your DND settings and clear the checkbox that says Activate while mirroring the screen.
Delete Unnecessary Mail Apps
Uninstall the mail apps that you no longer use. For example, many users confirmed they solved their mail notification issues after uninstalling Outlook or Spark. If you don't use these programs, deleting them won't be an issue. If uninstalling third-party email clients is not an option for you, make sure to update these apps to the latest version. Then go to the next solution.
Automatically Hide and Show the Dock
Tweak your Dock & Menu Bar settings and disable the option that automatically hides and shows the Dock.
Go to System Preferences.
Navigate to Dock & Menu Bar.
Clear Automatically hide and show the Dock.
Conclusion
If you're not getting any mail notifications on macOS, go to "System Preferences", and toggle on "Allow Notifications". Then, disable Do Not Disturb, and delete unnecessary mail apps. If the issue persists, go to Dock & Menu Bar and disable the feature that automatically hides and shows the Dock.
Did you manage to solve the problem and restore email notifications? Let us know in the comments below.