Working from home has become commonplace in today's society, which is great for those who wish to experience a healthier work-life balance and feel more comfortable when working. Not many are prepared for work from home, though, as they've never had to do it before. You may lack the necessary equipment or products that can elevate your experience. If you're interested in some products when working from home, check out the list below and see if you can use any of them in your own life. You don't need all of them, but we strongly suggest checking out each suggestion and seeing if it fits your needs.
Related Reading:
1. Apple Pencil
The Apple Pencil has quickly become a requirement for many individuals involved in art. It's extremely easy to use, intuitive, and doesn't feel awkward at all. The hover feature shows you exactly where the Pencil will land, allowing you to be more precise with your strokes. You don't have to be an artist to use the Apple Pencil, though. If you're a visual learner, then you can use the new app Freeform to make notes, sketches, or doodles as you see fit. Without the Apple Pencil, you'll probably struggle to use your iPad in a more fluid way.
The Apple Pencil costs $129, so it's not exactly a "cheap" investment. Some may argue that $129 for a simple accessory is too much. Those who do use the Apple Pencil understand how useful it can be to create non-text documents on an iPad. Imagine you're taking notes from a Zoom call with the Apple Pencil. It's so much more natural and comfortable than typing everything on a text document.
2. LaCie 1 TB Portable Hard Drive
We all need hard drives, no matter our profession. Having an external hard drive comes with many benefits, such as added security (in case your computer breaks and all your files disappear), extra space, and portability. The LaCie 1 TB Portable Hard Drive is a product on the Apple Web Store that goes for around $85. $85 for a hard drive isn't the cheapest, but you're getting 1 TB of storage space and a rubber edge construction to prevent the product from breaking.
It's fully compatible with all Mac devices and is USB-C, meaning it's also universal. So if you're working from home on your Mac one day and then traveling to the office where you have Windows, you can still use this hard drive. Of course, some Mac files aren't compatible with Windows systems, so you'll have to account for that.
3. Magic Keyboard
The Apple keyboard is a love-hate affair. Some people dislike how small and compact the keyboards are on the MacBook line, whereas others appreciate how they can navigate around the keyboard without spending much energy. The Magic Keyboard looks sleek and can go with any aesthetic you're looking for. It isn't a mechanical keyboard that has raised keys. Instead, it opts for a more silent approach.
There are different types of Magic Keyboards. There's one without a Numpad and touch ID at $99 and one with those features for $179. As with most Apple products, they seem a little overpriced, but you're paying a premium for branding and aesthetic value. If you're someone who types a lot for work and prefer a mechanical keyboard, you can check our other keyboard suggestion below.
4. Mophie Magnetic Portable Stand, Magsafe Compatible
Charging stands are great as you can charge your device on your desk and use it as a second miniature monitor. For example, if you're working on your Mac and want to use your phone for a conference call, you can keep it on the Mophie Magnetic Portable Stand. You can tilt the smartphone either vertically or horizontally, and the stand will still charge your device wirelessly (assuming you have an iPhone model that supports it). Even if you don't use your smartphone actively while resting it on the stand, it's nice to have your iPhone resting with the screen facing you so you can answer any work-related notifications quickly.
Once you start to use a charging stand, you'll never go back. It's extremely convenient when working from home and in casual circumstances, like if you're watching a movie together via video chat. For only around $40, purchasing the Mophie Magnetic Portable Stand is definitely a good investment. Alternatively, you could look for other options on the market, just make sure it's MagSafe compatible so that it'll charge your iPhone.
5. Logitech MX Mechanical Mini Keyboard
Mechanical keyboards are always going to be a staple for anyone who writes frequently. The spring on each key facilitates easy typing so that you don't feel too fatigued, and Logitech has become a renowned brand for its balance of functionality and affordability. You can check out our more in-depth review of the Logitech MX Mechanical Mini Keyboard here. There are so many facets of this keyboard that make it a truly great option for those working from home. Many claim that once they transition from the more subtle Apple Magic Keyboard to a mechanical one like the Logitech MX, then they wish they had done so sooner.
The battery life on the Logitech MX keyboard is extremely long if you configure a few settings, such as turning off the RGB backlight or only triggering the backlight when you hit a key. It costs $150, which isn't cheap for a mechanical keyboard if you compare it with some other options, but it is a well-balanced product. Logitech also has various other keyboards if you're interested in browsing the company's products to see what fits you best. We think the Logitech MX is a great work-from-home product as it helps you type quicker and more comfortably.
6. iPad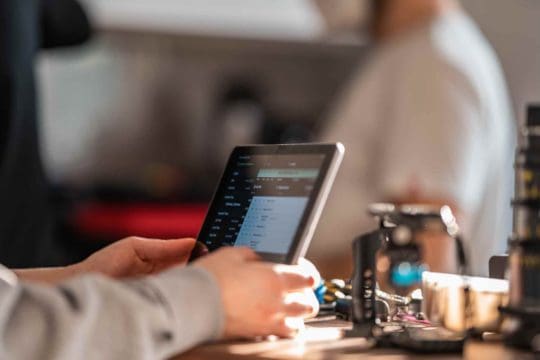 No work-from-home product list would be complete without an iPad. Nowadays, an iPad is a perfect companion as it's extremely versatile and useful for any working environment. If you're an artist, there are multiple apps you can use that can help empower your creativity, such as Procreate, Shapr, and more. If you're participating in team meetings, you can use the iPad to take notes on the side. You can also attach a keyboard to the device and use it as a pseudo-laptop. Of course, most of us are already aware of the iPad's capabilities, as it's been one of Apple's most popular products for years now. If you haven't already gotten yourself an iPad, we strongly suggest you consider looking at one if you're going to start working from home.
The iPad comes in various models, prices, and features. The current cheapest model available on Apple's website is the iPad mini (6th generation) for $499, and the most expensive one is the iPad Pro 12.9-inch (6th generation) for $1,099. You can compare and contrast each model to see what fits your needs on the website so you can make a more informed decision before you purchase. You may also consider looking at some accessories to pair with your iPad to elevate your working experience even more, such as the Apple Pencil or a keyboard.
7. Apple Studio Display
The Apple Studio Display is a great product if you need a big screen. For example, if you're a video editor or a song producer, you might need ample screen space to see everything that's going on clearly. With a 5K resolution, you're sure to see every pixel and color accurately. This model also has an HD webcam for those who regularly participate in video conferences. It also features Spatial Audio for a fuller and deeper sound.
The product is not cheap, however. The Studio Display goes for $1,599, and the more expensive Pro Display option is $4,999. If you're serious about working from home and can justify the investment, you won't regret getting one of Apple's external monitors.