It seems these days we have to pay attention to battery levels more than ever. From our Mac and mobile devices to our wireless mouse and Bluetooth keyboard, making sure we have plenty of battery left for the day is crucial to productivity, communication, entertainment, and more.
One nifty feature of your iPhone's Today View is that you can add a widget that monitors the batteries of connected devices like your Apple Watch and AirPods. Here's how to easily set this up so you're always in-the-know with those battery levels.
Related:
Add the Batteries widget to your Today View
Wake up your iPhone and then swipe to open the Today View. Then, follow these simple steps to add the Batteries widget.
Scroll to the bottom of the Today View and tap Edit.
Under More Widgets, tap the plus sign in green next to the Batteries widget.

Optionally, you can put the Batteries widget in the exact spot at the top where you want it in the list. Tap, hold, and drag it to the location you want and then release.
Tap Done.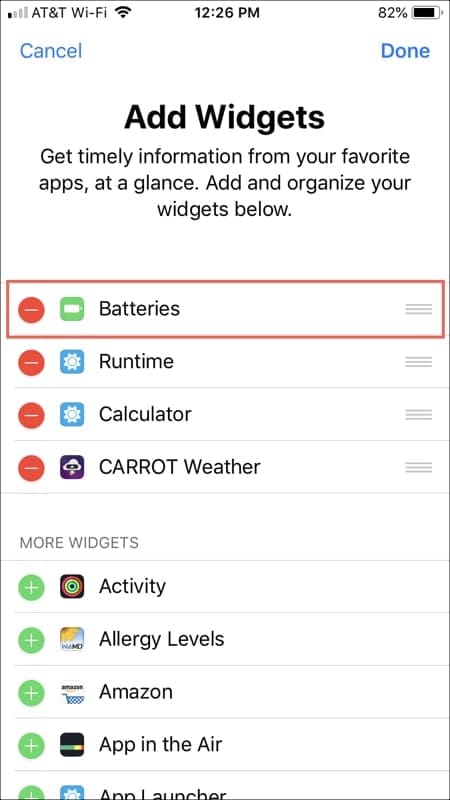 Now, when you head back to your Today View, you'll see that handy Batteries widget showing your connected devices and their current levels.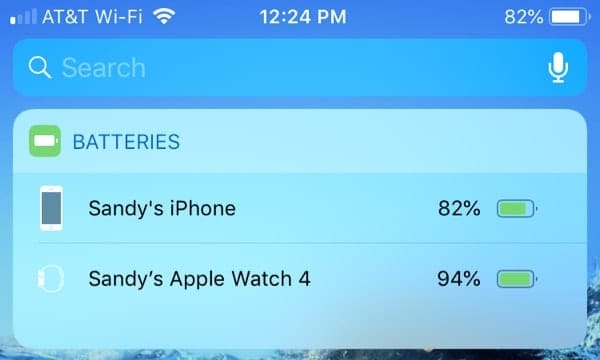 Keep in mind that in order for a device and its battery level to appear in the widget, it must be a supported, connected, Bluetooth device. And as soon as you connect a compatible device, its battery level should display in the widget automatically.
For instance, if you connect AirPods to your iPhone, you should see those in the Batteries widget right away. And what's cool about the battery level for AirPods is that you can see the levels for the left one, right one, and the AirPod case.
Not seeing your Bluetooth battery levels?
For unknown reasons, some Bluetooth devices simply do not report the battery level in this widget. If you followed the steps above but still don't see your BT device's battery level, try these steps:
Make sure those Bluetooth accessories are on and connected via Bluetooth, then remove the battery widget and add it back again
Forget and re-pair the Bluetooth device. Make sure you first forget the device(s) and then re-pair them.
Some folks found that resetting all settings fixed this particular issue for them–but it's a bit drastic!
How to reset all settings on iPhone
Go to Settings > General > Reset > Reset All

Resetting your settings doesn't delete any content.

This resets to default everything in Settings, including notifications, alerts, brightness, and clock settings like wake up alarms and reverts all your personalized and customized features like wallpapers and accessibility settings back to factory defaults
Resetting your iPhone's settings does not impact any of your personal device data, including photos, texts, documents, and other files
Keep an eye on your batteries at a glance
Without having to make a point to view the battery levels of devices you have connected to your iPhone, you can do it with a quick glance with the Batteries widget. Let us know if you plan to set it up for your devices in the comments below!
And remember, you can always visit us on Twitter!
Sandy worked for many years in the IT industry as a project manager, department manager, and PMO Lead. She then decided to follow her dream and now writes about technology full-time. Sandy holds a Bachelors of Science in Information Technology.
She loves technology– specifically – terrific games and apps for iOS, software that makes your life easier, and productivity tools that you can use every day, in both work and home environments.
Her articles have regularly been featured at MakeUseOf, iDownloadBlog and many other leading tech publications.