So you want to buy an Apple Watch? That's awesome! You're about to join a community within a community of Apple product users that's all about style, versatility, and convenience. But how do you know which one to buy? Should you buy Stainless Steel or Aluminum Apple Watch?
Are there certain functions and advantages one has over the other? And what's up with the drastic differences in cost between the anodized aluminum and stainless steel watches?
Let's start from the inside and work our way out.
Quick tips

Follow these quick tips to help you decide which Apple Watch to buy–Stainless steel or anodized Aluminum?
The Anodized aluminum with its Ion-X glass screen is the most IMPACT resistant–meaning less likely to crack. It's also a lot lighter and less expensive

The Stainless steel with its Sapphire crystal screen is the most SCRATCH resistant–meaning less likely to get scratched. It's more expensive and heavier too!
Related Articles:
GPS or GPS + Cellular
Before we delve into the pros and cons of Stainless Steel and Anodized Aluminum, everyone must know that Anodized Aluminum Apple Watches are available in both GPS and GPS + Cellular models.
But Stainless Steel Apple Watches are only available in GPS + Cellular models. 
All Apple Watches are managed from the user's iPhone 6s or later. Functionally, all Apple Watches are the same across the board with one exception. GPS or GPS + Cellular.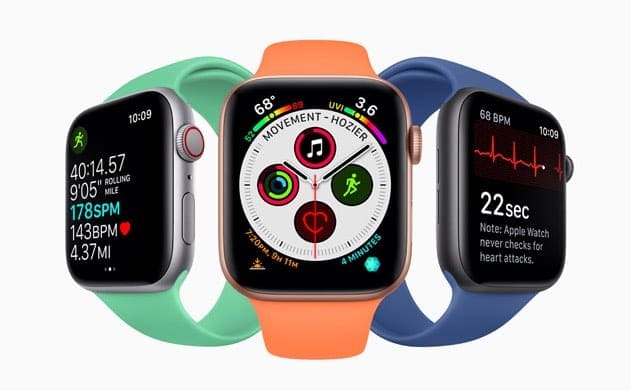 Apple Watch with only GPS
Let me clarify something first because there's a common misconception perceived amongst prospective Apple Watch buyers about what the term GPS actually means here.
Most people think of an independently navigation capable device when they hear GPS, but that's not the case with this Apple Watch, at least not by itself.
The GPS Apple Watch relies on Bluetooth connectivity and WiFi from the iPhone to operate certain features such as navigation, Apple Music streaming, phone calls, etc.
When the iPhone isn't in range, the GPS Apple Watch can only play music from a playlist downloaded onto it through the Apple Watch app on the iPhone.
It can, however, use route tracking for fitness purposes without the iPhone in range. So if you prefer to exercise or play sports without your iPhone, the GPS Apple Watch has you covered.
GPS + Cellular
The GPS + Cellular Apple Watch shares all the same features as the GPS Apple Watch, but it has the added cellular capability, enabling users to fully enjoy the device without the iPhone.
It does mean having to open another line through your cellular carrier to enable this capability. Also, don't be like some people and think,
"Oh gee, I can just leave behind my iPhone and never have to carry it around again. Derp derp."
First of all, just no.
Second, it's just better not to leave any iPhone behind if you don't need to.
Third, and most importantly, the cellular capability can seriously drain your Apple Watch's battery. It's best to use mostly if you get separated from your iPhone, not constantly.
But don't let the rate of battery consumption be a deal-breaker for you. Think about how much battery is used when navigating on your iPhone alone.
Looking at you, ride sharers!
Stainless Steel with sapphire crystal display
Now that we've got that out of the way. Next, decide on whether you want your casing in Anodized Aluminum with Ion-X glass or Stainless Steel with the Sapphire Crystal display.
Aside from the functional capability of GPS or GPS + Cellular, the casing material and it's color are the things you can't change easily.
That's what you'll be matching with every Apple Watch band you'll consider purchasing.
If cost isn't going to play a huge contributing factor in your decision-making process, here's why you should consider the Stainless Steel Apple Watch with the Sapphire Crystal display.
Pros: it's very scratch resistant
If you want a stunning professional or formal look with a strong durable casing, there's no reason not to consider the Stainless Steel Apple Watch with the Sapphire Crystal display.
Stainless steel doesn't rust and is highly unlikely to warp, bend or become deformed.
Sapphire crystal is a dense material that is known for its scratch resistance–you are much less likely to get scratches on sapphire crystal than on Ion-X glass. In fact, it is very difficult to scratch a sapphire crystal screen!
Cons: it's expensive, heavier and less flexible
While you can use a stainless steel Apple Watch for exercise and sports, it displays wear and tear like scratches more obviously than anodized aluminum, distressing the stylish look.
While very scratch-resistant, sapphire crystal isn't as impact resistant as Ion-X glass due to the material's more rigid density. Ion-X is much more flexible and also weighs significantly less.
Sapphire is also much more expensive to produce and use.
And, the combination of the sapphire crystal display with the stainless steel casing does make the Apple Watch heavier than it's the anodized aluminum counterpart.
Anodized Aluminum with Ion-X glass
If you're a competitive sportsman or a fitness freak, then look no further than the Apple Watch with anodized aluminum and the Ion-X glass display.
This Apple Watch being available in both GPS and GPS + Cellular models makes this the most versatile of the two.
Just like stainless steel, anodized aluminum doesn't rust, but it is vulnerable to corrosion. In this case, that's a part of the process of creating anodized aluminum.
When aluminum corrodes or oxidizes, a thin layer of oxide is produced which serves as a defensive shell from further corrosion, thus making the material more durable.
Many consumer electronics and cookware are intentionally anodized for this purpose. Anodized aluminum also hides scratches and wear and tear better than stains steel.
Ion-X glass is a durable, lightweight, flexible material best known for its impact resistance. It's not as scratch resistant as sapphire crystal, but it's still ideal for rigorous activity.
The combination of anodized aluminum with the Ion-X glass display makes for an ideal Apple Watch designed for rigorous activity that regularly exposes the watch to wear and tear.
Pros: it's much lighter and cheaper
The Apple Watch with anodized aluminum is a more affordable device that's lightweight and ideal for sports and other rigorous activity due to its impact-resistant casing.
Its Ion-X glass is much more flexible than Sapphire glass. Ion-X glass can withstand more weight in a bend than the Sapphire crystal–that means if dropped, the Ion-X display does not crack quite as easily as Sapphire.
Ion-X glass also weighs significantly less than Sapphire glass.
The anodized aluminum Apple Watch is available in both GPS and GPS + Cellular models as well at the more affordable pricing range for Apple Watches.
Cons: it scratches more easily
The Ion-X glass display is less scratch-resistant than it's sapphire crystal display counterpart. And, the stainless steel casing on the Apple Watch Stainless model is denser and damage resistant than anodized aluminum.
My opinion on Anodized aluminum + Ion-X glass vs. Stainless steel + Sapphire Crystal
For me, the Anodized aluminum with its Ion-X glass wins out!
I love that it's lighter, cheaper and more impact-resistant. And even though it is less scratch-resistant than the stainless steel with its sapphire crystal display, for me a scratch is less of a problem than a crack! Plus, it's a lot cheaper to replace the Ion-X screen than the Sapphire screen–so if an accident does happen, I can afford the repair.
Choose your top risk!
If you are more concerned about scratches than about wear-and-tear, then the Stainless Steel model might be best for you
However, if you are most worried about cracking, falling, or other impact damage, stick with the Anodized aluminum model
What's the cost?
Check the latest prices from Apple's Watch site for the following models:
Anodized aluminum GPS only
Anodized aluminum GPS and Cellular
Stainless steel GPS and GPS + Cellular
There's also the Apple-signature Hermes style Apple Watches that range in the $1000-$2000 price.
To put it simply…
If you're intended use for your Apple Watch is for exercise, sports, or you want something to wear outside that's not going to look beat up, go with the anodized aluminum Apple Watch.
If you're more interested in style and price isn't a problem for you, then the stainless steel Apple Watch will give you many fashionable options.
This is not to say that an anodized aluminum Apple Watch can't be fashionable or that a stainless steel Apple Watch can't be worked out with.
Don't let the notable price difference between the two models and casings discourage you either. Think of it this way.
You'll get your stainless steel Apple Watch with the capability of activating another cellular line when and if you choose to. There's nothing that says you have to.