If you didn't already notice from our monthly app roundups, the App Store is chock-full of new, exciting, and useful apps to improve your experience. But the best part about the App Store is that we consistently see new apps being released that are not only unique but are completely free to use. When trying to find the best free iPhone apps, it can feel like a daunting task, so we've rounded up 15 of our favorites.
Related Reading
The Best Free iPhone Apps
This might just be my favorite iPhone and iPad app of all time, but Apollo for Reddit offers the best experience for browsing the platform. Apollo is free to use, but if you want to support the developer, there are in-app purchase options. These will unlock things like the use of different app icons, along with plenty of other useful features. If you spend any amount of time on Reddit regularly, you HAVE to at least give Apollo a shot.
Much like Apollo, Overcast is another one of those apps that makes it extremely difficult to switch over to using an Android phone on a regular basis. Overcast comes from Marco Arment, the creator of Instapaper and other iPhone apps over the years. The app was recently updated with its biggest redesign ever, making it much easier to navigate, while still giving you all of the same great features that you wouldn't find elsewhere.
We've covered Widgetsmith a few times here at AppleToolBox, as this was one of the first custom widget apps to hit the App Store following the release of iOS 14. Widgetsmith remains one of the best customization apps, offering plenty of flexibility for those who want to add a bit of flair and pizazz to their Home Screens.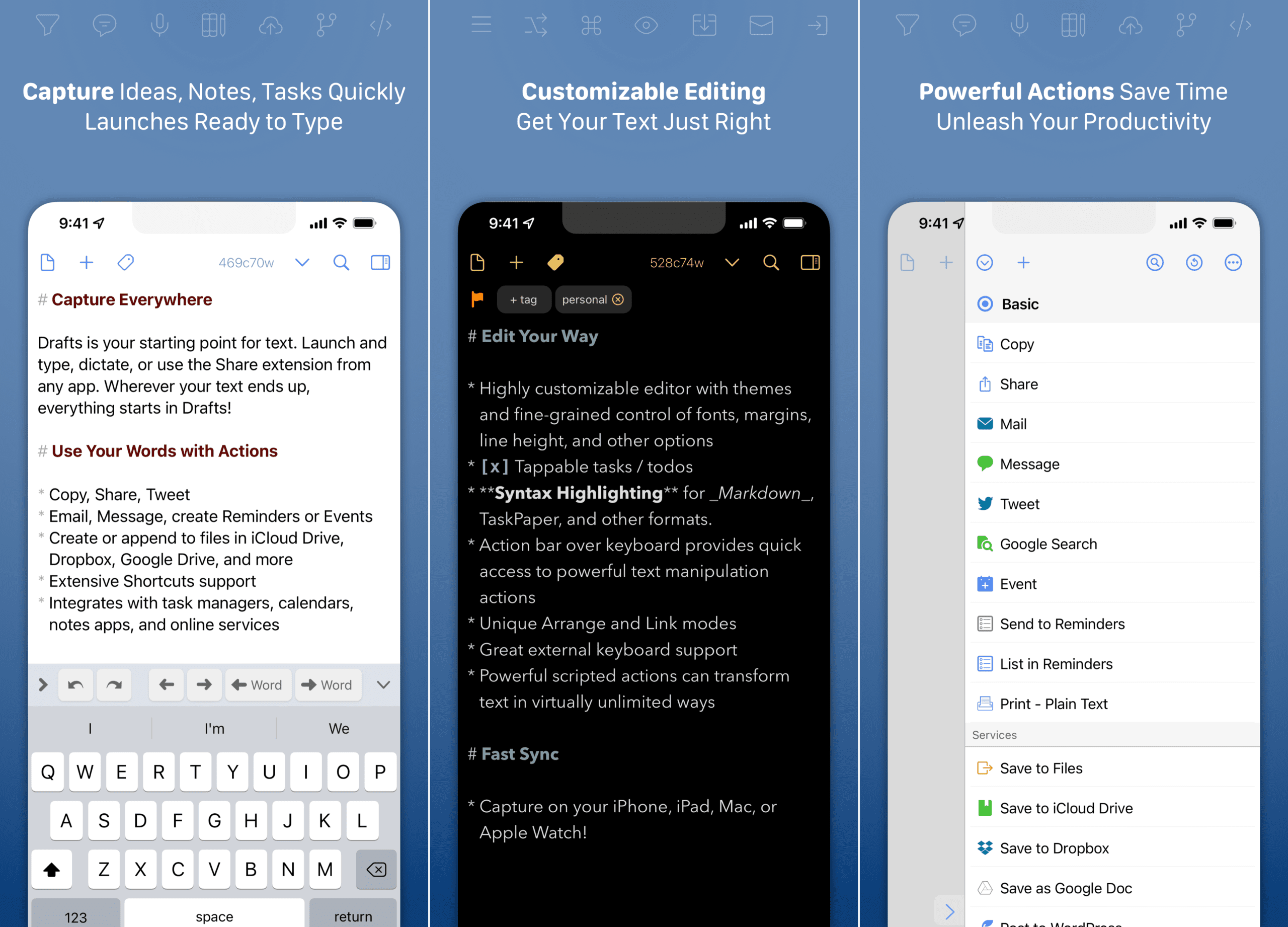 The tagline for Drafts has always been "Drafts, where text starts", and truer words haven't been spoken. From just having a place to jot some notes to creating an email or blog post from scratch, Drafts can do everything you want, and then some. Just download some actions and see what you can do with just a bit of text.
Sometimes it's just easier to have one app that handles all of your organizational needs. From task management and taking notes to keeping track of all of your favorite recipes, Notion is here to answer the call. Getting started can feel a bit daunting, as you are presented with a blank canvas to work from. But there are different templates that you can try out to see what works for you, and then build everything out from there.
Those who want a task manager that can handle just about everything other than collaboration will want Todoist. Whether you just want a basic task manager that's a bit more robust than what Reminders has to offer, or if you want to dive into the GTD lifestyle, Todoist is a great place to start. Plus, it has the added benefit of being available on multiple platforms, so you aren't limited to using just macOS, iOS, or iPadOS.
There's nothing inherently wrong with the built-in Photos app on your iPhone. Instead, the bigger problem comes in with the amount of storage space that you have attached to your iCloud account. With Google Photos, you can just use your own Gmail account and are provided with 15GB of free storage that can be used to offload your favorite pictures and videos. Plus, if you find yourself using one of Google's Nest Hub smart displays, you'll be able to set different albums and photos to appear as a screensaver which is a nice touch.
Some might say that RSS is dead, and we would argue that just isn't the case. It's apps like NetNewsWire and different services such as Feedbin that help keep the dream alive and well. NetNewsWire is free on iPhone, iPad, and Mac, and is one of the few open-source RSS readers out there. There's a Safari extension that makes it easy to add a new website to your feed, and you don't need to use a third-party RSS handler in order to keep track of the comings and goings from your favorite websites.
If you own an iPhone, iPad, and Mac, then you already can enjoy the magic that is AirDrop. This offers quick and easy file sharing between your different devices, but what if you primarily use a Windows computer in addition to your iPhone? AirDroid is here to help, as it offers quick and easy file transfers at speeds up to 20MB/s. It doesn't even rely on a cellular or WiFi network connection, as you can also use the app to send files or documents to your devices over Bluetooth.
Home Widget for HomeKit is a relatively new app to hit the App Store and provides much easier access to your HomeKit devices and scenes. You can set a series of different actions that are all accessible right from your Home Screen. There is a bit of setup that you'll need to do in order to get everything working properly, but it's a simple and painless process.
If you aren't using a password manager already, we strongly recommend that you start doing so. And what better place to start than with another free and open-source app? In recent months, we've seen more and more users getting set up with Bitwarden, and for good reason. The app is available across all platforms in some form or fashion and includes many of the same great features that you expect to find in other password management apps.
While people are starting to head back to the office, there are still those times when you might be slouching over a desk or table and not even realize it. Posture Pal is here to help save your back from the eventual pain that comes with hours of being hunched over a laptop. Essentially, you begin a session and Posture Pal will tell you when you are slouching, then provide a score at the end of the session. The app is designed to work with AirPods to improve your posture, giving you visual and audio alerts whenever "bad posture is detected".
It's practically impossible to get away from the myriads of advertisements that you see whenever you visit a website. You can just be browsing the web, click on a link to learn more, and then be inundated with an experience that is beyond frustrating. 1Blocker aims to help you combat those frustrating web experiences by working to get rid of those ads completely. While the app operates more like a Safari extension, it still can vastly improve how you surf the web without causing nearly as much frustration.
When browsing the App Store, you're likely to find a slew of productivity and note-taking apps. But there are just as many (if not more) health and fitness tracking apps. Happy Scale tries to stand out from the crowd by offering a different look at how you keep track of your weight. It's designed to help you understand why or how your weight is fluctuating, and that data can even be exported to the Apple Health app. There are even different widgets that you can add to your Home Screen so you can see how you're doing at a glance.
The iPhone in your hand (or pocket) is the most powerful camera that you always have with you. And while the built-in Photos app offers some editing options, there's nothing quite like being able to take a photo in 2022 and make it feel like it was taken in the 1980s. With Retrospecs, that's exactly what you are able to do as you can convert the app to look like it would on various "home computers and consoles from the 70's, 80's, and 90's. It's just a different type of photo editing app that you might have a bit of fun playing around with.
Andrew is a freelance writer based on the East Coast of the US.
He has written for a variety of sites over the years, including iMore, Android Central, Phandroid, and a few others. Now, he spends his days working for an HVAC company, while moonlighting as a freelance writer at night.