Whether you are just trying to complete the circle of having many of Apple's ecosystem of products, or you want a great streaming box, the Apple TV is superb. This little box may be a little outdated, but it still serves quite admirably for your media playback needs. Well, that is, if you don't think about the Apple Siri Remote.
Related Reading
What's wrong with Apple's Siri Remote?
When Apple updated the Siri Remote with the touchpad and built-in microphones, there was a lot of head-scratching. The reason is that Apple opted to use glass for the touchpad, along with the aluminum back piece.
Just about everyone knows that remotes are the easiest things to be lost, ending up in the broken glass and the need to replace the remote. However, the awesome thing about the Apple TV is that you are controlling it through the IR sensor. This opens the door for being able to use other remotes, instead of relying on Apple's solution to control your streaming box.
Another frustration is the charging method of the Siri Remote. It's not that Lightning is so much of a problem as it's the fact that you have to figure out the best way to charge the remote when it's died. Other options rely on traditional batteries, making it easier to get up and running of the remote runs out of juice.
The Best Universal Remotes for Apple TV
Universal remotes have always been a great option for those who have multiple devices connected to their TV. But these have been upgraded to the point that they can be used to also control your Apple TV. Now, you can finally ditch the Siri Remote and its glass and aluminum aesthetic for something that's a bit more useful.
The de-facto choice for anyone looking to grab the best Universal remotes for Apple TV has to be the Logitech Harmony Elite. This remote can control up to 15 devices at the same time while sporting a full-color touchscreen at the top. From here, you are able to set your favorite channels and smart devices. Being able to turn on the Apple TV to watch a movie, while setting the mood with your Philips Hue lights all from one remote is pretty useful. The only issue is that this remote is constantly going in-and-out of stock from your favorite retailers. So you'll want to jump on this as soon as you can.
Admittedly, Sofabaton is not a company that many are aware of, but if you check out reviews for the U1 remote, this is a fantastic budget option. In addition to controlling the Apple TV, you can connect up to 15 total devices at the same time. There's also compatibility with more 500,000 devices across 6,000 brands, so it's next to impossible for you to not be able to control your home theater system. While you may miss out on being able to set favorites via the touchscreen, there's a dedicated Macro button that can be customized to operate multiple devices at the same time.
With the Inteset Universal Remote, you're not going to find a touchscreen display or any other unique features, other than being one of the best universal remotes for Apple TV. The remote is already pre-programmed to control your Apple TV, along with an Xbox or Roku. All of the buttons feature LED backlighting, and you can create a programmed macro with up to 15 commands with the press of a button.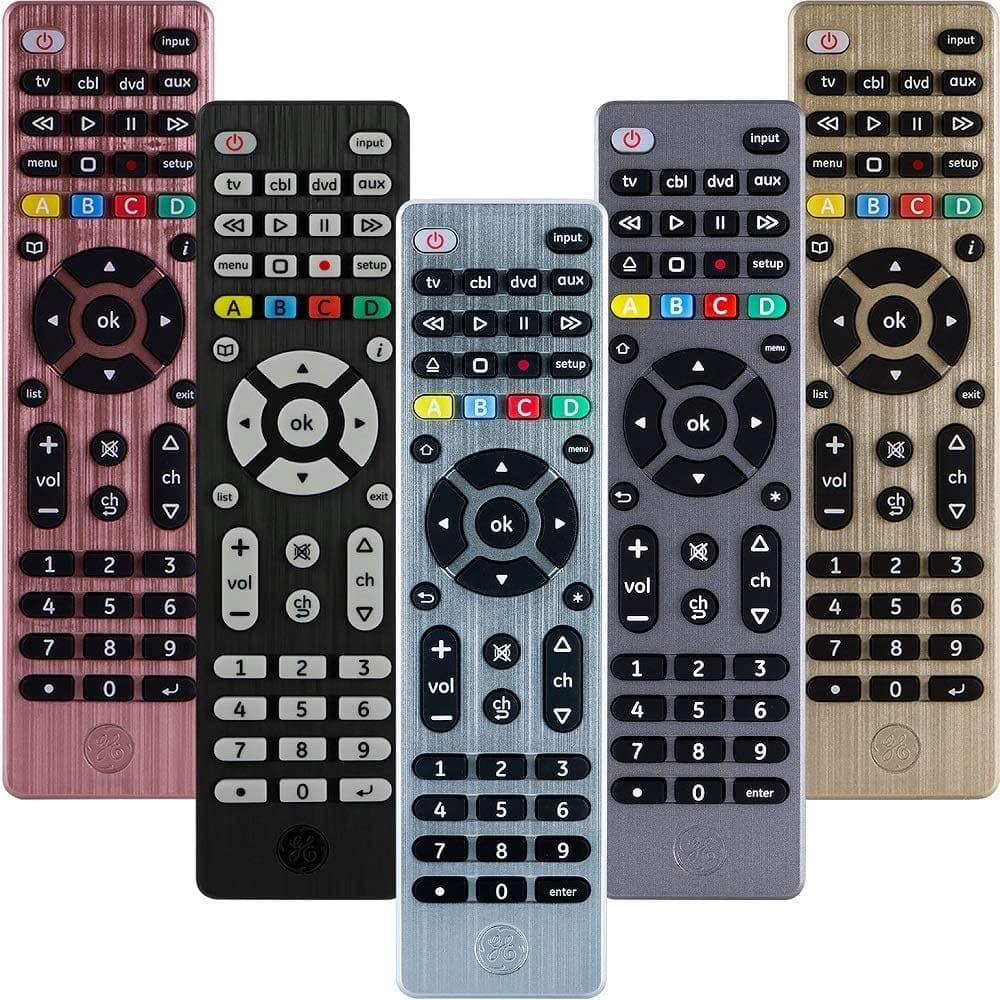 The GE Universal Remote Control looks like something that your parents had back in the day of tube TVs. But it's our favorite pick for those looking to get a cheap universal Apple TV remote. You can add up to four devices at the same time, and it is already pre-programmed to be used with Roku or a Samsung TV. But the best part about this, other than the price, is that it's easy to set up and get running.
Perhaps the best remote for you to use if you don't want to use the Siri Remote is the one that's already pre-installed on your iPhone or iPad. For years, Apple has made the Remote app available for download from the App Store. However, late in 2020, the company removed the app from the App Store as it's already pre-installed on your devices. Here's how you can get it set up.
Open Control Center by swiping down from the top right corner.
Tap the Apple Remote icon.
Find your Apple TV or smart TV in the list.
Follow the onscreen instructions.
After you've finished following the instructions, you'll be ready to go and can use your iPhone instead of using the problematic Siri Remote.
Did we miss one?
These are just some of our favorite of the best universal remotes for Apple TV. Sound off in the comments below and let us know if we missed an option that you are taking advantage of and enjoying.
In the meantime, we'll keep holding out hope that the next-gen Apple TV brings a redesigned remote with it, that can do just a little bit more.
Andrew Myrick is a freelance writer based on the East Coast of the US. He enjoys everything to do with technology, including tablets, smartphones, and everything in between. Perhaps his favorite past-time is having a never-ending supply of different keyboards and gaming handhelds that end up collecting more dust than the consoles that are being emulated.