Apple's Files app has introduced a new of productivity opportunities to iOS and iPadOS — but it still isn't perfect.
While there is now support for generic media and local storage, Apple's Files app doesn't really feel like a true PC file manager. That's likely because it's not really meant to be. Instead, it's a link to iCloud Drive with local storage thrown in on top.
Related:
That emphasis on cloud-based storage can actually cause problems, as noted by AppleToolBox reader Michael Overly. Luckily, we may have a solution.
Here's what you should know about the problem and a possible workaround.
The problem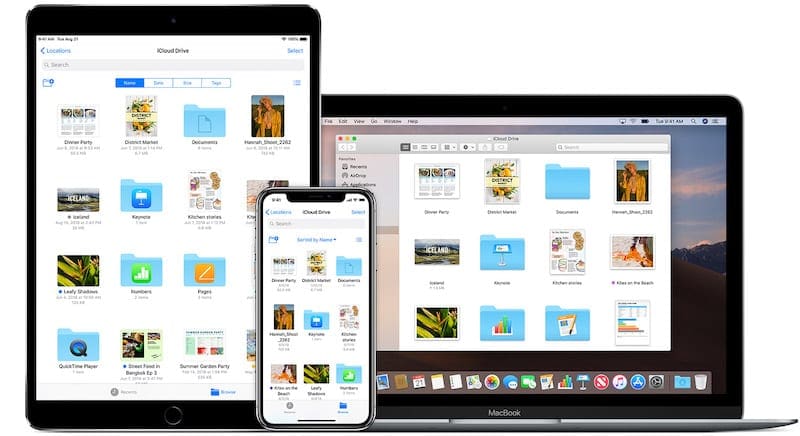 Overly reached to us and brought a Files app flaw to our attention that has, thus far, gone pretty much unnoticed. Essentially, downloading files from iCloud Drive to the On My iPhone / iPad section in the Files app only works one way. Let us explain.
As Overly pointed out, once you tap on the little cloud icon on a file in iCloud Drive, it will be downloaded to your local storage. He explains that there's no way to "put" the file back into iCloud Drive without deleting it entirely.
At first glance, this does appear to be a major oversight in Apple's file management system. Not being able to delete files that are locally stored on your device would be a big downside for power and productivity users.
But we did a bit more digging and discovered that this is, in fact, intended behavior.
What's going on?
Content stored in the iCloud Drive section of the Files app will often have a small cloud icon with a downward arrow on them. This means that they're currently in the cloud and need to be "downloaded" before they're accessed or viewed.
Once you "download" it, there is indeed no way to manually delete it from your local storage without deleting it from iCloud, too. But, again, this is intended behavior.
It's best to think of anything stored in iCloud Drive as only being in one place. Even if you "download" it, the file is still only in the cloud.
To put it another way, the only difference between having a cloud icon and not is that your device is attempting to save local storage space and bandwidth by not caching the file locally.
Your device will show the file icon, but it won't have the file contents saved locally. Once to click on it and the cloud icon disappeared, then the contents will be locally cached. Yes, those locally cached items will technically take up space on your device. But iOS, macOS and Apple's other operating systems will automatically delete them if you need space.
Apple's systems will take many factors into account, such as how often you use the file, how large it is, and how much space you have left.
If it determines that it can remove the local cache without messing with your workflow, it will.
In Summary
So, to summarize it:
Files in iCloud Drive are only stored in the cloud, even if the cloud icon doesn't appear.
Having a cloud icon next to your file means that it isn't being cached locally.
If there's no cloud, then you'll be able to see the contents of the file. But it won't, technically, be stored locally.
Apple OSes will automatically determine if you need the space used by local caches and delete them accordingly.
There is no option to delete these files manually. (Actually, there is one way: sign out of iCloud. This will delete all of your locally stored caches but is objectively a pain in the neck.)
A possible workaround
Apple's systems are pretty intelligent and you probably won't find yourself running out of storage, even if you frequently access files from iCloud Drive.
On the other hand, there is a way to bypass the aforementioned quirk and actually download files to your local storage. This could be a handy way if you don't like the automated process in iOS and iPadOS.
These files will take space on your device (and likely more space than cloud versions) But you'll be able to fully delete them without affecting the copy of the file in the cloud.
Here's how to do it on iPhone or iPad.
Open the Files app on your iOS device. (Make sure you're in a directory that has files and not just folders.)
Tap on Select in the upper-right corner.
Select a file.
Tap the Folder icon in the bottom menu bar. This is the "copy" menu.
Choose a new location for the file in the On My iPhone or On My iPad section of the Files app.
Hit Copy.
At this point, Files will create a new copy of the file in the location you selected. This is an independent copy that is completely separate from the iCloud copy. That means you can delete it without affecting the cloud version.
Mike is a freelance journalist from San Diego, California.
While he primarily covers Apple and consumer technology, he has past experience writing about public safety, local government, and education for a variety of publications.
He's worn quite a few hats in the journalism field, including writer, editor, and news designer.