AirPlay is one of those Apple products that doesn't always get the love it deserves. You don't hear a bunch of hoopla surrounding new features, but it's still one of Apple's best services.
For the unaware, AirPlay allows you to essentially stream content from your Mac or iOS device to compatible devices. For example, if you're watching a movie on your computer and want to move to the couch, you can use AirPlay, provided you also have an Apple TV.
Related Posts
AirPlay Stops or Stutters, here's how you can fix it!
From time to time, there are bugs and issues that plague AirPlay after various updates. A recent update has been causing content to stop, stutter, or play only intermittently. This is obviously extremely frustrating, but we have a few fixes to test out.
Restart
The most popular "fix" for just about any issue is to simply restart. If you are running into issues with your Mac or iOS device not running properly, you'll likely want to just restart the device.
This method could automatically work out any kinks or hang-ups that are taking place in the operating system. If the issues persist, you'll want to proceed to the next steps we have below.
Turn off Bluetooth
One issue that has plagued older MacBook Pro and Mac Pro owners came when AirPlay would drop frames or freeze altogether. Apple worked on a fix and found that turning off Bluetooth would remedy the issue.
Apple stated, "turning off Bluetooth can enhance the performance of Airplay considerably." Here are the steps to turn off Bluetooth on your Mac or iOS device:
iOS:
Open Settings
Select Bluetooth
Toggle Bluetooth to "Off"
macOS
Locate the Bluetooth icon in the menu bar
Click the icon
Select Turn Bluetooth Off
This should alleviate many of the issues that you run into when attempting to Airplay. It seems the cause of this is due to connecting to an 802.11 b or g network on your router. If the problem persists, you would likely want to invest in a router that supports the 802.11 n or ac standard.
Check for interference
It should come as no surprise, but all of those electronics in your home can actually be interfering with each other. It doesn't matter if your refrigerator and microwave are acting a bit wonky, but it does if you can't use Airplay on your mac.
In that case, you will want to check to see if there's anything that could be hindering the connection between your devices. This could be something as basic as a smart home hub or smart light bulb. If the issues persist, you'll want to try moving things around a bit to see if that clears the Airplay interruptions.
Use Wireless Diagnostics
If you're using Airplay with your Mac and are having problems, then you will want to check out Apple's WiFi diagnostic software. This will scan your network automatically and will allow you to check to see what exactly is going on.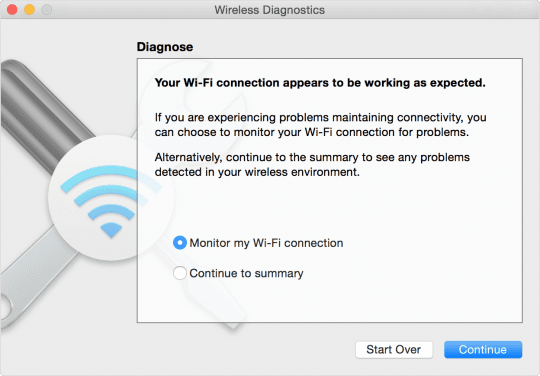 Here are the steps to use the Wireless Diagnostics feature on your Mac:
Hold down the Option key and press the Wi-Fi button in your menu bar
Select Open Wireless Diagnostics
Enter your administrator name and password
This will perform a series of tests to see exactly what is going on with your Wi-Fi connection. If you are greeted with a message stating that everything is "working as expected", then you still have an option to pursue.
Once the tests have been completed, you'll be presented with two options: Monitor my Wi-Fi connection and "Continue to summary". If the issues are intermittent, you'll want to select the former.
This will allow your Mac to continue monitoring your Wi-Fi connection to see if any more problems pop up. From there, you will be notified whenever the connection drops and you can view the "Summary".
Performing this task will allow you to keep an eye on what's going on with your Wi-Fi connections. Then, your Mac will provide you with potential issues and remedies to get everything working.
Update your AirPort or check router settings
It's all fine and dandy that we can finally get Gigabit speeds in our homes. However, what's the fun in having the ability to have high-speeds if there are constant issues?
This is where your router comes into play. If you are using one of Apple's Airport devices, you'll first want to check to make sure that it has the latest firmware.
This can be done using the included AirPort Utility application. After your Airport has been updated, you can go back and see if AirPlay begins working properly again.
Check your Router
In the case that you are not using an Airport device, you'll want to check the specific settings on your router. Chances are this was provided by your service provider, but you can still check to make sure everything is working.
Here are some basic settings to change on your router:
SSID: Set to "Any Unique Name"
Hidden Network: Disabled
MAC Address Restriction: Disabled
Security: WPA2 Personal (AES)
2.4GHz Mode: Set to 802.11b/g/n
2.4GHz Channel Width: Set to 20 MHz
5GHz Mode: Set to 802.11a/n
5GHZ Channel Width:

802.11n: Set to 20 MHz and 40 MHz
802.11ac: Set to 20 MHz, 40 MHz, and 80 MHz

Channel: Set to Auto
DHCP: Set to Enabled, if it's the only DHCP server on your network
NAT: Set to Enabled, if it's the only router providing NAT services on your network
WMM: Set to Enabled
If the issues continue to persist, then you will only be left with the ability to contact your service provider. There could be something on the "outside" that needs to be adjusted and can only be fixed by the provider.
Is your AirPlay content's audio out of sync on your Apple TV?
A common complaint with AirPlay is that the audio appears out of sync with the picture. Apple created a Wireless Audio Sync process to rectify this issue.
Hold your iPhone, iPad, or iPod next to your Apple TV

On your Apple TV, go to Settings > Video and Audio
Scroll down and select Wireless Audio Sync
Wait for the Wireless Audio Sync notification on your iPhone
Tap Continue

If you see an authentication code

This is required when you connect a device to your Apple TV for the first time
Enter the code on your Apple TV

Apple TV plays a tone

The tone plays from your TV speakers even if you set your audio output to AirPlay

Audio Sync Complete

Look for a notification on your Apple TV that the audio sync is complete
Click Done to finish the setup
Conclusion
These are just some of the steps that you can take to ensure that Airplay is working properly. Hopefully, these steps helped to clear up any issues that you run into.
If not, be sure to let us know in the comments and we'll be sure to let you know if there are any other fixes. If there's a fix that we didn't cover, let us know and we'll add it to the list for future reference!
Reader tips
PJ suggests going into your router's settings.  For him, he went to router/Home Network/ LAN Interface/RA Settings. Then, uncheck Enable RA. However, the pathway for your own router may look a bit different but the key is to find and disable the Enable RA Settings in LAN. RA settings are for your router-advertisement (RA) messages
Andrew Myrick is a freelance writer based on the East Coast of the US. He enjoys everything to do with technology, including tablets, smartphones, and everything in between. Perhaps his favorite past-time is having a never-ending supply of different keyboards and gaming handhelds that end up collecting more dust than the consoles that are being emulated.