If you don't really like the iPhone-Apple Watch combo, there are plenty of alternatives you can choose from. For example, you can pair your iPhone with a Fitbit smartwatch. Unfortunately, your iPhone may sometimes fail to detect your Fitbit. Follow the steps below to solve the problem.
Fix: My iPhone Won't Detect My Fitbit
Disconnect Your Fitbit From All Devices
If your iPhone is not the first device you've paired with your Fitbit, check your old phone and make sure it's not connected to your smartwatch. Go to your phone's Bluetooth settings, and remove your Fitbit.
Then turn Bluetooth off and then back on. Open the Fitbit app, and remove all the other devices from your account. If the glitch persists, remove all the Bluetooth devices from your iPhone and try to pair your devices again.
Try resetting your Fitbit to default settings. Go to Settings, tap About, and scroll down to Factory Reset or Clear User Data.
Update Your Devices
Make sure to update your iPhone and Fitbit to the latest version. To update iOS, go to Settings, select General, and tap Software Update. Then go to the App Store, search for Fitbit, and install the latest updates. Restart your devices again and check the results.
Enable All-Day Sync
Launch your Fitbit app, go to Settings, and turn on All-day sync. A pop-up will appear on the screen asking you if you want to pair the device. Select Yes, and check if your Fitbit detects your iPhone.
Remove Your Credit Card
If you have a credit card linked to your Fitbit, you may not be able to pair your watch with another phone. This is a security feature that aims to prevent unwanted events. To solve the problem, delete your credit card from your Fitbit, and restart the device. If this method doesn't work, reset your Fitbit to default settings.
Reset Network Settings
Try resetting your network settings on your iPhone. Navigate to Settings, select General, then Reset, and tap Reset Network Settings. Restart your iPhone, go back online, and check if iOS detects your Fitbit.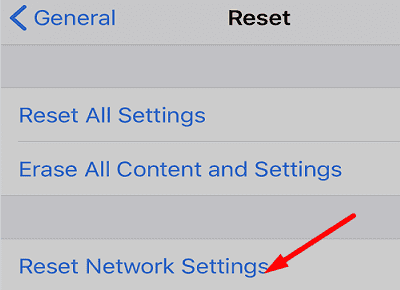 Conclusion
If your iPhone won't detect your Fitbit, remove your smartwatch from
your old phone. Then, turn your Bluetooth off and then back on. Make sure to update your iPhone and Fitbit to the latest version. Additionally, enable All-Day Sync, and remove your credit card from Fitbit. If the issue persists, reset your network settings.
Did you manage to fix the problem? Hit the comments below and let us know which solution worked for you.