Siri reminders may sometimes stop working on your Apple Watch. This issue can manifest itself in a variety of ways. For example, Siri may fail to create reminders on your smartwatch or sets up the reminder for a different day. Or you may get the following error message: "I don't see an app for that. You'll need to download one." Other times, the reminder won't trigger or disappears unexpectedly. In this guide, we'll explore five tested methods that you can use to troubleshoot Siri reminders on Apple Watch.
How to Fix Siri Reminders Not Working on Apple Watch
⇒ Quick Fixes
Check your Do Not Disturb settings. If you accidentally enable this mode or you forget to turn it off, your reminders and notifications will be sent to your iPhone, instead of your smartwatch.
Enable notifications from reminders. Launch your Apple Watch app on your iPhone, go to Notifications, and select Reminders. Make sure Show Alerts, Sound and Haptic is On.
Lock your iPhone's screen. If your phone screen is on, that's where you'll get the reminders. Make sure your iPhone is locked when setting up a new reminder on your Apple Watch.
Disable Siri completely on your iPhone and restart your phone and watch. Re-enable Siri and check if the reminder issues are gone.
Download the Reminders App
For the reminder feature to work properly, you need to download and install the Reminders App on your watch. You can get it from the Apple Store. You can use this versatile app to create and manage your daily to-do list. However, if you accidentally disable or block the app, you won't be able to create new reminders on your Apple Watch.
Install the Latest Updates
Next on the list, make sure you have the latest updates installed. Install the newest Reminders app version and update your Apple Watch. If you're using the Reminders app on multiple devices, don't forget to update the OS version on the respective devices as well.
Launch the Apple Watch app on your iPhone.
Select My Watch and then tap General.
Tap Software Update to check for updates.
Check if there's a newer iOS version available and install it on your device. Go to Settings, select General, and select Software Update.
By the way, if you can't update your Apple Watch, check out the troubleshooting guides below:
Close Background Apps and Rephrase Your Request
A number of users managed to work their way around this problem by closing all the apps running in the background and rephrasing their requests. Siri may sometimes link your request to the app that's open on your device. It appears that "remind me about this" is a phrase that Siri interprets as a request to create a reminder about the current app.
Additionally, many users noticed that Siri sometimes fails to create reminders when you specifically indicate the date and time of the reminder. So, instead of saying "remind me today at 11 AM", say "remind me in two hours". As strange as this workaround may seem, many users confirmed it actually did the trick for them.
Unpair Your Watch
If the issue persists, try unpairing your Apple Watch from your iPhone.
Put your devices close together.
Launch the Watch app on your phone. Then navigate to My Watch and select All Watches.
Hit the Info button to unpair your devices.
Select Unpair Apple Watch. Restart both your devices and pair them again.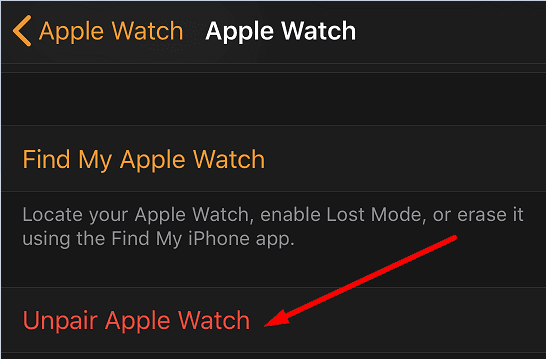 Conclusion
If you can't set reminders on your Apple Watch, download the Reminders app, update your devices, rephrase your request, and unpair your smartwatch from your iPhone. Hit the comments below and let us know which solution did the trick for you.