Is your iPhone giving you a message that it can't be activated? Or seeing an alert says the activation server is unavailable, your iPhone cloud not be activated because the activation server cannot be reached, or a message that your SIM card is unsupported?
If so, you are not alone!
Take a look at our troubleshooting tips to get your iPhone or another iDevice up and working!
The Problem
Basically, the error revolves around an activation bug. A slew of reports littered across the Apple support forum and other sites describe the problem. According to those users, their iOS device will randomly display a message saying it needs to be activated. Many times, this message will keep appearing.
The problem seems to mostly affect older iPads (think anywhere from four to seven years old), but could presumably impact any aging iOS device — iPhones included.
When the user tries to activate the iOS device, it'll give some sort of error — such as a "Your iPad could not be activated because the activation server is temporarily unavailable."
It could simply be a connectivity problem, which is why we recommend attempting to activate the iPad via iTunes. Other sources indicate it can be a problem with the time zone.
But if the issue persists, there are a few other ways you can go about attempting to fix it.
Asking for a Password?
If asked to enter your password as you activate your iPhone, enter the password. 
A password prompt often means that Activation Lock is enabled in Find My iPhone. You can temporarily disable Find My iPhone (if necessary) by going to iCloud's website via a browser.
Quick Fixes for Could Not Activate
Here are a couple of methods that can fix an activation error, according to various user reports. Some of these will work on random and consistent "activation required" popups, while others can help you actually proceed through a bugged activation process.
Note that your own mileage may vary when trying these fixes out. We recommend going through them in order.
Sometimes it's not you! Occasionally, Apple Servers go down for maintenance or are overwhelmed by incoming and outgoing traffic or other server issues. So it's a good idea to check Apple's System Status Page for a quick snapshot of what's going on.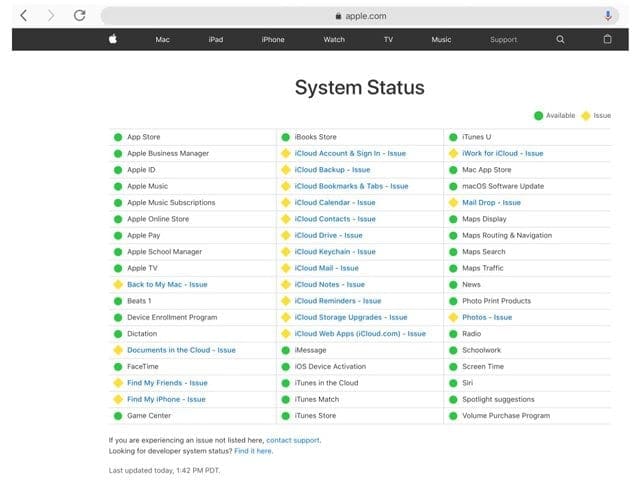 If the icon next to iOS Device Activation isn't green, try to activate your iPhone or iPad later.
Perform a Restart or Hard Reset
When an iOS device is having any sort of problem, the first thing you should do is perform a restart by powering off, waiting 30 seconds, and powering back on.
If that doesn't work, try resetting your iDevice with a forced restart.
Perform a Forced Restart
On an iPhone 6S or below plus older model iPads & iPod Touches, press Home and Power at the same time until you see the Apple logo
For iPhone 7 or iPhone 7 Plus: Press and hold both the Side and Volume Down buttons for at least 10 seconds, until you see the Apple logo
On an iPad with Face ID, iPhone X Series or iPhone 8 or iPhone 8 Plus: Press and quickly release the Volume Up button. Then press and promptly release the Volume Down button. Finally, press and hold the Side button until you see the Apple logo 
Plug it into iTunes
Several repair technicians have said that, in many cases, the "could not activate" issue is tied to an iPad being set to the wrong date or time — usually manually.
Since you can't change the time zone when an iOS device is in a bugged activation process, you'll have to use iTunes. Luckily, iTunes automatically sets the date and time on the device when it's plugged in.
Just plug your iOS device into a Mac or PC, wait for iTunes to recognize it, and then unplug it and attempt to go through the rest of the activation process. A quick restart before you do could help, too.
Use iTunes to Activate
Open iTunes on your computer.
Connect your iPhone to your computer
Wait while iTunes detects and activates your iPhone

If iTunes shows, "Set up as New" or "Restore from Backup," it means that iTunes activated your iPhone
If an error in iTunes says that the SIM card isn't compatible, contact your carrier
Disable cellular functionality
Some users have indicated that disabling cellular functionality will resolve one of the issues, specifically the constant appearance of the "activation required" prompt.
You can do this by enabling Airplane Mode or by going to Settings —> Cellular and toggling Cellular Data off.
The downside, of course, is that you'll have to rely on Wi-Fi for internet connectivity. Due to that, Airplane Mode is more of a temporary fix. But there's another cellular-related issue that could resolve the bug (see next tip).
Try taking out the SIM card
Apparently, according to several anecdotal reports, an iPad's SIM card can cause activation issue problems.
Even if you don't have a new SIM card to put in, these users report that simply taking out the old SIM card will allow them to proceed through the activation normally.
You can remove a SIM card by finding the tray on your device. Insert a SIM tray removal tool or a paperclip into the small hole to pop the tray out.
Of course, removing the SIM is a bit more inconvenient for iPhone users, since you're essentially cutting out cellular and data service. But it's worth trying. If it fixes the issue on your iPhone, it might be worth ordering a new SIM card from your carrier.
A Longer Method
This method is a bit longer. But it seemed to do the trick for most users who ran into an activation error when they updated an iPad to iOS 12
To be clear, this method is only confirmed to work on iOS activation errors. If you are being hit with the activation bug, check to see if you're running iOS 12
Otherwise, if nothing else is working, this method is still worth a shot.
Make sure you're running a newer version of iTunes — at least version 13.3.3.17.
Connect your iPad to your Mac or PC.
Open iTunes.
Back up your iPad via iTunes.
Disconnect your iOS device after the backup's finished.
On your iOS Device, press and hold the Home and Power buttons.
When the Apple logo appears, release just the Power button.
You will be prompted to reconnect your iOS device to your computer.
From here, you should get a message asking if you'd like to restore the device and install the latest version of iOS that it can support. If not, then manually activate the Restore process by clicking on the appropriate button (see above image).
You'll likely get additional activation error messages, but just leave them alone until iOS is downloaded. Once it is, follow these steps.
Press and hold the Home and Power buttons.
When the Apple logo appears, release just the Power button.
This time, you should simply get a message asking if you'd like to restore.
Decide whether you want to restore it as a new device or from a backup.
Restore your iPad.
If All Else Fails…
If the previous steps didn't work, then it might be another issue. Most of the reports indicate that it's largely older iPads that are likely to be hit with this issue.
Because of that, the bug might be tied to a failing or severely degraded battery. Battery issues can have effects on a wide range of other components or features.
We recommend bringing your own iPad to an Authorized Service Provider or the Genius Bar at your local Apple Store.
You can book an appointment at the latter by clicking on the following link.
Depending on the diagnosis, repair technicians should be able to help. Be sure to inquire about the battery — and see if you can get it replaced.
Mike is a freelance journalist from San Diego, California.
While he primarily covers Apple and consumer technology, he has past experience writing about public safety, local government, and education for a variety of publications.
He's worn quite a few hats in the journalism field, including writer, editor, and news designer.