Apple finally introduced dual-SIM capabilities on its iPhone 11, XS, SE (second generation), and XR models, meaning you can now have two different phone numbers associated with a single iPhone. For folks burdened by two phones (one for work and one for personal use), adding support for dual SIM and eSIM on iPhone is welcome news indeed!
Related Reading:
And for all of you that love traveling internationally, but don't love the roaming bills, with dual SIM and eSIM technology, you can add a local data plan when traveling outside of your home country or region. Another benefit is that if you want to no longer use a physical SIM card (and have to constantly open your SIM card port when you get a new phone), you don't need one.
Today, you'll learn everything you need to know about setting up dual SIM and eSIM on your iPhone.
Things to Know Before Using Dual SIM and eSIM on Your iPhone
Your iPhone needs to run iOS 12.1.1 or later to support eSIM technology. Considering that iOS 12 was released in 2018, most modern iPhones will run on that technology as a minimum.
If you want an eSIM from a different carrier than your current SIM, your iPhone must be unlocked. You can either purchase a new unlocked iPhone or contact your carrier to see if it's possible to unlock your device. If your iPhone is locked to a certain provider, you may need to pay a fee to get it unlocked.
iPhone 14 devices from the US only use an eSIM. That will likely expand to Europe and further afield in the future as well.
What's Similar and Different Between Dual SIM And eSIM On iPhone?
Both dual SIM and eSIM allow you to have two distinct plans on your iPhone. You also get two separate phone numbers to make and receive calls and text messages.
For both eSIM and dual SIM iPhones, however, you can only use one data network at a time.
What's the main difference, then? Well, an eSIM is a digital SIM — while dual SIM is a phone that physically has two SIM card slots.
With eSIM, there's no need for two SIM cards. You can have multiple eSIMs on your device, but you're only able to use one at a time. Instead, your eSIM activates a mobile plan without having to use a physical SIM card. That eSIM is stored digitally on your iPhone.
How to Set Up Dual SIM on Your iPhone
To use a dual SIM on your iPhone, you need at least an iPhone XS and two nano SIM cards. Here's how to install dual SIM on your iPhone.
Insert a paper clip or SIM eject tool into the small hole of the SIM card tray.
Remove your SIM tray.
Look for the notch in one corner of the new SIM card.
Place the new SIM card into the bottom of the tray. Because of the notch, it will fit only one way.
Insert the other SIM card into the top tray.
Reinsert the SIM tray into your iPhone.
How To Set Up eSIM on Your iPhone
Setting up an eSIM is different from dual SIM as you don't need to use the SIM card port whatsoever. There are several ways that you can set up an eSIM on your iPhone, and we'll cover these in the sections below.
Note that you should be connected to Wi-Fi to set up an eSIM on your device.
How to Set Up an eSIM on Your iPhone With a QR Code
Go to Settings > Cellular.
Select Add eSIM. It might take a minute or so for the next window to appear.
On the next window, you'll see two options. Select Use QR Code.
Scan the QR code when the camera appears.
If needed, enter the required activation code.
How to Set Up an eSIM on an iPhone From Your Carrier
The process for setting up an eSIM from your carrier depends on which network provider you use. If you're an AT&T customer, you can read how to set up your eSIM here. Meanwhile, Verizon users should head here instead.
In situations where you're unable to set up your eSIM, it's best to contact your mobile network provider for further assistance.
If you need to transfer an eSIM from an old iPhone, please read this separate guide for the steps you should follow.
Change eSIM Label Information for Dual SIM and eSIM on iPhone
Once you've set up your SIM cards, changing the label information can help you identify your devices better.
Go to Settings > Cellular.
Tap the number whose label you want to change.
Select Cellular Plan Label and choose one of the default labels, or create your own custom label.
For custom labels, tap Done on the keyboard when finished.

Change Your iPhone's Mobile Plan Line Defaults
If your iPhone has a physical SIM card port, your device will use this as your primary phone number for things like iMessage and FaceTime, and for calls and texts to people not in your contacts.
For folks using iOS 13 and above, both of your phone numbers can make and receive Phone app and FaceTime calls and send and receive messages using iMessage, SMS, and MMS. iOS 13+ uses Dual SIM Dual Standby (DSDS) technology, allowing both SIMs can make and receive calls.
However, as with previous iOS versions, your iPhone can use only one cellular data network at a time.
Change Your Default Settings to Use Your eSIM
If you want to change your eSIM default settings, you can follow these instructions.
Go to Settings > Cellular.
Scroll down to Default Voice Line (you can also tap Cellular Data to make changes to your mobile data plan's number).
Checkmark the line you want as your default.
If you happen to use iOS 12, you won't be able to follow the last step listed here. Instead, change to the phone line you want to use by tapping Use (line label) as your default line. You can also specify if you want to use a line for cellular data only.
"Use Primary as your default line" means your primary line is used for SMS, Data, iMessage, and FaceTime, while your Secondary line is available just for voice and SMS.
"Use Secondary as your default line" means your Secondary line is used for voice, SMS, Data, iMessage, and FaceTime while your Primary line is available for voice and SMS.
"Use Secondary for cellular data only" is great for folks who travel outside of their home country or region. It sets your Primary line for voice, SMS, iMessage, and FaceTime, and the eSIM line as cellular data only (charges may apply, so check with your carrier).
Switch Cellular Plan SIM or eSIM
You can also switch between your two plans by following these steps.
To switch eSIMs, go to the Settings > Cellular.
Scroll to Cellular Plans.
Tap on the plan you want to use or change.
Toggle Turn On This Line on.
Make and Receive Calls From Both Lines on eSIM and Dual SIM iPhones (iOS 13 and Later)
If your carriers support Wi-Fi calling and you enabled it, you can answer incoming calls on your other number — even when you're on a call.
For this to work, you must toggle on both Wi-Fi Calling on both lines AND Allow Cellular Data Switching in your Celluar Data settings, even if one line does not offer data services.
For the first:
Go to Settings > Cellular > Cellular Plans > tap each plan > Wi-Fi Calling > Toggle on Wi-Fi Calling on This iPhone.
Repeat for each line. Then, go to Settings > Cellular > Cellular Data and toggle on Allow Cellular Data Switching.
If you ignore the call and previously set up voicemail, you get a missed-call notification and the call automatically routes to voicemail.
If your carriers do not support Wi-Fi calling, you have Allow Cellular Data Switching off, or you don't have Wi-Fi calling turned on, all your incoming calls go directly to voicemail when you are on a call.
Quickly Change Which SIM or eSIM To Make Calls From
By default, your iPhone uses the same number that you used the last time you called that contact. And when calling a new number, your iPhone uses your default voice line. However, you can change your number on the go!
Change phone numbers on the fly before making a call by tapping on the Primary button at the top of your dialer in the Phone app.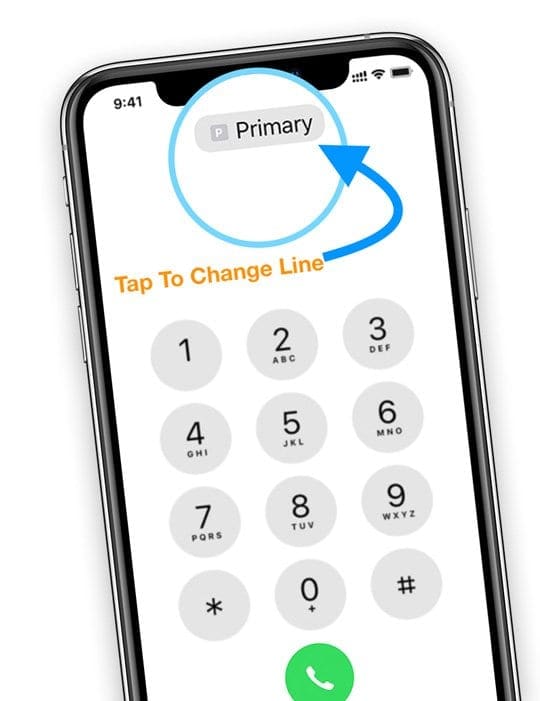 Choose the SIM or eSIM line you want to use after tapping Primary.
You can also designate a preferred line for contacts by tapping on the specific contact and selecting Edit. Then, choose Preferred Line and tap the number you want to use with that contact.
Change which SIM or eSIM iMessage or FaceTime uses
With iOS 13+, users can use either phone number for iMessage and FaceTime.
If using iOS 12 versions, you can only use one phone number for iMessage and FaceTime. You need to set a default line for iMessage and FaceTime to use.
For iOS 13 and above
Go to Settings > Messages.
Select Send & Receive.
Tick the numbers you want to receive iMessages for.
Both Messages and FaceTime are "sticky," meaning they remember which number you texted from or called from the last time.
You can also switch numbers within the Messages app.
Open Messages.
Tap the pencil icon in the upper right-hand corner.
Enter your contact's name.
Tap the current phone number or its label (primary, secondary, business, and so forth).
If a previous thread opens up, tap open the contact card, press Edit, and choose Preferred Line.
Choose the number you want to use.
Instant HotSpot Not Working After eSIM Installation?
Some users have found that after switching to eSIM on their iPhones, they are unable to access instant hotspot service. The instant hotspot simply doesn't show up on the connected Apple devices.
Interestingly, users with active data plans associated with their eSIM account are able to set up personal hotspot — but the instant hotspot fails.
There are a few workarounds for this issue.
The first is to use a physical SIM. When you plug in a physical SIM, the Instant Hotspot works without any issues. Some users have overcome this handicap by keeping a random prepaid SIM from a different carrier in the SIM slot as a workaround.
Other users have successfully been able to use the instant Hotspot feature by simply signing out of their Apple ID on all the devices and then logging back in. Give it a try and see if that works for you.
Which Carriers Support eSIM?
Not all mobile carriers and plans support eSIM. So, it's a good idea to check Apple's eSIM support list to ensure your phone company supports this feature — especially if you live outside the US.
Can You Use eSim on Phones With Payment Plans?
Since iPhones purchased on payment plans are usually locked to the carrier, you can only use eSIMs on a locked phone from the same carrier.
However, some carriers (like Verizon) no longer lock their SIMs. So, it's possible that you can have an eSIM from another carrier on a Verizon iPhone still under a payment plan.
The best course of action is to call your mobile phone carrier and ask them about eSIM support before getting an eSIM plan from another carrier.
FAQ for iPhone eSIM and Dual-SIM
Q: What happens if I want to remove my eSIM or nano-SIM?
If you remove one of the two SIM cards or delete one or more of your eSIMs, your device shows a message confirming your removal and lets you know that any eSIM (or dual SIM) line-associated contacts need to be reassigned.
Q: When somebody calls me, can you differentiate what line the call is coming from?
Yes! When somebody calls you, look at the small one-letter icon beneath the caller's name or number.
Q: If I'm on a call using one line and I get a message from the other line, do I get the message?
Yes, you should still get messages while you're on a phone call.
Q: Can I accept calls when on the other line?
For iOS 13, yes — as long as you have Wi-Fi calling enabled and allow cellular data switching.
You can also place calls on your two different lines at the same call. And call waiting works for incoming calls on your other line.
Q: If I receive a call from my SIM line and make another call from my eSIM line, can the calls be joined?
Yes, but you may only be able to do this on some plans.
Q: Can we set different ringtones for the physical SIM and eSIM?
You'd think so, but unfortunately, no! You cannot set a different ringtone for your eSIM service. Both numbers use the ringtone set-up in Settings > Sounds & Haptics > Ringtone.
Q: I have two iPhones: One for work, and one for personal. Can you now use one iPhone for and send/receive messages?
Both Messages and FaceTime now support your two phone numbers. You can start iMessage conversations or FaceTime calls using either number.
Q: I don't see both my phone numbers under Settings > Messages > Send & Receive? How do I  enable iMessage for my two numbers?
You only see this setting when using iOS 13+. If your devices run iOS 13+, try rebooting your phone and check again for that option.
Q: Can I use two different Apple IDs when I have an eSIM? Like one Apple ID for my SIM card and another one for the eSIM?
When you use an eSIM or Dual-SIM, both phone numbers get attached to a single Apple ID: The one your device is signed into, or — if you use a different Apple ID for iMessage/FaceTime — that Apple ID.
Q: If I factory reset my iPhone, does the eSIM survive?
When you  choose Erase All Content and Settings, you get options to remove the eSIM entirely (Erase All) or keep its settings (Erase All & Keep Data Plans).
Q: I need to do a (device firmware update) DFU restore. Does my eSIM get removed?
According to Apple, your eSIM should make it through a DFU restore, normal restore, update, and Recovery Mode.
Also, your eSIM details persist when you Resetting Network Settings, Reset All Settings or restoring via iTunes or the Finder app.
Use These Tips to Set Up eSIM and Dual SIM on Your iPhone
Physical SIM cards can get quite annoying, and losing one is a situation you probably don't want to find yourself in. Fortunately, you can now set up eSIM with many iPhones — though the technology still has a long way to go. You also have the option to set up dual SIM in some cases, meaning that you can have more than one number on the same iPhone.
Both eSIM and dual SIM are designed to make your life easier, and these tips should hopefully have helped you to get set up with everything. If you want to know anything else, feel free to leave a comment (our team has also answered many of your questions)!
Danny is a freelance writer who has been using Apple products for over a decade. He's written for some of the largest technology publications on the web and previously worked as an in-house writer before carving his own route. Danny grew up in the UK, but now writes about tech from his Scandinavian base.