So today for some unexpected reason your iPhone's and Apple Watch's haptics are just not working as expected.  Maybe you recently updated your iOS or upgraded some apps and now there's no haptic feedback from your iDevice.  As a result, you set haptic feedback to the maximum setting and you still don't feel much response.  Perhaps you don't feel anything at all!
We all experience times when haptics stop responding. And iFolks report this occurring on all types of iDevice use from texting, mail, messages, notifications, activity alerts, and in some cases on phone calls.
So What are Haptics Anyway?
Haptic Feedback (referred to simply as haptics) are increasingly a part of our iDevice experience.  It uses our sense of touch via force, vibrations or motion to provide us feedback or call to actions.  Most of all, haptics alert us for incoming messages, calls, mail, and a variety of app notifications by subtle and tactile vibrations.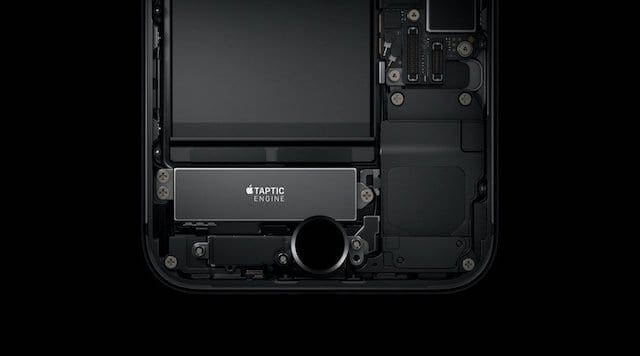 Haptic response is powered by Apple's Taptic Engine.  This engine generates these subtle touch sensations when you receive notifications and other types of alerts or device feedback. Consequently, haptics are a lot less bothersome than chimes and even vibrations. And they're so quiet that you won't even draw attention to yourself–like if you're in a meeting or a movie theatre.
So when haptics don't respond on our iDevices and Apple Watches, our digital life loses a lot of its luster, efficiency, and even some of our privacy.
Haptics on Apple Watch
The haptics on our Apple Watches are one of the fundamental ways we communicate and interact with it. These subtle vibrations inform us when a text arrives, a workout is completed, a new email is in our inbox.  Haptics tell us when we make a selection and when our actions complete or fail. And they provide us with other types of warnings, alerts, and so forth.  So when these haptics aren't operating they way we expect or simply stop working at all, it's frustrating and concerning.
First of all, there a a few simple things to check to make sure our haptics are set-up properly.
So let's get to it!
Run  Through a Quick Checklist
Remember that for haptics to work on your Apple Watch, your iPhone must be closed or locked.  So before you make any assumptions, check that your iPhone is closed or locked.
When your iPhone is unlocked and open, haptics for text messages and similar notifications are disabled on your Apple watch.  But you still get messages and alerts on your watch in text form just without any haptic response.
And of course…
Always ensure you are running the latest watch OS and iOS versions.  Sometimes, a simple update to your operating system is all your need to get things going!
Examine Your Apple Watch Settings
If your Apple Watch is locked or Do Not Disturb is turned ON, notifications, alerts, etc. are disabled.  If you see a lock symbol on your watch face, your Apple Watch is locked. And if you see a crescent moon symbol on your watch face, Do Not Disturb is on.
So to start receiving notifications, simply unlock your watch (with passcode if needed) or swipe up your watch face and tap to remove Do Not Disturb.
Also, check that Bluetooth and Wi-Fi are both ON
iPhone: Settings > Bluetooth > On
iPhone: Settings > Wi-Fi > On
And check that your Apple Watch and iPhone are connected
Swipe up on your watch face
Swipe left or right to the Settings Glance

Verify it's connected via the green phone icon
Disable Airplane Mode if enabled
Ensure Haptics Are ON
The simplest solution is oftentimes the most necessary.  So, make sure that Sounds and Haptics are turned ON.  And set the intensity high enough to register–it's different for everyone!
Adjust haptic alerts using your paired iPhone
On your paired iPhone, open Watch app
Go to My Watch> Sounds & Haptics
Under Haptic Strength

Drag the slider to adjust the intensity of haptic notifications
Slide Haptic Strength to the middle or far right hand side of the slider for the strongest signal
Change Your Strength
Put on your Apple Watch and unlock it

Make sure the back of your Apple Watch has good contact with your skin

Press the Digital Crown to see your apps

Tap Settings
Scroll down and tap Sounds & Haptics
Under Haptic Strength

Select  to decrease haptic intensity
Tap   to increase haptic strength
Need Additional Oomph?
From your iPhone, open the Apple Watch app

Tap the My Watch tab
Select Sounds & Haptics
Turn on Prominent Haptic

On your Apple Watch, open Settings

Tap Sounds & Haptics
Turn on Prominent Haptic
Prominent Haptic adds emphasis to some of your other haptic alerts by pre-announcing. Essentially it adds on an additional haptic tap to the start of each alert.  As a result, the haptic response feels stronger.
Haptics Not Working For Mail
Open the Apple Watch app on your paired iPhone

Under the Mail settings, choose "Mirror my iPhone"

 On your iPhone, go to Settings> Notifications> Mail

Toggle Notifications ON
Select your specific mail account (such as gmail)
Tap on Sound
Scroll up to Vibration
Pick one of the vibration settings other than None

There's even an option to create your own via Custom "Create New Vibration"
Because your watch is set to"mirror your phone," when you select any vibration, your Apple Watch haptics automatically turn on.
No Haptics in Messages and Third Party Apps
Open your paired iPhones Settings>Notifications

Check that Messages and any third party app you want on your watch is set ON to "Allow Notification," "Badge App Icon," and "Show on Lock Screen"

Tap open the Apple Watch app on your paired iPhone

Select My Watch> Notifications

Toggle Notifications Indicator ON
Scroll down the list of apps

Pick which apps you want to receive notifications from
Choose "Mirror my iPhone" to have exact same set-up as iPhone
Select "Custom" to set what notifications, alerts, sounds, and haptics show up on your watch

Check that your are using the same Apple ID for iMessages on your paired iPhone and your Apple Watch

If you need to update your Apple ID so they are the same, reboot the watch after the update

The app itself may need a haptic setup

Third-party apps like whatsapp, facebook, and others offers several setup-options for haptics
Update App Settings
To ensure you receive haptic notifications on your Apple Watch from specific apps, change all of those apps' notification settings on your paired iPhone.  And don't forget to go to Settings> Notifications and update all the apps you want to notify on your Apple Watch.
Remember that when your iPhone is unlocked, you get notifications on your phone instead of your Apple Watch.  When your iPhone is locked or asleep, notifications go to your Apple Watch, unless your Apple Watch is locked with your passcode.
When you dismiss notifications on your Apple Watch, they're also dismissed from your iPhone.
What if Haptics Are Not Working At All
Turn OFF WiFi and Bluetooth on Apple Watch and iPhone
Close all open apps on the iPhone

Double tap home button and close apps by swiping up

Turn iPhone off and back on again
Switch WiFi and Bluetooth back ON
Erase Your Apple Watch

Go to Settings > General > Reset
Tap Erase All Content and Settings

Re-pair your Apple Watch with the iPhone

Select the option to restore the watch settings from backup, if available
When asked to install apps select ok
Want Haptics on Certain Apps Only?
If you only want a haptic response from certain apps, there's an easy way to customize these settings. From the Watch app on your paired iPhone, select notification settings and choose Custom instead of "Mirror my iPhone."
On your iPhone, in the Watch app, go to: My Watch > Messages

For example, set this to Custom
Under Alerts, enable Show Alerts, Sound and Haptic

On your iPhone, in the Watch app, go to: My Watch > Mail

For example, set this to Custom
Under Alerts select Show Alerts, Sound and Haptic
Tap on each of your email accounts to enable Sound & Haptic
Choosing "custom" presents options to turn on or off haptics and sound for each notification category. Our advice is to turn on haptics (and possibly sound) for everything that matters to you.  And leave everything else off.
Haptics on iPhone
Compared to Apple Watches, iPhone use of haptic feedback is more limited.  And it's currently featured in models 6S and above, utilizing iOS 9 and above.  And it's really starting with iOS 10 and iPhone 7 where haptics start to take notice.
On the iPhone 7 and 7+, haptics are tactile engagement tools.  They use our fingers' sense of touch to reinforce our actions and draw our attention to things like notifications. The current iPhone models feature haptics in three major areas: 3D Touch, Keyboard, and System (including the home button.) Take a look at our iPhone System Haptics Overivew to learn how iPhone 7 models and above utilize haptics.  Additionally, many third-party apps offer haptic responses within their individual apps.
Starting with the iPhone 7, Apple introduced a solid-state home button that uses pressure sensitive haptics to mimic a traditional button press.  It feels just like the mechanical home button we know (and maybe love) with one major difference. When the iPhone is powered off, home button is no longer pressable.  Since it's now powered by the Taptic Engine, the home button requires power for the haptics to work!
But what then, happens when the haptic home button stops working???
Haptic Home Button Not Working?
If your Home Button stops working all of the sudden, first check that  your hands are clean and dry.  And remove protective film or case that possibly covers the Home button. Lift your iPhone or press the Sleep/Wake button to wake it and see if these easy steps solved your problem.
Haptic Home still unresponsive?
But if your haptic home button remains impaired, there is some good news.  Built into iOS10+ is a temporary patch that automatically launches if your haptic home button is on the fritz.  What you see is a message letting you know that "The Home Button May Need Service" and offering an onscreen Home Button to use in the meantime.
This onscreen Home sits at the bottom of your iPhone 7 models screen.  While this handy feature is normally hidden, it turns on whenever your iPhone's Haptic Home Button breaks down.
Another Way to Get Home Button Onscreen
We love that Apple has so many ways to do a single thing.  So of course there is another avenue to getting your iPhone's Home Button on your screen!  And this works for any iDevice not just iPhones with haptic feedback.
Access Home Button Onscreen
Go to Settings
Open General
Select Accessibility
Scroll Down to Interaction
Tap AssistiveTouch
Slide AssistiveTouch ON
Select Customize Top Level Menu
To increase or decrease number of icons click + or – signs

If you just want access to Home, decrease to 1 total icon

Tap an icon to change

Select Home from available list
Also, if your iPhone or iDevice has 3D Touch, there's an additional option to associate a 3D Touch action to your Home Button.
Activate AssistiveTouch Home Button for 3D Touch iDevices
Go to Settings
Open General
Select Accessibility
Scroll Down to Interaction
Tap AssistiveTouch
Slide AssistiveTouch ON
Select Customize Top Level Menu
Scroll Down to 3D Touch Action and Tap

Select Home from available list
Now all you have to do is 3D Touch the AssistiveTouch icon to access home!  And the Assistive Touch icon is always onscreen, so Home is just a 3D Touch away.
For more on AssistiveTouch and the Home Button, check out our articles
3D Touch Haptics Not Working
If you find that your 3D Touch shortcuts are not triggering when pressing, there are a couple of things to try.  First, make sure you press hard and long to on each icon to open the shortcut menu.  It appears that with all the updates within iOS and the new Taptic Engine, you now need to apply more pressure than previous to open the 3D Touch Shortcuts Menu.
If applying additional pressure AND holding long didn't help, try adjusting the haptic strength to a firmer setting.  See the section below on "Choosing Your Haptic Setting."
Examine Your iPhone Haptic Settings
The most common reason your iPhone haptics are not functioning properly is that the haptic setting is set too low for you.  Luckily, this is very simple to adjust.
Choosing Your Haptic Setting
Go to Settings
Select General
Choose Home Button
Selecting Home Button opens a settings window to "Choose Your Click."  There are 3 settings available–from lightest press to firmest.  Test each setting out (1-2-3) and figure out which of these three settings feels right to you.  Select a number and then press the Home button to test it out.
It's best to test these settings out when you hold the phone versus it lying down on a table or something else.  You tend to notice changes in pressure more when holding the iDevice than when its held by something other than yourself.
Do this testing a couple of rounds so you get a real feel for each setting–at first, you might not feel much of a difference between the three settings.  But as you test them multiple times, you start noticing the difference in how much pressure is required to press.
Check That Haptics are ON
If you are still not feeling any haptics after setting your haptic strength (scale of 1-3), then take a look at your Sounds and Haptics Settings to verify that haptics are indeed ON.
Verify Haptics Are ON
Go to Settings> Sounds & Haptics
Check that Keyboard Clicks, Lock Sounds, and System Haptics are toggled ON
For more information on enabling or disabling iPhone Haptics, check out our in-depth article.
And of course…
Always ensure you are running the latest watch OS and iOS versions.  Sometimes, a simple update to your operating system is all your need to get things going!
Last Ditch Effort
If haptics continue to not show up for you or only show up in certain things, check that your side switch for Ring/Silent is not set to Silent (mute.)
Summary
We've kinda and sorta fallen in love with haptics on our iPhone 7s and Apple Watches. The addition of haptics creates a whole new sensory experience when working with our iDevices and Apple Watches.  Haptic feedback is immersive and a heck of alot of fun!
The Apple Taptic Engine converts data into haptic feedback that's tactile. We actually feel it! The future of mobile is our sense of touch, creating products that simulate texture and pressure.  The potential goes way beyond pressing buttons–it's simulating what it feels like to live in our world (and maybe even other worlds.)  Think of the soft feel of a feather or the roughness of a jagged stone.  Haptics are the vehicles to get these sensations via our mobile devices.
And we are just at the beginning…
For most of her professional life, Amanda Elizabeth (Liz for short) trained all sorts of folks on how to use media as a tool to tell their own unique stories. She knows a thing or two about teaching others and creating how-to guides!
Her clients include Edutopia, Scribe Video Center, Third Path Institute, Bracket, The Philadelphia Museum of Art, and the Big Picture Alliance.
Elizabeth received her Master of Fine Arts degree in media making from Temple University, where she also taught undergrads as an adjunct faculty member in their department of Film and Media Arts.