One of the subtlest features of an iPhone is that it taps or vibrates when you perform certain actions, like using the flashlight or changing the settings. These taps are called haptic feedback and they're generated by the Taptic Engine.
The iPhone 7 was the first model to include haptic feedback, which used it to simulate a physical click on its non-mechanical Home button. Newer iPhones and iOS releases expanded on haptic feedback with Haptic Touch. This feature lets you peek at documents or access quick action menus as well.
Quick Tips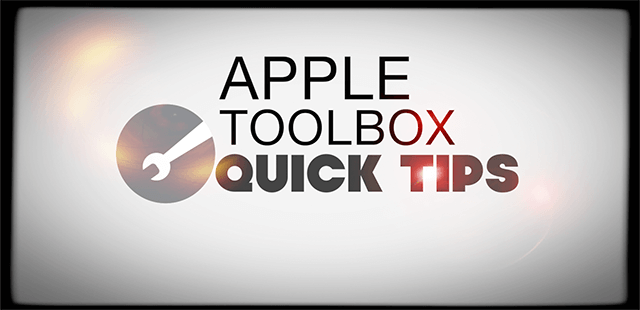 Haptic feedback replaces the physical sensation of buttons and clicks.
You can't turn off haptic feedback without disabling other features on your iPhone, like vibration for calls and texts.
Related:
Simply put, haptic feedback is the tap or quick vibration you feel when interacting with different elements of your iPhone. You might feel these taps and clicks when changing settings, using Apple Pay, or opening quick-action menus with Haptic Touch or 3D touch.
Haptic feedback is powered by the Taptic Engine, a tiny motorized actuator inside your iPhone. It's different from traditional vibration in iPhones in that it delivers incredibly precise and short taps, rather than extended vibrations.
Which iPhones and devices use haptic feedback?
The Taptic Engine delivers haptic feedback on the following Apple products:
iPhone 7 and later, including the iPhone SE (2nd generation)
All models of Apple Watch
MacBooks with Force Touch trackpad
Magic Trackpad
What's the difference between Haptic Touch and haptic feedback?
Haptic feedback is the tapping sensation you feel when toggling settings, using Apple Pay, or performing other tasks on your iPhone. Haptic Touch is a separate feature that lets you access quick-action menus by tapping and holding on different elements on your iPhone.
For example, if you tap and hold on an app icon from your Home screen, a pop-up menu appears with quick actions. You just used the Haptic Touch feature. The tapping sensation you felt when the menu appeared is an example of haptic feedback.
What's the difference between Haptic Touch and 3D Touch?
Essentially, 3D Touch detects how hard you press the screen while Haptic Touch measures you long you press it. Apple stopped making pressure-sensitive screens after the iPhone XS, so most newer iPhones rely on Haptic Touch alone.
Either way, both 3D Touch and Haptic Touch offer most of the same options. Firmly press—or tap and hold—on an element on your iPhone screen to reveal a quick-action menu. You can also use these features to peek at documents, messages, and emails.
The main difference between 3D Touch and Haptic Touch is that 3D Touch lets you peek and pop with a single touch. That means you can press lightly to view a preview of something, then squeeze harder to pop into the full app. With Haptic Touch, you need to tap and hold to peek, then tap again to pop.
Haptic feedback from your iPhone Home button
Despite how it looks and feels, the Home button on an iPhone 7, iPhone 8, and iPhone SE (2nd generation) isn't a mechanical button at all. Instead, it's a touch-sensitive pad that uses haptic feedback to feel like a clicking button.
Test this out for yourself by trying to click the Home button while your iPhone is switched off. You'll find that the clicking sensation has vanished and the button doesn't move at all.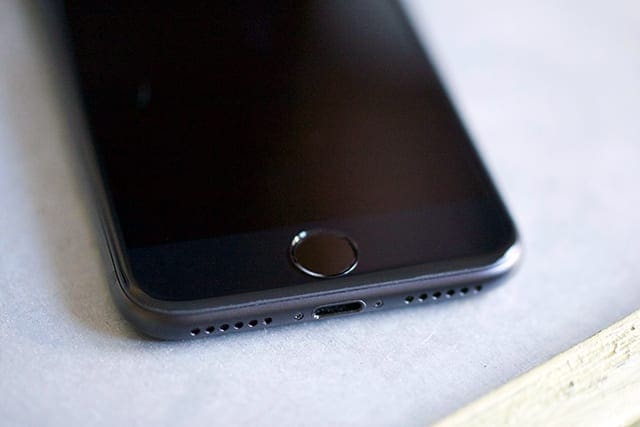 Apple made this change because mechanical buttons are prone to wearing out over time. With a software button, less wear and tear can take place, making your iPhone more resilient.
If you don't like how this Home button feels, you can change the haptic feedback strength in your iPhone settings:
Go to Settings > General > Home Button.
Choose the haptic feedback strength you want, with 1 being the weakest and 3 being the strongest.
Force restarting your iPhone with a software Home button
If the Home button on your iPhone uses haptic feedback instead of a mechanical click, you need to follow different steps to force restart your device. This is a useful procedure if your iPhone freezes or becomes unresponsive.
You could restart older iPhones by holding the Home button with the Sleep/Wake button. But since the Home button doesn't work if the software freezes, you need to use the Volume buttons instead.
On an iPhone 8 or later: Quickly press and release Volume Up, then Volume Down, then press and hold the Side button until your iPhone restarts.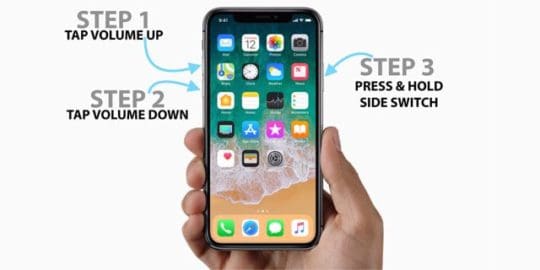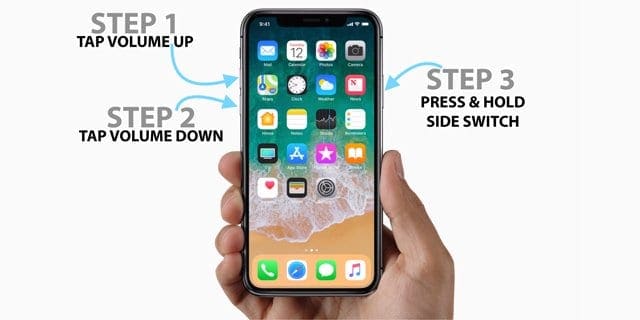 On an iPhone 7: Press and hold the Volume Down button and the Side button until your iPhone restarts.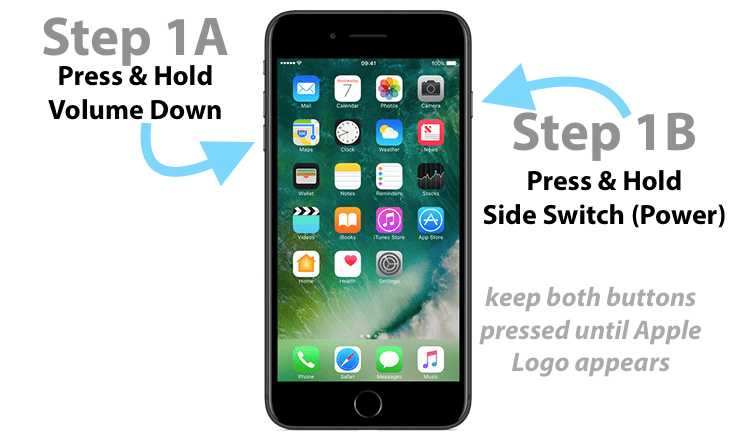 Haptic Touch not working for iPhone SE notifications
Apple added Haptic Touch to the second-generation iPhone SE, which is modeled after an iPhone 8. However it doesn't include every Haptic Touch feature that is available on other devices.
Most noticeably, Haptic Touch doesn't work on notifications in the Lock Screen on an iPhone SE (2nd generation).
Other iPhones let you peek at a preview of your notification by tapping and holding on it using Haptic Touch on the Lock Screen. But nothing happens when you try the same trick on an iPhone SE (2nd generation).
Apple has described this as expected behavior, indicating that Apple doesn't plan to add this feature to the iPhone SE in the future. This is despite the fact that Haptic Touch works in other places on the device.
If you have an iPhone SE, you can still view your Lock Screen notifications by swiping right and tapping View instead.
Does haptic feedback drain my iPhone battery?
It's not unreasonable to be concerned about haptic feedback draining your iPhone battery. After all, the Taptic Engine is an extra little motor that your iPhone needs to run alongside everything else.
That said, Apple designed the Taptic Engine to be as efficient as possible. You might experience a slight boost to your battery life by disabling haptic feedback, but it's unlikely to be anything significant.
Follow the instructions below to disable your haptic feedback.
Turning off haptic feedback on your iPhone
While many people enjoy haptic feedback, others find it distracting and annoying. Disabling haptic feedback might also slightly improve your iPhone battery life.
Unfortunately, there's no way to turn off haptic feedback for your iPhone without losing other features as well. But if you want to disable it anyway, you'll find a couple of ways to do so below.
Turn off System Haptics in your Settings
Go to Settings > Sounds & Haptics.
Scroll down and turn off System Haptics.
This disables some of the haptic feedback on your iPhone, but not all of it. Most noticeably, you'll stop feeling feedback when tweaking settings or getting your passcode wrong.
To learn more about iPhone System Haptics and where we find them, check out our iPhone System Haptics overview.
Turn off all vibrations on your iPhone
Disabling the System Haptics above doesn't stop haptic feedback when using 3D Touch, Haptic Touch, or other features on your iPhone. If you want to get rid of all the haptic feedback, you need to turn off all iPhone vibrations.
This means your phone will no longer vibrate when you get a phone call or a text. It won't even vibrate for emergency alerts, so give this careful consideration before disabling it.
If you're certain you want to turn off all vibrations and haptic feedback on your iPhone, go to the following settings:
Go to Settings > Accessibility > Touch.
Scroll down and disable Vibration.
The future of haptic feedback
The world is moving towards smartphones and tablets with fewer mechanical buttons—essentially becoming responsive sheets glass. Haptic feedback is crucial at maintaining a tactile element to these devices, allowing us to feel what's happening on-screen as well as being able to see it.
The technology is still relatively young, so you can be forgiven for finding it annoying and wanting to turn off haptic feedback on your iPhone. But we believe it has exciting potential in future technology.
Imagine drawing on your iPad and feeling as though you're drawing on paper, or metal, or wood, depending on your haptic feedback settings.
Just as Apple and other technology companies currently boast about their screen resolutions, someday they may boast of their haptic feedback capabilities as well. Presenting devices that are all about engaging other senses to create a complete and natural experience.
Haptic feedback certainly has an exciting future ahead of it. But it isn't quite there yet. Even if you don't find haptic feedback annoying in itself, you might get annoyed if it doesn't work properly. Take a look at our haptic feedback troubleshooting guide for help fixing common problems.