Outside of jailbreaking your iPhone, there has not been any way to change iPhone icons, ever. However, it seems that with iOS 14, there's a workaround that lets you do just that, and everyone has been going crazy about it.
Related Reading
It goes to show that when you limit users for years and years, they will do whatever it takes to personalize their device. Since this workaround takes advantage of the Shortcuts app, this is putting one of the most useful tools into the hands of more people.
Customization finally comes to the iPhone
We are sure that Apple did not originally intend this to happen, but with iOS 14, users are creating unique setups with the help of third-party widgets and Shortcuts. But before you can get started, you'll need to find the right icons and widgets to use across your iPhone Home Screen. There is a slew of options available, with more becoming available on a regular basis.
Find the right iPhone icons
With the influx of users trying to change iPhone icons, there has been a wave of designers releasing custom icons. Some of these are available on both Android and iOS, but all of them are rather unique and pretty darn awesome. Here are some of the favorites that we have found so far.
After you have downloaded the files, make sure that they can be easily located. We recommend using the Files app on your iPhone and creating an iPhone Icons folder so that they can be accessed from the same location. This is especially helpful if you plan on using icons from different "packs" for a more unique look.
Open the Files app on your iPhone.
Tap the Browse button in the top left-hand corner.
Tap iCloud Drive under Locations.
In the top right-hand corner, tap the three-dot menu button.
Select New Folder.
Name the folder.
Tap Done.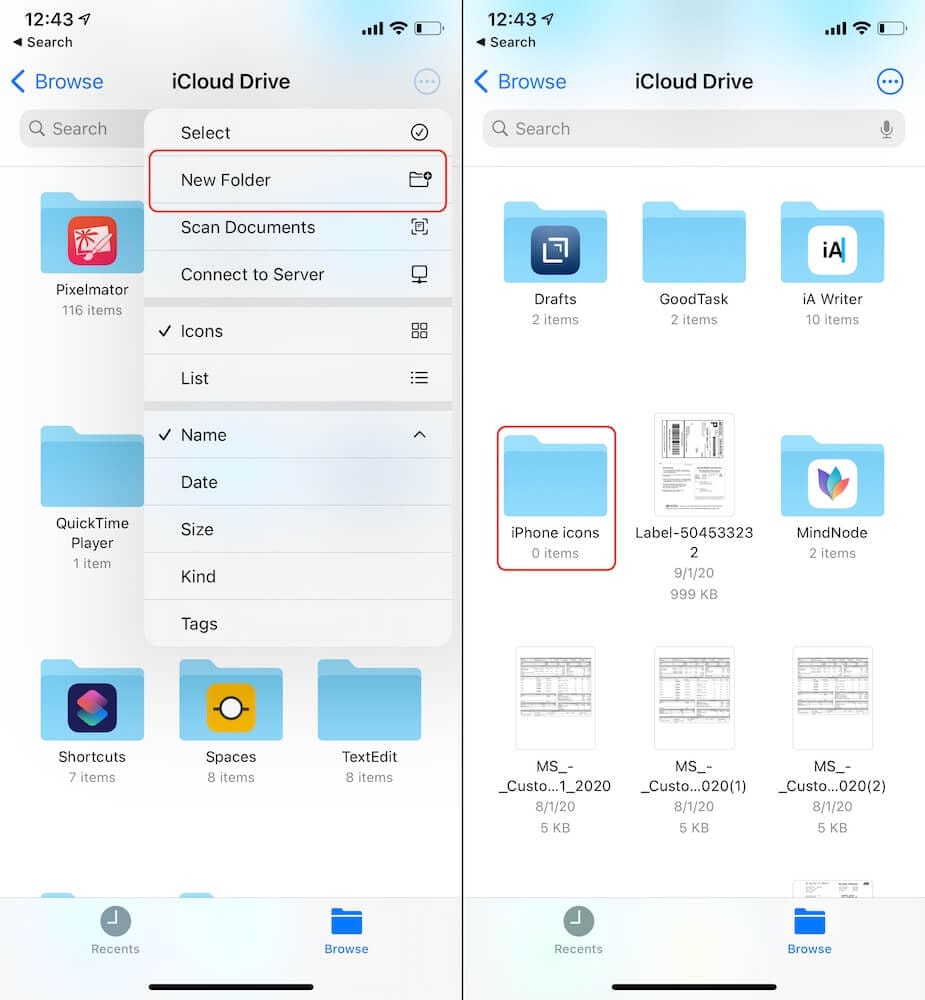 Now you have a folder that is backed up to iCloud Drive, which can be the "home" for all of your icons. This will come in handy when you are actually going through and creating the apps on your Home Screen, as you won't have to search all over the place or go through different folders.
Change iPhone icons with iOS 14 and Shortcuts
Okay, now that the icons have been downloaded and are available in an easy-to-find location, you can get started with adding them to the Home Screen. This requires the Shortcuts app, as there is not a built-in icon changer similar to what you'll find on Android. The process can be a bit tedious, especially if you are wanting to change iPhone icons for all of your most-used apps.
Open the Shortcuts app on your iPhone.
Tap the + icon in the top right-hand corner to create a new shortcut.
Tap the Add Action button.
Select Scripting at the top.
Tap Open App.
In the shortcut, tap on Choose.
Select the app you want to customize.
Tap Next in the top right-hand corner.
Enter the name of the app.
Tap Done.
This only creates the Shortcuts Action which will open the app you are trying to customize. So you can't head back to the Home Screen just yet, as you need to change the icon and add it to the Home Screen.
Click the three-dot icon next to the Shortcut that was just created.
Tap the three-dot menu icon again.
Select Add to Home Screen.
Tap on the Home Screen Name and Icon icon.
Select the image for the icon that you saved from earlier in the process.
Change the name of the icon (preferably to the name of the app).
Tap Add in the top right-hand corner.
Tap the Next button.
Change the name of the Shortcut.
Tap Done in the top right-hand corner.
Repeat for any apps you want to theme.
Create a unique widget with these apps
The customization fun doesn't stop at changing the iPhone icons, as third-party widgets can now be added to the Home Screen. Many of these can show basic pieces of information, from your Fitness stats to the weather forecast, or just the time/date. Nonetheless, we've rounded up a few of our favorite third-party widgets that can give your Home Screen more personality.
This set of widgets can then be dynamically scheduled to appear on your home screen following rules you define. For example, a particular widget could show the weather first thing in the morning, then your calendar during your work day, then switch to your Activity ring progress as you wrap up your day. This lets you take full advantage of each slot on your home screen.
Simple, elegant and highly customization widgets. Powerfully simple. Simply powerful. Combo widgets that let you choose what data you want to see together in one widget! Don't like combo widgets? You can have single widgets too!
Color Widgets lets you add stylish widgets directly onto your home screen! Choose from premade widget designs, or better yet, make your own. Color Widgets is perfect for customizing and styling your home screen.
How to add a widget to the Home Screen?
Now that you've found and installed your new widgets, you'll want to get them added to the Home Screen. Here's how you can do just that, and then move them around to place them wherever you want.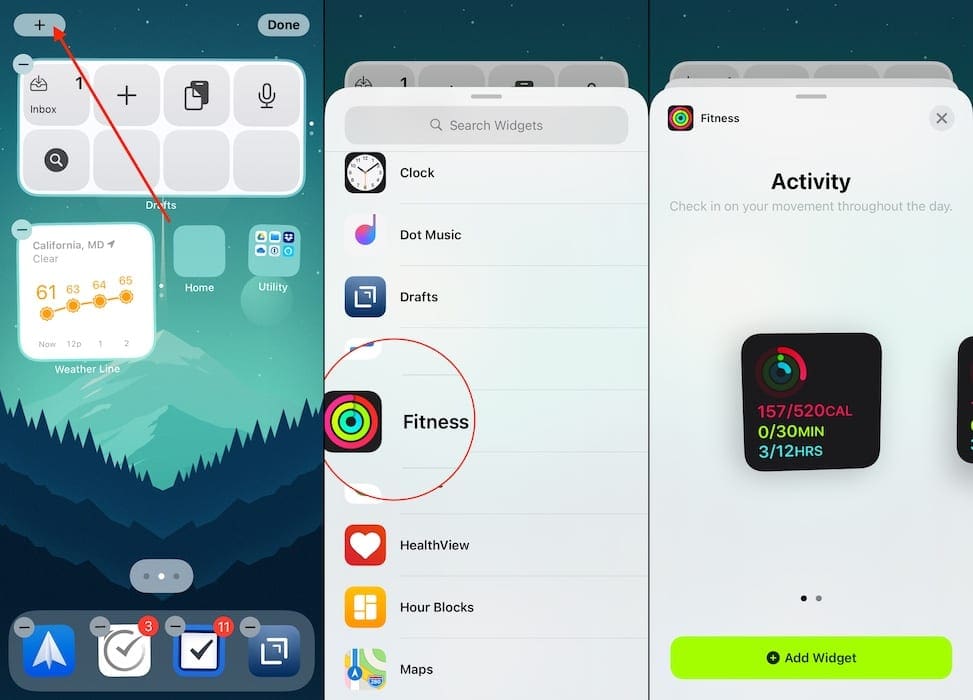 Long press a blank space on your Home Screen until you enter "Jiggle" mode (icons start jiggling).
Tap the + button in the top left-hand corner.
Scroll until you find the widget you are looking for.
Tap on the Widget overview
Select which size you want to have on your Home Screen.
Tap the Add Widget button at the bottom.
Tap Done in the top right-hand corner.
Voila! Your iPhone is now more customized than it ever has been before (save for those who have jailbroken). Let us know some of your favorite icon packs and widgets, by showing them off in the comments!
Andrew is a freelance writer based on the East Coast of the US.
He has written for a variety of sites over the years, including iMore, Android Central, Phandroid, and a few others. Now, he spends his days working for an HVAC company, while moonlighting as a freelance writer at night.