If you are going to visit a place where access to the internet is not available (or if you're running low on data) and you're wondering how can I use google maps without internet? Well, the good news is that Google Maps lets you download your maps for times when you are offline, by choice or by chance!
RELATED
First, while you still have an active internet connection, download all your offline maps for whatever areas you want. Once downloaded, those maps remain accessible for 30 days, even when you do not have a working internet connection. So folks that do a lot of driving, especially in spots without data coverage, downloading your maps is a fantastic option to literally keep you on track!
How to Download a Google Map?
First, make sure you are signed into Google Maps using your Google (Gmail) account's credentials. Google gives us a few ways to download maps:
#1 Search for a Place
In the top Search Bar, type in a location by name (like Santa Fe, NM)
Once the map populates, look towards the bottom of your screen and tap the location's name
Under the Directions Button, tap Download (if available)
If you don't see the Download option, press the top More button (…) and select Download offline map > Download
Move or Zoom In/Out on the Map Selector Tool to choose your map specs
Google Maps provides an estimate on how much storage that map requires and lets you know how much space is available on your device. Pretty neat!
Tap Download to get the map!

Be patient. A large map often takes time 
#2 Use the Offline Maps Option
Open Google Maps and tap the upper-left main menu
Select Offline maps (also called offline areas)
From the offline maps menu, look under Download an offline map and choose either Local or Custom Map

With Custom, you specify the area of the map you'd like to download to your device

Move the Map Selector tool to contain your desired location and boundaries

Local downloads a map of your current location

Once you identify the area you want your Google Map to cover, the app gives you an approximate size of the map download AND lets you know how much storage is currently available on your device
If you accept, tap Download to add that map to your Offline Maps 
Do Offline Maps Show Current Car Position?
When you download the offline maps from Google Maps, it also downloads the data necessary for navigation and directions.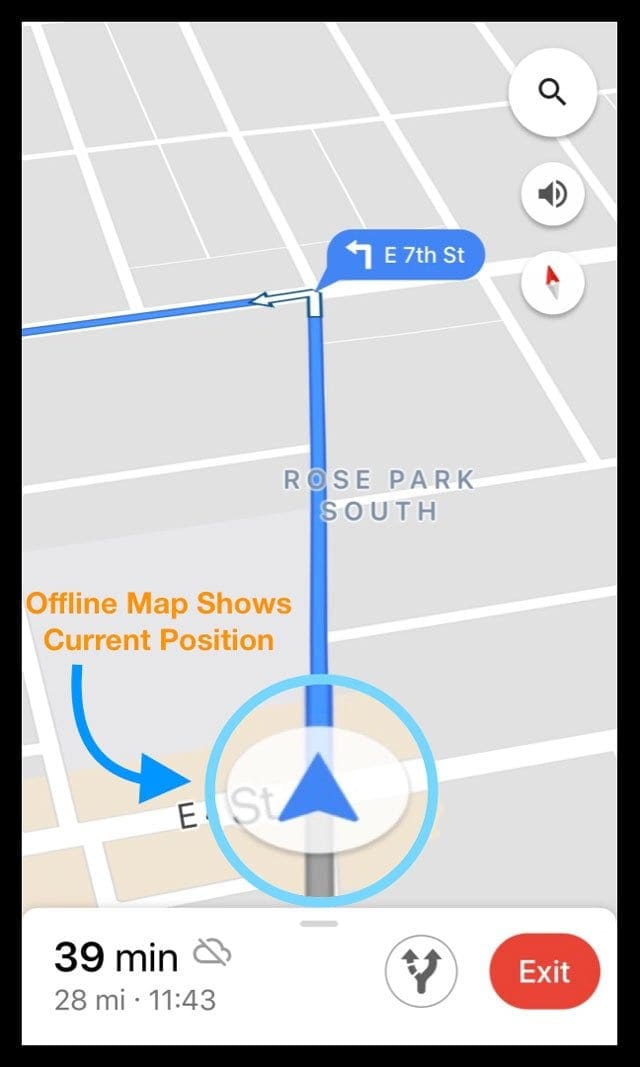 Using your iPhone's GPS, Google Maps is still able to plot your position on an offline map that you previously downloaded to your device. Consequently, offline maps do indicate where you are on the map as you drive. However, things like thick forests or tall buildings may obstruct the GPS signal and lead to vehicle position variances.
However, with offline maps, you won't get local traffic reports unless you can connect to the internet. Offline maps do not show traffic congestion information because traffic information needs to be downloaded using an internet connection. 
Offline Maps Offer the Following
Show most points of interest, addresses, streets, and geographical features
Save your cellular data
Update over WiFi, when connected
Since real-time traffic information isn't available, an offline map might put you on a route that has an accident or a lot of traffic because the map cannot fetch real-time data without an internet connection
Good for trips where you can't or don't want to be online all the time
We hope that you found this short tip useful!
Please let us know in the comments below if you have any questions or would like to share one of your favorite Google Maps Tips.
For most of her professional life, Amanda Elizabeth (Liz for short) trained all sorts of folks on how to use media as a tool to tell their own unique stories. She knows a thing or two about teaching others and creating how-to guides!
Her clients include Edutopia, Scribe Video Center, Third Path Institute, Bracket, The Philadelphia Museum of Art, and the Big Picture Alliance.
Elizabeth received her Master of Fine Arts degree in media making from Temple University, where she also taught undergrads as an adjunct faculty member in their department of Film and Media Arts.