One of the most frequent questions we get from our iPad friends and readers is problems with their iPad keyboards. Specifically, what should you do when your iPad keyboard is split down the middle with half of it on the left side and the other part on the right side of your iPad's screen. Just how do you get it back together like it should be? For many iFolks, this a very annoying problem that they just can't figure out how to fix!
Related Reading:
The good news is this is a relatively easy problem to remedy. And there are a few approaches that work.
So let's get to it!
First, Get to Know Your Keyboard Button
The keyboard button is that key at the very bottom right-hand corner (the icon looks like a small keyboard made of dots and lines).  
When you hold on this icon, you can choose from several actions to make typing on your device easier. Splitting your keyboard is one of those.
Fixes for an iPad Keyboard That's Split in Half
If you don't want your keyboard to be split in half, you can fix the issue in several ways. The easiest is to pull both ends back together with your fingers and drag the two keyboards toward each other.
Alternatively, you can place a finger on each space bar and push your fingers together.
Fixing the Split Keyboard From Your iPad's Keyboard Icon
Another way you can fix the split keyboard problem on your iPad is via the log itself:
Tap and hold on to the keyboard logo in the bottom right.
Select Merge when the dropdown menu appears.

Turn Off Split Keyboard Altogether
To prevent the issue from happening again, you can turn off Split Keyboard in the Settings app.
1. Visit Settings > General > Keyboard.
2. Switch the Split Keyboard toggle off.
Split Keyboard Showing Up in the Middle of Your Screen?
Sometimes, your split keyboard isn't at its usual bottom of the screen but rather sits somewhere in the middle or top of your screen. To return your screen to the bottom, press and hold the keyboard icon and drag the keyboard down to its usual dock (or any other location you prefer).
Move and Merge a Split Keyboard
To merge a split keyboard and move it back to the bottom of the screen, touch and hold the keyboard icon until you see a pop-up menu. Then, tap Dock and Merge.

Who Wants a Split Keyboard on an iPad?
Believe it or not, many folks love the iPad split keyboard! In landscape mode, the split keyboard makes using your thumbs to access all of the keys comfortable and easy! So type away with just thumbs!
To Split an iPad Keyboard:
Open any app, like email or notes, and tap a text field.
Tap and hold the keyboard icon in the lower-right corner of the keyboard.
Press until you see a pop-up menu and tap Split.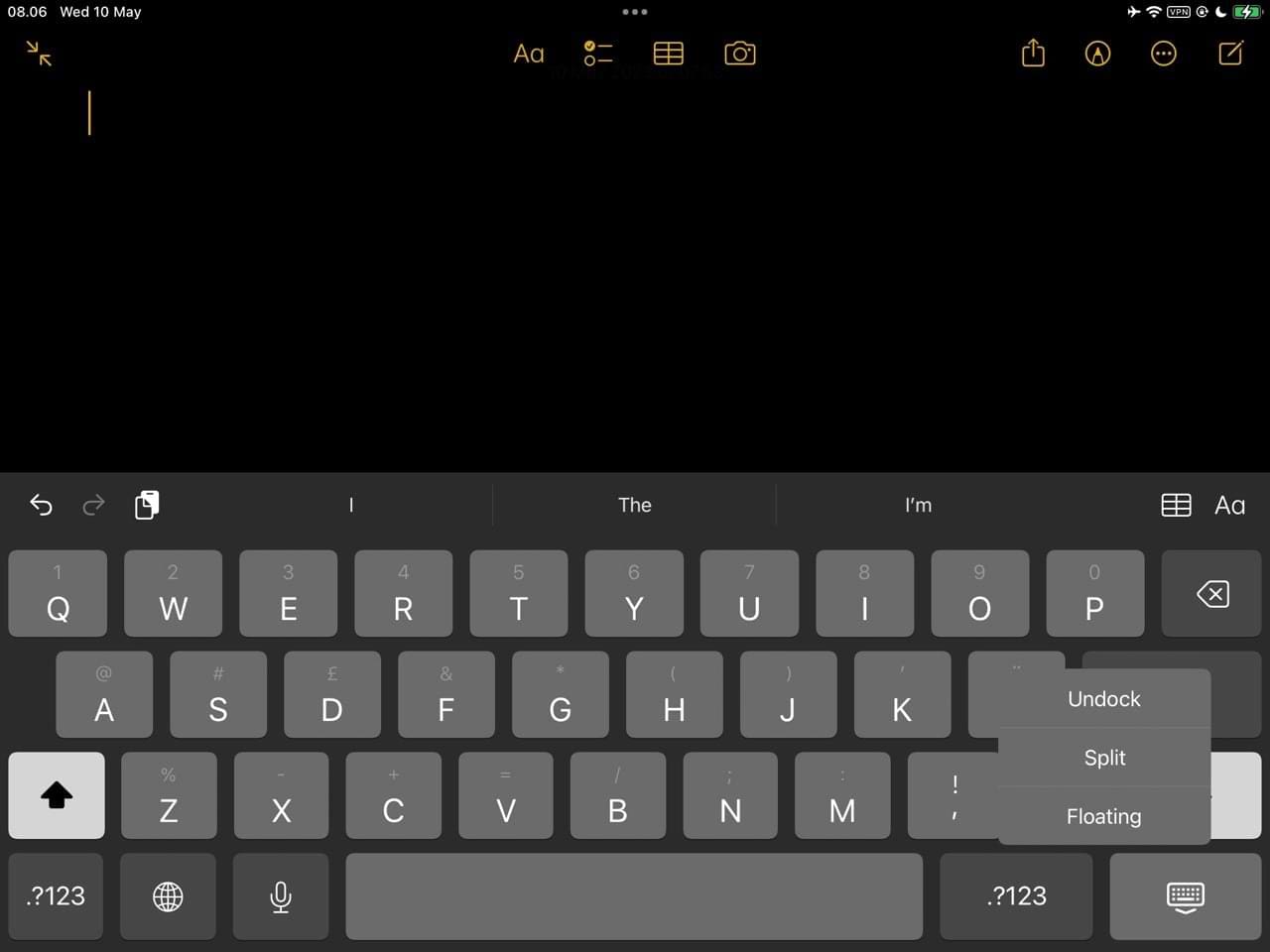 Split keyboard is available on the following models:
iPad Pro 9.7 and 10.5-inch
3rd Generation iPad Air
5th Generation iPad Mini and Later
5th-9th-Gen iPad
Move Your iPad Keyboard To Different Location
Many folks don't know this trick: you can actually undock your iPad's keyboard from the bottom of the screen and move it to a different part of the screen!
First, you'll need to undock your iPad on-screen keyboard:
Touch and hold the keyboard icon at the bottom right.
Press until you see a pop-up menu and tap Floating.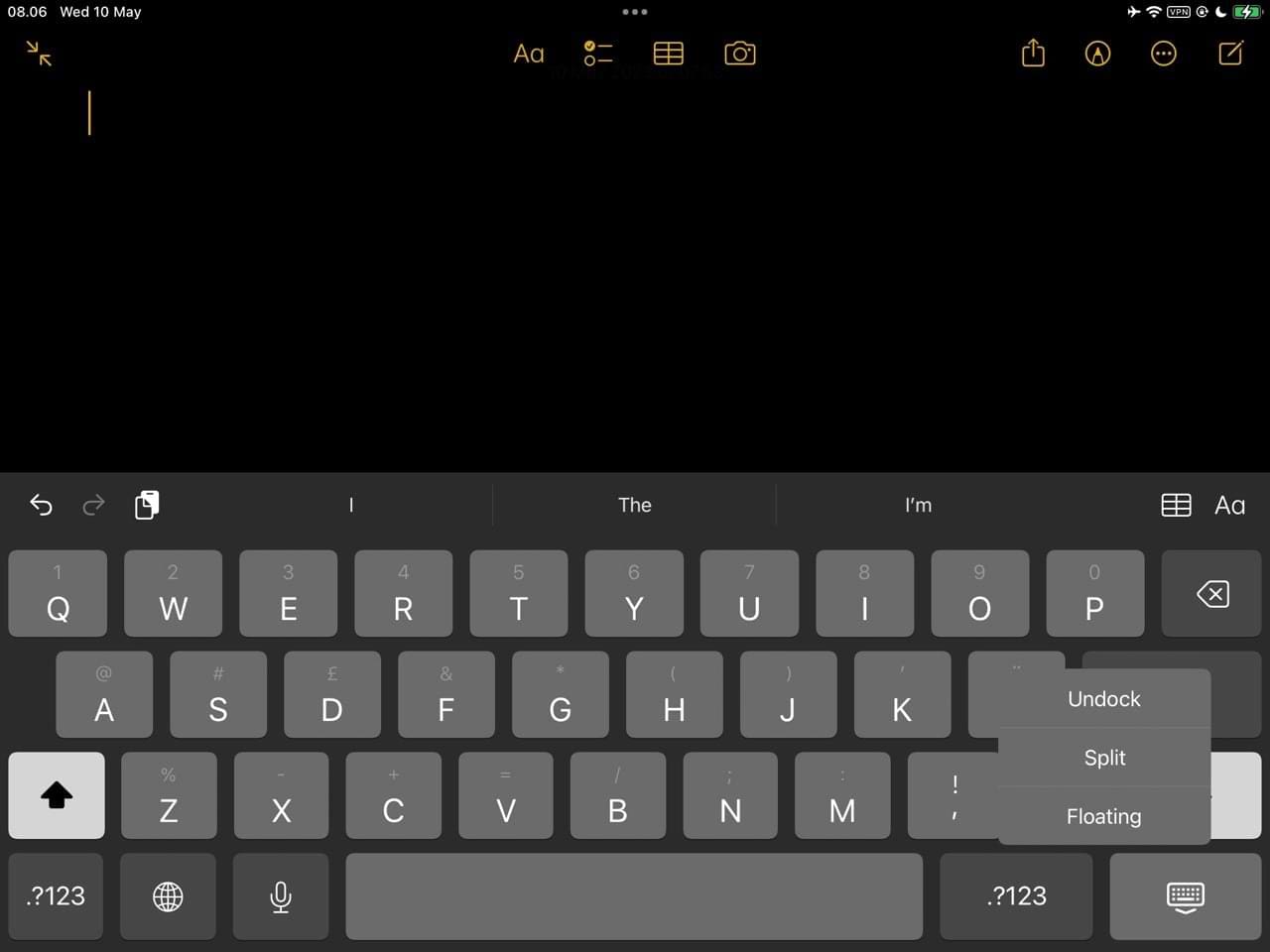 Next, you can move your iPad keyboard around your screen.
Press and hold the keyboard icon and drag your keyboard to your preferred on-screen location. You'll need to do this somewhere that there isn't a button; under the space and return bars should work.
After doing the above, use a light touch to immediately move your keyboard to a new location.
To return your keyboard to the dock, drag your keyboard outward with two fingers.
What About iPhones? What Are the Keyboard Options?
Currently, iPhones do not offer split keyboard options and you also cannot move your keyboard's on-screen position. However, if you use iOS 11 and higher, there is an option to use a one-handed keyboard, for either the left or right hand.
One-handed keyboards make it easier to type on your iPhone using just one set of fingers! Sadly, one-handed keyboards are not yet available on iPhone 5 or lower, SE models, all iPads, or iPod Touches.
How to Use One-Handed Keyboards on iPhones
To use a one-handed keyboard on your iPhone, follow these instructions:
Open an app that has text entry.
Touch and hold the globe or smiley face icon on the keyboard.
Tap either the left or right one-handed keyboard icon to change.
To return to default keyboard setting, tap the white arrow next to the keyboard. Alternatively, press the globe or smiley face and select the center keyboard.
Change Your Keyboard Defaults
If you want your keyboard to default to a one-handed keyboard, you can change your defaults within the Settings app.
Go to Settings > General > Keyboards on your iPhone.
Select One-Handed Keyboard.
Choose either Left or Right if you want to always use a one-handed keyboard, depending on which option fits your needs better.
If the one-handed keyboard tool doesn't work, check if you have your display set to Zoomed instead of Standard. To check, go to Settings > Display & Brightness > Display Zoom.
Everything You Need to Know About Your iPad (and iPhone) Keyboard
Knowing how to fix an iPad with a split keyboard can save you from a lot of frustration, and doing so is very simple. You only need to drag your keyboards back together, and you'll also find a couple of other more manually-focused options if you would rather use those instead.
While split keyboards aren't an option on your iPhone, you can use one-handed keyboards instead. Adjusting these doesn't require a lot of effort, and you can turn the feature on by default if you want regular access to it.
Danny is a freelance writer who has been using Apple products for over a decade. He's written for some of the largest technology publications on the web and previously worked as an in-house writer before carving his own route. Danny grew up in the UK, but now writes about tech from his Scandinavian base.