Is your iPad's on-screen keyboard not where it should be and blocking all your apps, making it hard to see what you are doing? A lot of our readers discover suddenly that their iPad's keyboard is sitting in the middle of their screens or has even split in two! Apple calls this undocking the keyboard and it's meant to help, but too often only confuses people!
Luckily, this is an easy fix so let's get to it!
Related articles
How to move your iPad keyboard back to the bottom of the screen
Apple added the iPad-only feature to move your keyboard to the middle of the screen or elsewhere way back with iOS 5. The feature is intended to make typing more convenient when using certain apps where the keyboard's bottom location causes problems.
Unfortunately, it's all too easy to unintentionally move your keyboard to a different position where it becomes a nuisance and disruption!
Here's how to get your iPad keyboard back to normal, at the bottom!
Tap open an app that uses your keyboard
Get the keyboard on-screen
Locate the keyboard button in the bottom right corner of your keyboard
Press and hold that keyboard icon until you see a list of actions
Choose Dock 

For split keyboards, choose Dock and Merge (a split keyboard isn't available on iPad Pro 12.9-inch or  11-inch, so you won't see this option)

Your keyboard should immediately go back to the default bottom position!
Don't ever want your keyboard to split in half?
Turn Split Keyboard off by going to Settings > General > Keyboard > Split Keyboard and toggle it off.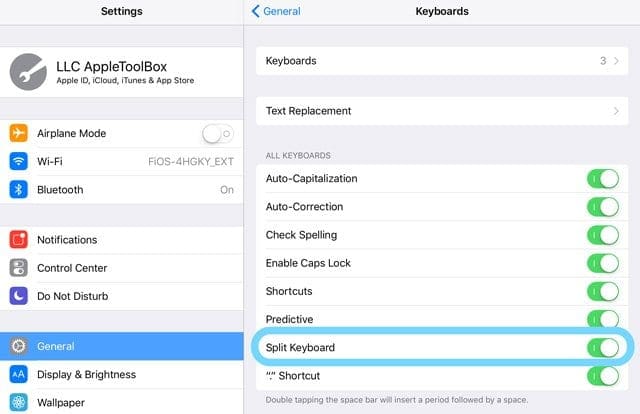 How do I prevent my iPad's keyboard from undocking?
Unfortunately, there isn't yet a way to completely disable and prevent your iPad onscreen keyboard from undocking–your best option is to follow the steps above to dock your keyboard back to the bottom of your screen.
iPad keyboard too small, looks like an iPhone sized keyboard?
If your iPads keyboard is very small and not fitting the width of your iPad's screen, it's likely you are using the iPad floating keyboard.
Learn how to turn off the floating keyboard in this article: How to turn off the iPadOS floating keyboard on your iPad
Keyboard still stuck in the middle of your screen?
If your keyboard is still stuck, even after you docked it, try restarting your iPad. We like using Settings > General > Shut Down and then power back up to restart all types of iPads, with or without home buttons.

If a restart didn't work for you, try a forced restart
iPads with Face ID: Press and quickly release the Volume Up button. Press and quickly release the Volume Down button. Then press and hold the Power button until the device restarts
iPads with Home button: Press and hold both the Home and the Top (or Side) buttons until you see the Apple logo
Using a third-party app?
Sometimes, the keyboard gets stuck elsewhere on your screen when using a third-party app (not an Apple app.)
If this happens when you use a calling app like WhatsApp, try making a video call to someone–readers tell us this often unsticks the keyboard.
Otherwise, force close the app and relaunch it–this should take care of the problem and return the keyboard to its usual position.
How to force close an app
On an iPhone or an iPad with no home button from the Home screen, swipe up from the bottom of the screen and pause slightly in the middle of the screen
On an iDevice with a home button, double-click the Home button and swipe right or left to find the app that you want to close
Swipe right or left to locate the app you want to close

Close apps on your iPhone before you restart it.

Swipe up on the app's preview to close it
For most of her professional life, Amanda Elizabeth (Liz for short) trained all sorts of folks on how to use media as a tool to tell their own unique stories. She knows a thing or two about teaching others and creating how-to guides!
Her clients include Edutopia, Scribe Video Center, Third Path Institute, Bracket, The Philadelphia Museum of Art, and the Big Picture Alliance.
Elizabeth received her Master of Fine Arts degree in media making from Temple University, where she also taught undergrads as an adjunct faculty member in their department of Film and Media Arts.