For many years, the iPhone Home Screen has been fairly rigid when it comes to customizability. That said, for a few iOS generations, Apple has been more and more open to customizing the look and feel of your phone in general. This includes the Home Screen.
WIth iOS 14, Apple brought the App Library to the iPhone, meaning you didn't need to have every app installed on your phone on your Home Screen. This lets you only have the apps you use the most on your Home Screen. With iOS 15, you can now choose any screen as your default Home Screen.
Before You Start
As mentioned above, Apple quietly introduced the ability to choose your default Home Screen in iOS 15. That means you'll need to be running iOS 15 on your phone to do this.
If you haven't upgraded yet, be sure to take a look at our guide to downloading and installing iOS 15.
Choosing Your Default Home Screen on iPhone
First, you'll need to make sure you have more than one Home Screen on your iPhone. If you don't, we'll move to that in the next section. In this case, we'll assume you have at least two home screens.
Now press and hold on an empty part of the screen where you can see your phone wallpaper. This puts the Home Screen into "jiggle mode," where you can add widgets or rearrange apps.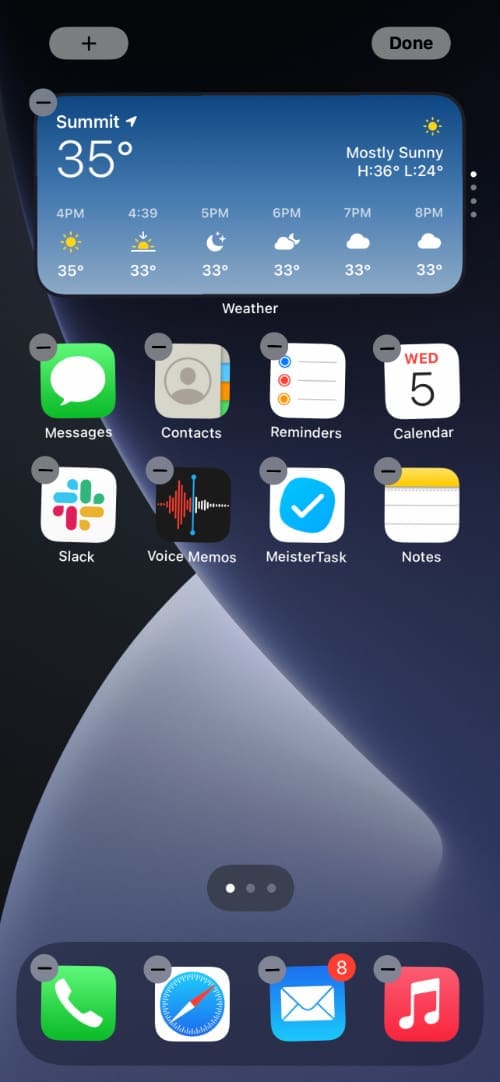 Right above the dock, you'll see an icon with multiple dots. Tap this to enter the Edit Pages mode. Here you'll see your various Home Screen pages along with check marks underneath. You can deselect these check marks to hide these screens.
To make a Home Screen page your default, all you need to do is move it into the first (left-most) position. Just press and hold on one of the pages to drag and drop it where you wish that screen to be. Whichever screen is in the first position will be your default Home Screen.
Once you've got the pages arranged just how you like them, tap the Done button in the upper-right to confirm your choices.
Adding a New Home Screen
If you've only got one Home Screen, it's easy to add another to create a new default Home Screen.
To get started, press and hold on a part of your screen where you can see your phone wallpaper. Once you get into "jiggle mode," scroll to the right. Once you've scrolled past your last pre-existing page, you'll effectively be adding another Home Screen page.
Alternatively, you can also press and hold on an app icon or a widget, then drag it to the right and "past" the edge of your last Home Screen page to add a new page.
Once you've got a new page, you can set it up with any apps or widgets you wish to use. Then follow the instructions above to set it as your default Home Screen.
Managing Your Home Screen Pages
If your home screens are starting to get out of hand, you can deactivate one or more of them, as we touched on above. Assuming you want to remove one or more screens permanently, take a look at our guide to deleting home screens on your iPhone or iPad.
Kris Wouk is a writer, musician, and whatever it's called when someone makes videos for the web. He's an Apple nerd with a fondness for hi-res audio and home theater gear.